We are working with Levenshulme Bee Network and the local community to design Greater Manchester's first 'fully filtered neighbourhood', which prioritises people over cars.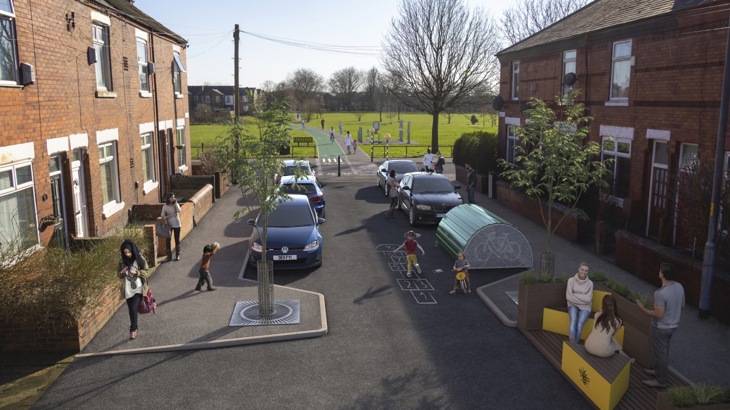 Levenshulme's 'Our Active Neighbourhood' project aims to create calmer, safer and more sociable streets. The aim is to create an environment where children and residents can walk or cycle within a 10-minute radius of the suburb's centre.
The project links to cycling and walking commissioner Chris Boardman's £1.5 billion Bee Network proposal, which sets out a vision for 1800 miles of walking and cycling routes in the city region, intersected by 25 filtered neighbourhoods.
'Levenshulme is currently split into two by the A6 and many streets in the neighbourhood are dominated by cars and pollution. Our team will gather views through a programme of community events and activities in Levenshulme and on a new interactive website.
We will work with local communities to identify the problems on their streets and find out what stops them from travelling by foot, bicycle or public transport. Our team will co-design calmer streets with people to encourage more active travel and social interaction. This could include ideas such as a mini-park, a different design of street junctions, or traffic restrictions around schools.
We will also work with six schools in the project area. Pupils, parents and teachers will get involved in the process through a series of workshops and events. They will survey the school streets to look for safety issues and barriers to creating a safe and healthy environment for walking or cycling to school.
The children and school community will then work with our team to help co-design streets which put them and the people in their neighbourhood first.
Rosslyn Colderley, our Director in the North of England said: "We're delighted to be involved in creating Manchester's first filtered neighbourhood.
"We will be working closely with the local community at every stage to find out what the current issues are for them on the streets of Levenshulme and how our team can help co-design a place where everyone feels safe to walk or cycle around."
Key project aims are:
Create an active neighbourhood based around a 10-minute walk at its heart
Reduce car use for short trips and encourage more sustainable and active travel
Safer active journeys to and from school
Increase active travel like walking and cycling
Reduce the impacts of the A6 and railway, which run through the heart of Levenshulme
We are working with Levenshulme Bee Network, Manchester City Council, Transport for Greater Manchester and BeSpoke Transport Consulting to develop Levenshulme Active Neighbourhood. The project is funded by the Mayor's Challenge Fund.
It is the first of 25 proposed filtered neighbourhoods in Greater Manchester, which will be designed to encourage more active short journeys, by foot or bicycle.