From Wimborne in Dorset to Ledaig in Argyll and Bute, communities and businesses across the UK will benefit from high-quality paths on the National Cycle Network.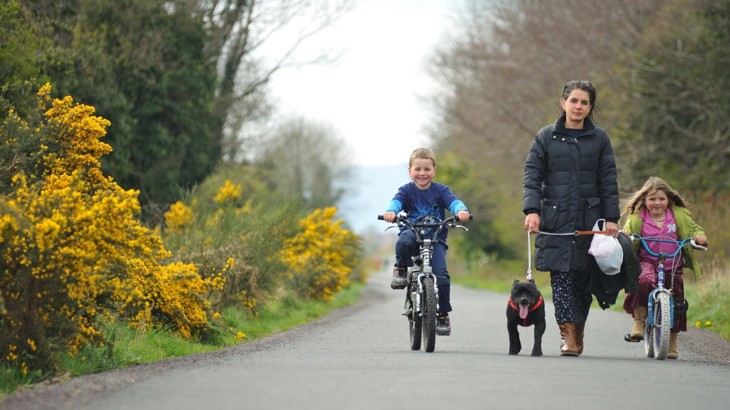 This time last year, we launched Paths for Everyone, presenting our vision for the National Cycle Network: A UK-wide network of traffic-free paths for everyone, connecting cities, towns and countryside.
Since then we've been working with local communities, landowners, local and national governments, taking forward our main priorities – to make the National Cycle Network safer and more accessible for everyone.
As the custodian of the Network, we want to make sure its paths are truly for everyone, including children, older people, those using adapted cycles and wheelchairs, as well as horse-riders, wherever possible.
What we've achieved so far
As part our UK-wide improvement programme, we identified schemes that are the first steps to a more traffic-free Network. To date, we've secured funding for over 80 projects across the UK.  
The Department for Transport, Highways England, Transport Scotland, the Welsh Government and the Department of Infrastructure in Northern Ireland have all allocated funding to the Network, without which we wouldn't be able to move this vital work forward. 
The first scheme to be completed under the improvement programme was a new protected foot and cycle pathway at Ledaig, on the iconic Caledonia Way in the Scottish Highlands.
Elsewhere, a total of 180 barriers and pinch points, including along National Route 4 in Reading, have been removed or earmarked for removal or redesign to make the paths accessible to all, particularly those with adapted cycles, mobility scooters and prams.
Putting the interests and needs of local communities at the heart of everything we do, we're working on over 80 schemes, ranging from installing new signage and removing barriers to designing new, high-quality traffic-free paths and bridges. And there's more to come.
Xavier Brice, CEO at Sustrans, said:
"One year in, with the support of our partners, we're making real progress on delivering our ambitious vision for the National Cycle Network across the UK. Putting the interests and needs of local communities at the heart of everything we do, we're working on over 80 schemes, ranging from installing new signage and removing barriers to designing new, high-quality traffic-free paths and bridges. And there's more to come.
"Building on this success, we look forward to working with local and central governments, highway authorities, local communities and volunteers to grow the amount of traffic-free miles and bring the vision of safe and accessible paths for everyone closer to reality.
"The National Cycle Network is a national asset that could help tackle a myriad of challenges we're facing today: air pollution and the climate crisis, record levels of physical inactivity, and lowering life expectancy. We, therefore, urge the next UK Government to commit sustained, meaningful investment to the Network to give people across the UK an emission-free, viable alternative to the car for their everyday journeys."
Where are we working? Click on the map of projects on the National Cycle Network to find out more.
A closer look at schemes across the UK: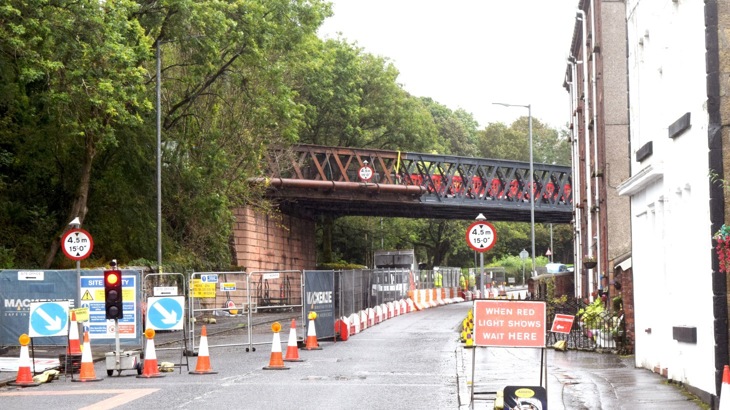 Scotland: the Bowling Basin along National Route 7 
This scheme includes:
Refurbishment of three former railway bridges.
Removal of a dangerous crossing.
An attractive traffic-free link, similar to New York City's Highline.
It will connect Glasgow City Centre to Bowling, with only a small section of Route 7 between Glasgow and Balloch remaining on-road.
The link is due to be completed by September 2020 and will help more residents and tourists travel sustainably around the area whilst boosting the local economy and increasing footfall for business.
The ongoing work has already created jobs in the area through the employment of local construction firms and the creation of new retail spaces, such as a café, bike shop and activity centre. This matters, as Bowling Harbour is directly connected with areas scoring within the lowest 20% on the Scottish Index of Multiple Deprivation.
Sustrans' Network Development and Places for Everyone have jointly funded the project alongside Scottish Canals and Historic Environment Scotland.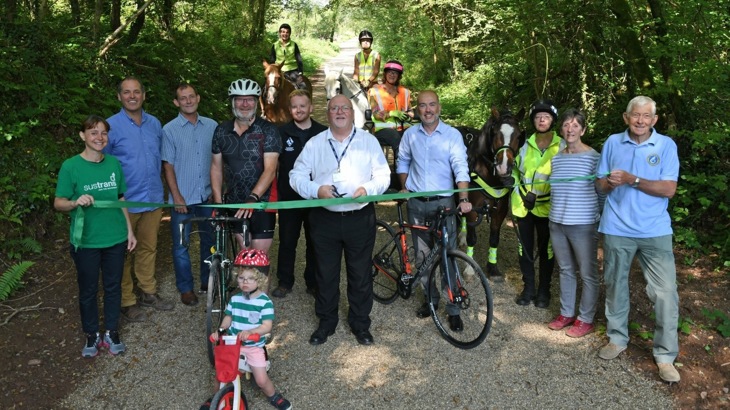 Wales: Narberth to Haverfordwest, Pembrokeshire
Working with Pembrokeshire Council, Sustrans developed a new traffic-free route as part of the 'Linking Up' project. The aim of the project is to improve connections between the existing National Cycle Network and eight rural communities across Wales.
The first stage of the 11-mile stretch, connecting the picturesque Welsh market town of Narberth to Pembrokeshire's county town Haverfordwest, was completed in August 2019. The entire scheme is due to be completed by March 2020.
Sustainability and the needs of the community are at the heart of the scheme. Locally-sourced materials were used to deliver a clean, aggregate surface to help people walk, cycle and wheel in safety and with confidence, whilst horse riders will be able to enjoy off-road rides.
The project, which is estimated to cost £1.5m to deliver both stages, has received over £700,000 worth of funding from Pembrokeshire County Council.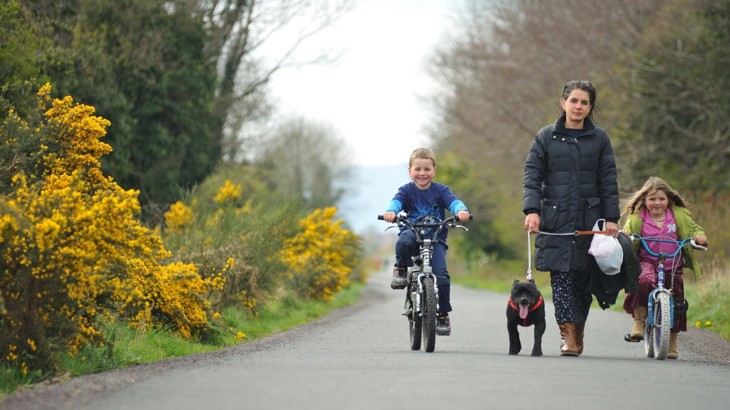 Northern Ireland: The Comber Greenway, Belfast 
The Comber Greenway is a jewel in the crown of Northern Ireland's National Cycle Network. This seven-mile green corridor, which is a haven for wildlife, sets the bar high in terms of quality standards for greenways across the region.
Improvements along the route include:
Widening the most used sections of the path to accommodate more people on foot and wheels.
Installing secure cycle parking shelters to encourage 'park and cycle' options.
Improving wayfinding and signage to re-direct Route 99 into the City Centre along the new Middlepath Street cycle lane.
We're also carrying out the 'One Path' project to support local authorities in instilling a share, respect, enjoy message along the path.
The improvements are funded by Department for Infrastructure, Translink through the Interreg North-West Europe CHIPS programme, and Sustrans.
Improvements are also taking place on Bloomfield Walkway and Ballymacarrett Walkway. This includes:
Better accessibility.
Better lighting and benches added to the routes.
New planting and landscaping.
This is a welcome upgrade to these existing 'gateways' to the Comber Greenway corridor in the heart of East Belfast.
England: Chelmsford to Writtle along the National Route 1, Essex
Communities living around Chelmsford will soon benefit from better access to employment sites, schools and leisure facilities. The River Can, which runs through the southeastern English county of Essex, is set to be at the heart of a new walking and cycling route. The route will include a four-metre wide cycle and footbridge across the river, linking the picturesque village of Writtle to the bustling city of Chelmsford.
The new bridge is also expected to improve the experience of travelling along the popular long-distance National Cycle Network Route 1 that runs from Dover to the Shetland Islands and is part of the Eurovelo Network. 
The project is estimated to cost £1m and is funded in full by Essex County Council as part of the Chelmsford City Growth Package.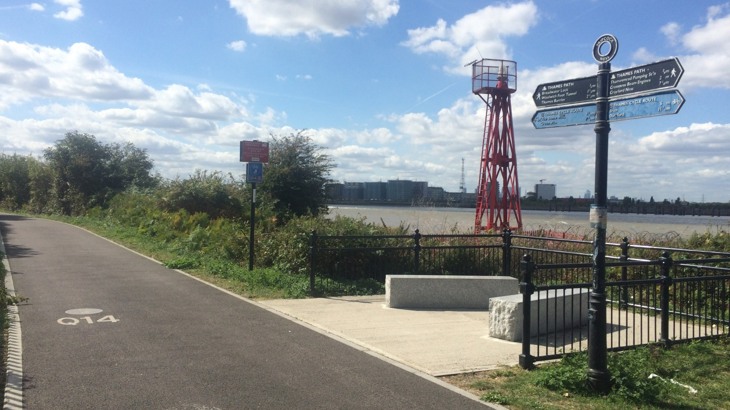 London: Thamesmead to Greenwich Peninsula, Greenwich & Bexley
A number of schemes have been completed along this nine-mile stretch of NCN1 along the south bank of the Thames. This includes work funded by Transport for London to deliver London's cycleway network, as well as improvements to the Thames Path National Trail alongside adjacent developments:  
A 1km path has been upgraded from a gravel path to a widened tarmac path between Crossness pumping station and Thamesmead.
Further west at Thamesmead, a 1.6km stretch has also been upgraded from a gravel path to a widened tarmac path, and new seating areas to enjoy the wide views across the Thames.
A further 1.7km on the Greenwich peninsula was widened, with a better surface, lighting, planting and play equipment provided.
Hundreds of thousands of people live close to this local traffic-free route which links many interesting places and green spaces, including the Grade 1 listed Crossness Pumping Station, the Thames Barrier, the Millennium Dome, and the Maritime Greenwich world heritage site.
The improvements, together with the delivery of the 'missing link' in Charlton last year mean that more people will be able to walk, cycle, wheel and explore the area between Greenwich and Erith away from the car.
For further information and media interviews, please contact:
Anna Galandzij, Senior Press Officer at Sustrans, anna.galandzij@sustrans.org.uk, 07557 915648
Liv Denne, Press and Media Officer at Sustrans, liv.denne@sustrans.org.uk, 07768 035318.