In Derby, we're giving jobseekers, asylum seekers and refugees the chance to get their bicycles fixed for free. The 'Dr Bike' sessions offer a free resource which focuses on fixing simple bike repairs while they wait.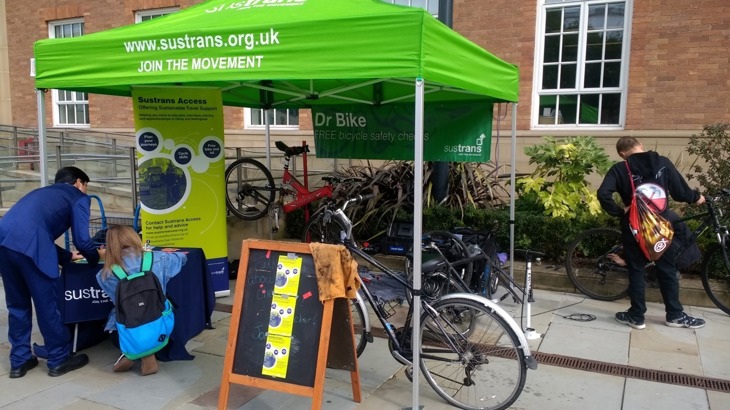 We want as many eligible people as possible to access the free service which operates between midday and 3.00pm. It runs once a week from these venues:
First Weds of the Month – Sinfin Community Managed Library
Second Friday of the Month – Trocadero Court – Metropolitan Housing – Normanton
Third Monday of the Month – Cavendish Court – Derwent Housing – City Centre
Last Wednesday of the month – Derby Council House – City Centre
We're delivering the initiative in partnership with Life Cycle Derby as part of the wider Nottingham and Derby City Council's Access Fund programme.
The scheme offers a range of travel support and cycle services to jobseekers and aims to remove the cost of travel as a barrier for those seeking employment or training.
Cycling is one solution to this problem in an area of the country where employment is above the national average.
So far the project has already provided personalised travel plans to over 470 jobseekers across the two cities and more than 300 have also taken up cycle services. These include bike maintenance, 'build a bike' courses, cycle training and even free reconditioned bikes.
Commenting on the Dr Bike Sessions Mikey Cottle, Sustrans Jobseeker Personal Travel Planning Officer, said: "This scheme is an excellent way to help jobseekers to become more mobile making it easier for them to access training and employment opportunities.
"It's been a great success and many of the people who've taken part in the project say that the services we offer have helped them access more employability opportunities and get around more confidently.
"They don't need to rely on public transport which also saves them money.
"We're here to help so we would love people to spread the word and come to one of our events – even if it's just to say hi."
Verna Bayliss, Acting Director of Planning and Transportation said: "Derby City Council is extremely proud to support this very successful job seeker engagement project in the City. 
"The Council started supporting the scheme back in 2015, and it has grown into a great resource for people accessing employment and training opportunities.
"It is backed by a very devoted team, led by Sustrans, and it is a delight to see their success in getting more people travelling by bike, reducing emissions and creating a happier, healthier city for everyone."