At Sustrans, we like to ask the big questions, spark debate and learn. Our latest Street Talk which took place in London in November tackled the question: are London's streets for everyone?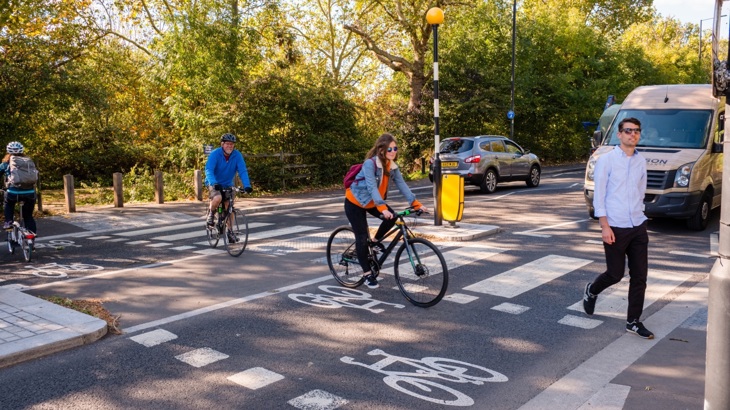 The event presented ideas from leading figures experienced in creating vibrant, open streets and public spaces for different groups.
Xavier Treviño, of the urban designers Céntrico: Shifting Mexico City towards a more people-friendly, less car-dominated city.
Holly Weir, Researcher at the University of Westminster: Creating child-friendly neighbourhoods.
Elsie Owusu, Architect and Specialist Conservation Architect: how London's streets and spaces can be designed for everyone.
Christine Murray, Editor-in-chief of The Developer, Creative Director of Festival of Place, founder of the Women in Architecture Awards: How can we make streets better for as many people as possible?
Hugh Huddy, Policy and Campaigns Manager at the Royal National Institute for the Blind: Designing public spaces for the blind and partially-sighted people.
Top points we took away from this Street Talk:
Everyone involved in street and transport planning has a duty to view the world from other people's perspectives and involve as wide a range of people as possible in the planning process.
Creating streets that are welcoming for families, people with disabilities, young people, older people and children make for healthier, happier places for all of us.
Reducing car dependency in Mexico City
International guest, Xavier Treviño, spoke about Mexico City's great tradition of public spaces. People come together to dance in the street, buy and sell at markets or just sit and watch life.
On Sundays, many streets are closed to vehicles and opened to people. And that includes the iconic avenue, Reforma.
It's easier to make change happen at a city level rather than on a national scale. We are building a social deal to push for more green cities as a way to influence national policy.
Listening to the voice of young London
Seeing London's streets through the eyes of a 17-year-old Londoner encourages ideas that would make a better place for all of us.
Marwa, who goes to school in South East London, proposed London streets are for everyone, in that everyone uses them. But everyone is doing their own thing.
Public spaces need to bring people of all ages together.
The opportunity to learn how to cycle is important. To encourage people to walk, the place has to be aesthetically pleasing. The roads are dominated by cars. More bike lanes and fewer cars would encourage more people to cycle.
Creating child-friendly neighbourhoods
Researcher at Westminster University, Holly Weir, gave a fascinating insight into how children move around when given the chance.
She gave her 6 -year-old son her GPS watch and said: "go play" The GPS tracks were a joyous swirl that screamed "freedom".
Child independence has declined over the decades and continues to do so. But it should be encouraged.
It develops confidence in navigating their environment. They learn how to manage risk.
Getting around under their own steam makes them feel good about themselves and makes physical activity completely normal.
Street design impacts on the amount of freedom children enjoy and are allowed to enjoy by parents. No through-traffic, accessible, well-overlooked spaces and signs that it's 'ok to play' all help to make streets more child-friendly.
Changing landscapes and the magic that happens when your car packs up
Architect Elsie Owusu gave us a look at what it's like to feel out of place.
Areas like London's King's Cross can be transformed from dingy backstreets into wide-open spaces, glittering glass expensive high-rises and shops selling designer wares. Once construction finishes, the place attracts a different mix of people while others are excluded.
But what about the day Elsie's car packed up? No car meant a time of adventure and observation.
London views, architecture, street design, public art, beautiful parks, street artists… Life is much more enriching on foot.
We all have different needs
Editor-in-Chief of The Developer, Christine Murray, spoke about how women sometimes feel when travelling around the city - the different routes you might take depending on factors like time of day if you're alone or with friends.
When designing public transport, stations, town centres, residential streets, we've got to think about who is trying to get around. We all navigate our streets in different ways.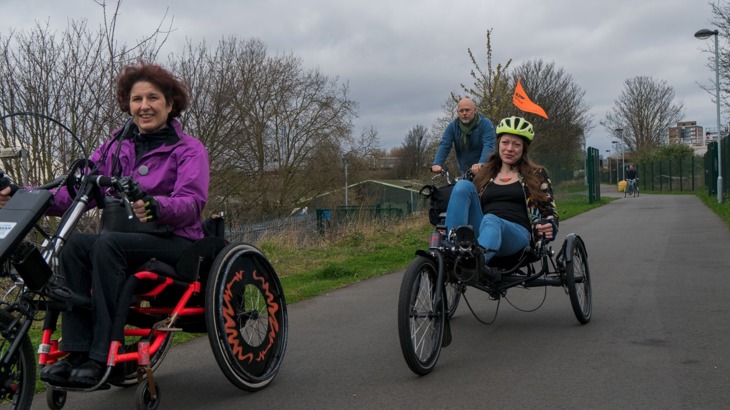 Think sound, touch and sight when designing streets
The Royal National Institute for the Blind's policy and campaigns manager, Hugh Huddy, certainly made us see differently. Open plan street design may seem a good thing, but if you can't see, everything feels distant.
And we place a huge emphasis on the look of streets. Not enough consideration is given to the importance of sound and touch in the design process.
Our message to street design decision-makers
Our streets could definitely be better for everyone. We've got to prioritise people over cars when designing our towns and cities so that everyone feels they can cycle, walk and wheel around them easily and safely.  The car should no longer dominate.
To create a successful, 21st-century city where everyone can play an active part in society, planners and politicians need to listen to as broad a range of people as possible if London's streets are truly to be for everyone. 
We have the ambition to see London transformed into a more active, better connected, healthier, fairer city. We've set out what needs to be done in our Manifesto for London 2020.