Three projects Sustrans have worked on with the London Borough of Brent and the Royal Borough of Greenwich were recognised at the London Transport Awards in March 2019.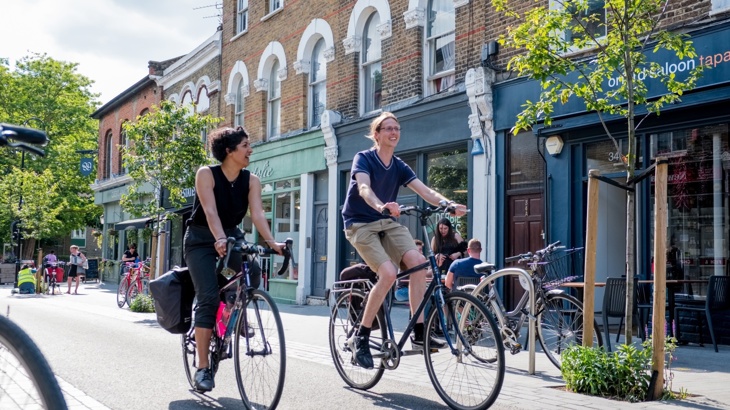 We were delighted to have supported London Borough of Brent - winners of the walking and cycling category for "Cycling and Walking in Brent; meeting the challenge".
Congratulations to Brent for its Meeting the challenge initiative
Coming top in the Excellence in Cycling and Walking category at the London Transport Awards recognises Brent's £5 million investment in cycling, walking and public realm schemes, successfully integrating active travel into its regeneration plans. We played an integral part in the borough's success.
The borough asked us to carry out the detailed design for one of their major projects. The improvements created space for people to cycle on semi-segregated cycle lanes in Carlton Vale,  including four new bus stop bypasses and the first 10m-wide pedestrian crossings in the borough.
Co-design
We also supported the borough in their work with residents, businesses and landowners to improve the streetscape and key junctions in Wembley town centre, creating a safer environment for pedestrians and cyclists. A key part of the design was to improve connections between the town centre and the new development around Wembley Park.
Behaviour change
To help families walk, cycle or scoot to school rather than drive, we worked with Brent to deliver Bike It Plus, its flagship schools behaviour change programme, developing a bespoke package of events and activities in 17 Brent schools.
Delivering positive results
Brent's cycling strategy has resulted in a higher percentage of journeys made by bike than in all other outer London boroughs.
Our Bike It team makes a difference (2017-2018 academic year results):
We trained 742 adults to ride bikes and trained 3,345 school pupils and under 15s.
For three months, we worked with nine mothers who were previously unable to ride a bike. They can now ride confidently at

 

Bikeability

 

level 1.
Our work with pupils at Convent Language School and the cycle club members at Preston Park has increased their cycle skills and confidence.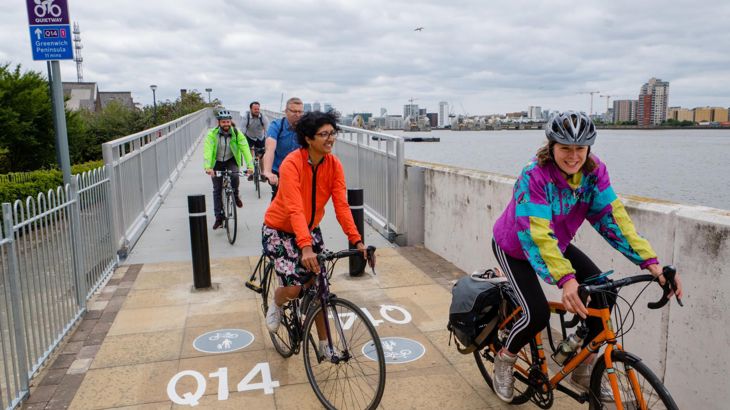 Sustrans staff at the opening of the Missing Link on the Thames Path at Greenwich, Quietway 14.
Great news for Greenwich's work on the Thames Path
A Highly Commended recognition in the Excellence in Cycling and Walking category for Greenwich recognises the borough's great work on the Thames Path, which completed a missing link for pedestrians and cyclists along National Cycle Network route 1 and Quietway 14. Sustrans project managed the work as Transport for London's Quietway delivery agent, involving the construction of a new cantilever bridge alongside the Thames Path, blasting through a wall to open access to an industrial estate and negotiating permissions with landlords to complete the missing link.
The route is on Quietway 14 and also forms part of the iconic National Cycle Network 1, which goes from Dover through Greenwich to the Shetland Islands. The new route takes walkers and people on bikes away from the busy Woolwich Road along a traffic-free section on the Thames Path, making journeys more pleasant and shorter.
We're extremely proud to have been able to support Brent and Greenwich in delivering their award-winning, transformative projects for their residents. It has been very rewarding to see their success in getting more people travelling by bike or on foot rather than by car, reducing emissions and creating a happier, healthier city for everyone.
Transforming a local business's environmental performance
Our work with Greenwich local traditional butcher, Drings, was recognised at the London Transport Awards, achieving a Highly Commended in the Contribution to Sustainable Transport category which included inspiring projects from all sectors.
The zero-emissions project for the Royal Borough of Greenwich saw Drings' owner, Michael Jones, pit his usual diesel delivery van against a brand new e-cargo bike to see which was better for both the environment and for his business.
Our workplaces team, which works with businesses on environmentally-friendly travel options, commissioned e-cargo bike manufacturers Riese and Mueller to provide the bike. We trained four butchers to operate the bikes and identified the best routes to cycle, advising them on their delivery routes and our research team carried out a thorough analysis and evaluation.
The Royal Borough of Greenwich financed the pilot scheme through the Mayor of London's Air Quality Fund and it is one of a number of cleaner air initiatives in the Royal Borough of Greenwich's Low Emissions Neighbourhood.