Communities across England will benefit from upgrades to existing cycle routes and improved cycleway connectivity. Cycling Minister Jesse Norman has today announced a £21m investment to improve significant on and off-road stretches of the 16,575-mile National Cycle Network, as part of a multimillion pound investment to improve cycling and walking around the country, cut down emissions and improve safety.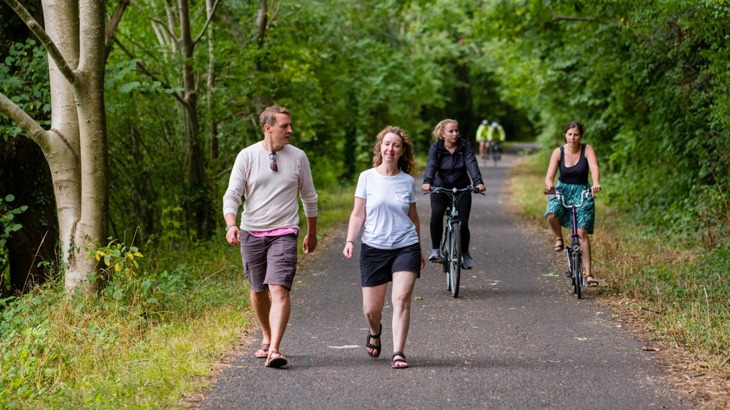 Over 4.4 million people use the National Cycle Network every year
The investment will fund dozens of activation projects for upgrading the Network - which were identified in the Paths for Everyone review report, including:  
 Refurbishing and upgrading Cinder Track North in Whitby to improve access to a substantial new housing development.
 Converting a poor on-road section of the NCN between Dewsbury and Huddersfield to a combination of traffic-free and full segregation.
 Connecting current paths through the centre of Lincoln.
 Re-routing busy on-road sections with poor junction facilities to an alternative traffic-free route in Longbridge, Birmingham.
 Creating a new quiet-way route to replace a busy on-road section between Luton and Dunstable.
 Improving a road crossing and re-routing to traffic-free alternatives around Ashton Court in Bristol.
 Improving and extending paths connecting Thatcham and Newbury.
Welcoming the announcement, Xavier Brice, Chief Executive of Sustrans said:
"As the custodians of the National Cycle Network, we are very excited by this investment in transforming crucial links for communities across England, making it easier for everyone to walk and cycle.
"The Network already makes it possible for 4.4 million people to travel actively every year, to work, school or for leisure. This investment is a vital boost to achieving a Network of safe paths for everyone, used and enjoyed by people of all ages and abilities.
"We look forward to working with local authorities and partner organisations around the country to improve people's health, access to green spaces, and help our villages, towns and cities move sustainably."
It is estimated that the health benefits associated with walking and cycling on the Network prevented 630 early deaths in 2017 alone, and averted nearly 8,000 serious long-term health conditions.
Alongside this major investment to encourage people to take to two wheels up and down the country, the Department for Transport has also announced £2m for broader cycling and walking initiatives, such as the Living Streets Walk to School outreach programme and Cycling UK's Big Bike Revival.
Jesse Norman, Transport Minister, said:
"Cycling and walking are a key part of our plans to make transport cleaner, greener and more productive.
"This funding will help ensure that everyone can enjoy wonderful routes which connect communities across the UK, and benefit from the huge health and environmental benefits of cycling."