We were delighted to receive a "New Streets Design Award" from Local Government News editor, Laura Sharman, for redesigning part of New Park Road in the London Borough of Lambeth.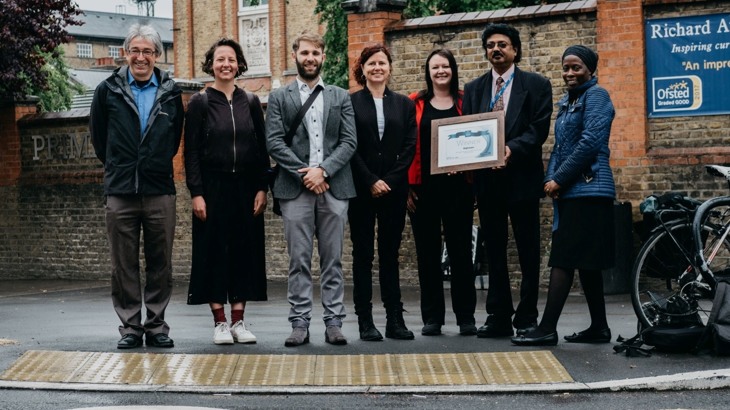 Our winning design means residents, parents and school children now breathe cleaner air and feel more confident crossing the road, the whole community benefits from the significant reduction in HGVs using New Park Road, and the risk of collision has been significantly reduced.
Safety concerns and listening to the community
New Park Road in Lambeth was in an area where the risk of accidents resulting in injury was 40% greater than on similar roads in the borough. Following concerns from parents, children and staff about traffic volume, the area's relatively high road collision rate and poor air quality, Lambeth Council commissioned us to work with the local community to come up with a proposal that would transform the character of New Park Road, putting people rather than motor vehicles at its heart. Designs for the area also needed to align with Lambeth's vision to reduce traffic speeds across the borough to 20mph.
Overcoming challenges
A major challenge for was how to transform a nine-metre wide road serving fast moving cars and lorries, into a place where people could safely walk or travel by bike. Eighty percent of the children arrive at the local school on foot, by bike or public transport, so most of the traffic creating the air pollution and an unsafe environment for the children was created by through-traffic rather than local traffic.
Working with the schools, businesses and residents, we helped transform a dangerous, polluted, car-dominated road, into a place which meets the needs of the local community. Trees were planted to help improve drainage and air quality. Pavements were widened, making for a more pleasant and sociable place.
The narrower road space, created through a series of circular build outs, provides a number of shorter crossing points, where previously no clear crossings existed. Colourful circles on the road are more numerous around crossing points to suggest safe locations to cross. The circles use the school's colours to give the impression that the school is spilling out into the street. The no priority give way build outs encourage slow driver behaviour, which consequently discourages people from using New Park Road as a through route.
Getting positive results
The well-designed infrastructure and landscaping has resulted in children and local residents feeling more comfortable crossing the road, which benefits local businesses. As a result of the intervention there is now :
• 94% compliance with 20mph speed restriction
• 27% reduction in the average motor traffic speeds         
• 14% reduction in motor traffic volume.
• 30% drop in the number of HGVs using the road - with resulting better air quality, which is good news for residents in the area including the children at Richard Atkins Primary School.
Collaborative design to meet community needs
Our work focused on creating a design based on the communities' priorities. We worked through many possibilities, including eliminating all through-traffic, with businesses, the school and residents as well as councillors and council officers, as part of our collaborative design process.
The result was a design that met the community's needs, dramatically slowing traffic making the road safer for pedestrians and people on bikes. The proposed design was tested through a day-long street trial, which proved a success with notable benefits including reduced speeds and more people on the street.
Winning this award means a great deal to us because it recognises the work we are passionate about – creating a healthy, happy city with people at the centre of street design.
Giving the community ownership
Through our extensive engagement process, we collected views from local residents and schoolchildren who highlighted many safety issues, including a lack of safe places to cross the street, high traffic volume and speeds, and collisions. Residents have taken ownership of the street and have added more improvements such as planters. The community is also making plans for additional traffic calming measures on neighbouring streets as the desire to create Liveable Neighbourhoods grows in London.
Sustrans' London Director, Matt Winfield, said:
"We're delighted to have helped Lambeth Council make it safer and easier for people to walk and cycle in New Park Road and to see the difference it's made to how school children travel.
"It is shocking that every school in London is in a location which is breaching World Health Organisation air quality limits. Urgent action is needed. We want the national government to support local authorities to make it safer and easier for parents and children to walk, scoot and cycle to school. To do that, the roads outside schools need to feel safe.
Councils and campaigners that want to make streets outside school gates car-free can talk to us about delivering a community-led solution for everyone."
Local resident Ray said "You've nailed it. It's doing what it's supposed to do - slowing the traffic for the kids. "
Award-winning form
This win comes hot on the heels of our success at the London Transport Awards earlier this year where our winning work featured in two categories covering three boroughs. Brent came top in the Excellence in Cycling and Walking category and Greenwich won highly commended for completing the missing link on the Thames Path. Our work with Greenwich, helping a business cut its carbon emissions by using a cargo bike for deliveries, was also awarded highly commended in the Contribution to Sustainable Transport category.