We are proud to have supported the Royal Borough of Kingston's Go Cycle project to bring a traffic-free path to south west London, connecting Kingston-upon-Thames with Merton.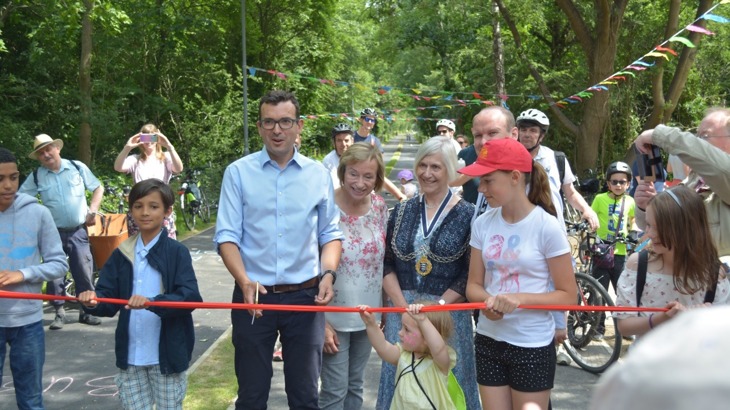 The new 1.2km traffic-free path connects Kingston-Upon Thames with Merton and provides a new opportunity for travel. The path makes the journey between New Malden and Raynes Park safer, convenient and more attractive for people walking and on cycles, avoiding busy roads and a dual carriageway
The project is part of Kingston Council's £30m "mini-Holland" programme, funded by the Mayor of London
Creating a valuable community asset
Hailed as a 'valuable new community asset' and creating a new route on previously inaccessible land, a 1.2km walking and cycling path has been opened between New Malden and Raynes Park in South West London.
"My thanks and congratulations to all those involved in delivering the best piece of new infrastructure that South West London has seen for several years," says a local resident.
"The new purpose-built 'Dutch-style' pedestrian/cycle facility linking New Malden High Street at New Malden Station to Raynes Park is proving its worth on a minute by minute basis.
"I use it regularly and it is clearly being used for exactly the sorts of activities intended. These range from the hardened commuter, the parent and child on a bike cycling to school, the dog walker, the jogger, and the pedestrian accessing the services of either Raynes Park or New Malden, as well as those who choose it for the delightful little park which has been created at a mid-point along the route.
"Every day I pass people with smiles on their faces because of the improvement that this relatively modest investment makes to their lives.
"So thanks to all those involved. You've helped local people there and they clearly appreciate it!"
Helping people to walk and cycle
We are proud to have supported this project, connecting Kingston-Upon Thames with Merton. It opens up an entirely traffic-free path between New Malden Railway Station and Raynes Park Recreation Ground, helping people walking and cycling to avoid long, busy alternative routes and improving journey times.
Space for people of all ages and abilities
As well as providing an attractive new active travel link, the project has created a space for people of all ages and abilities to access and enjoy the environment and wildlife in the area, with the local ecology and biodiversity being important considerations in the design of this project and its future legacy.
The new path runs parallel to a railway line on land owned by Thames Water. It passes under the A3 Kingston bypass and is part of the Royal Borough of Kingston upon Thames' £30 million "mini-Holland" Go Cycle programme, funded by the Mayor of London. It was managed by the borough's Go Cycle programme team.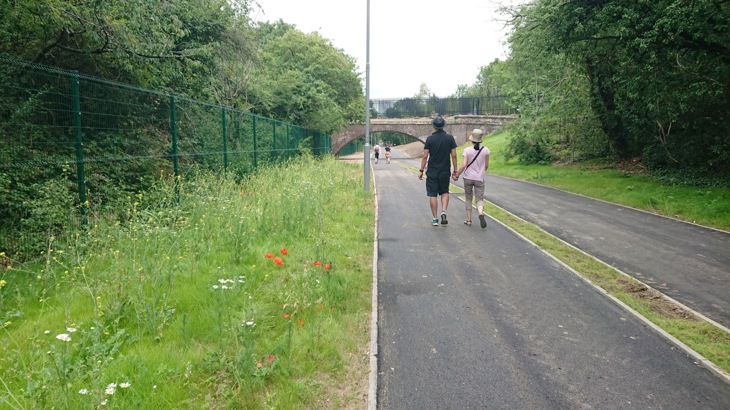 Playing a key part in Go-Cycle
We supported the council's Go-Cycle team throughout delivery of the scheme, delivering the concept design, ecological surveys, local resident and wider community engagement, stakeholder management, partner negotiations and public consultation for the scheme, demonstrating the benefits of a collaborative design approach and vision.
Bryn Lockwood, Neighbourhoods and Networks Programme Manager at Sustrans in London said:
"This is a fantastic new route that makes journeys safer, faster and far more attractive for everyone walking and cycling and provides a completely new opportunity for travel. It also opens up an area of public space providing a 'green corridor' with natural habitats for badgers, bats and other wildlife, creating a valuable new community asset.
"We're delighted to have worked on this complex, multi-partner project with Kingston Council, Merton Council, Thames Water and Transport for London."
"Often the hardest work in getting a new route built is the years of behind the scenes effort; feasibility studies, working with the community on the right solution, public consultations, designs, planning applications and committee meetings. Our team, including everyone involved in the design, community engagement and the ecologists is proud to have helped the Kingston Go-Cycle team to overcome those hurdles to make it easier for people to walk and cycle safely."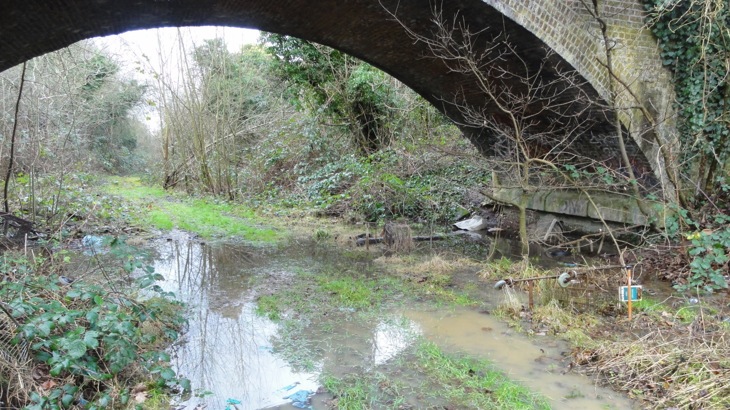 London's Walking and Cycling Commissioner Will Norman said:
"I'm delighted that this new traffic-free route will enable many more Londoners walk and cycle as part of their everyday routine, providing a new link to New Malden Railway Station.
"Together with our expanding Cycleways network, we are making walking and cycling safer and more appealing, helping make our city cleaner and greener for everyone."
Cllr Hilary Gander, Portfolio Holder for Environment & Sustainable Transport for RB Kingston explains:
"The opening of the New Malden to Raynes Park Go Cycle route introduces a different kind of connectivity to the Go Cycle network.
"Joining Kingston with its neighbours in the London Borough of Merton and key transport hubs in South West London, the new route gives residents an attractive off-road option for moving between the two boroughs.
"Formerly inaccessible to the public, this wooded purpose-built route now opens up safe cycling to local schools and families, whilst highlighting the plants and wildlife that make it their habitat.
"We'd like to thank the pupils of Christ Church Primary and West Wimbledon Primary schools who helped us prepare the information boards along the route, and our partners who contributed to creating this very special section of the new Go Cycle network.
"This is another positive step in providing the infrastructure residents are asking us to provide, so they can begin to make new choices of how they choose to travel, and do their bit to help the environment while being fitter and healthier."
"The New Malden to Raynes Park project is the jewel in the crown of the Go Cycle network. Sustrans has been central to the development of the scheme,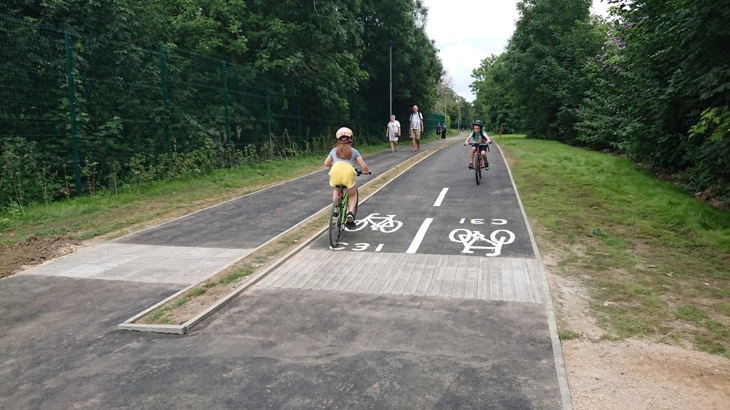 Go Cycle Programme Director Tony Antoniou said:
"The New Malden to Raynes Park project is the jewel in the crown of the Go Cycle network. Sustrans has been central to the development of the scheme, and the opening event was clearly a great success.
"It was fantastic to see so many happy people and children enjoying the day, and Will Norman and all the Councillors were delighted with how it all went."
Neighbouring collaborating partner, London Borough of Merton's representative Councillor Tobin Byers, Cabinet Member for Adult Social Care, Health and the Environment supports this achievement saying:
"This new pathway will bring huge benefits to the community and we are proud to have collaborated with all the partners, whose hard work has led to the realisation of this wonderful project.
"This route provides a valuable link between Merton and Kingston making it easier and safer for cyclists and walkers to travel between the two boroughs. Importantly it has created an attractive space where people can enjoy walking and cycling away from polluting traffic.
"Encouraging residents to take more everyday journeys by foot or by bike is a key part of our work to reduce air pollution across the borough and encourage healthier and more active lifestyles. I am really looking forward to trying it out myself."