We are seeking views on a woodland plan for the Chester and Deeside Greenway, which uses traditional techniques to help protect native trees and plants and attract wildlife along the popular walking and cycling path.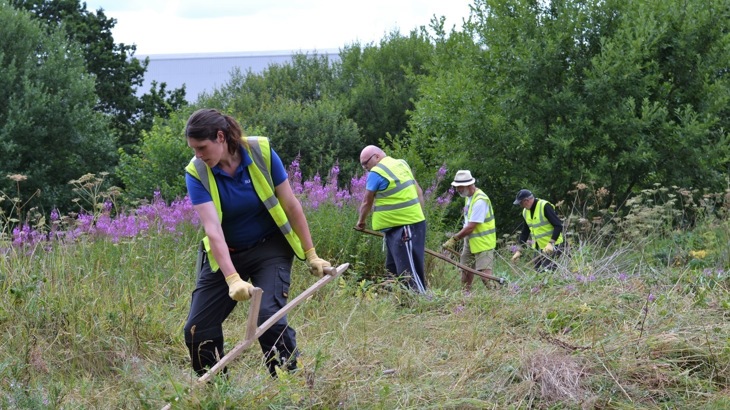 Chester and Deeside Greenway's draft Habitat Plan is open for views until 12 December.
We own and manage the seven-mile route, which stretches from Hawarden Bridge to Mickle Trafford and is part of the National Cycle Network (route 5).
The former railway is now a haven for a wide variety of animals, insects and plants, including the rare club tailed dragonfly and great crested newt.
The linear Chester and Deeside Greenway is close to several important wildlife sites, including the River Dee Site of Special Scientific Interest and Burton Mill Local Nature Reserve.
Our new plan aims to conserve threatened ash trees along the Greenway and protect sensitive woodland such as mature oak and elm.
Our team in the North want to increase the range of wildlife thriving along the path, by building dead and living hedges, creating new ponds, thinning trees or traditional grass cutting techniques such as scything.
Our Land Manager Mary Seaton said:
"The Chester & Deeside Greenway is a fantastic highway for wildlife as well as people. We have a rich variety of trees, as well as grassland and wetland.
"This habitat plan aims to protect and improve on these habitats and attract new wildlife through a range of traditional techniques.
"We would really like to hear your views on the Plan so please get in touch."
The draft Plan highlights 7 focus areas for habitat management:
Deeside Triangle: Attract new wildlife species by creating new ponds and wet areas and implement traditional grass cutting techniques, thin trees to create space for wildflowers.
A494 to Mayfield Road – improve grassland wildlife through traditional cutting regimes.
Mayfield Road – thin undergrowth and create a dead hedge to attract small mammals, birds, invertebrates.
Saughall Road to Blacon Hall road: Use traditional grass cutting techniques to improve species diversity and cut back non-native conifers to prevent them from becoming invasive.
Woodlands Drive: pollard the black poplar to create species diversity and prevent the trees from blocking the path.
Greenfield Lane to A56: Develop a pond network to attract water species.
Silverdale Park: Lay a hedge and thin trees to attract bees and other invertebrates and demonstrate traditional rural craft.