A programme which encourages people in Belfast to walk and cycle as part of their everyday lives has been recognised at the 'Healthy City' 2019 awards.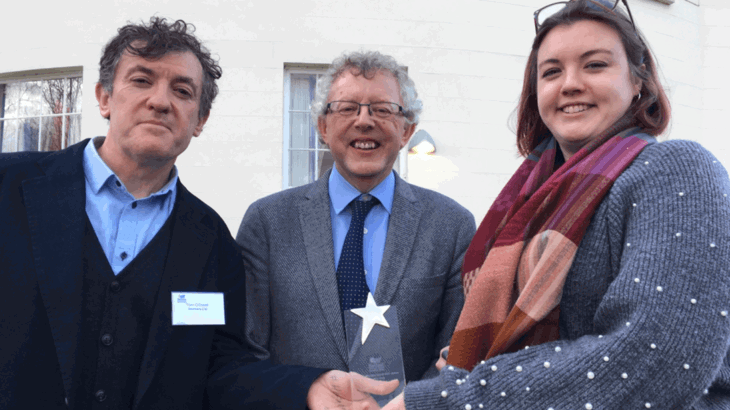 The Belfast Community Active Travel programme, delivered by Sustrans and funded by the Public Health Agency, won in the Healthy Living category at the annual event.
Two of our Active Travel Officers, Sarah Mawhinney and Tom O'Dowd, work in partnership with communities across the 12 Council wards to promote walking and cycling.
The team has been working since 2016 in a wide range of places across the city from Ballybeen to Ballymurphy, organising activities, such as led walks and rides, and on-road cycle training for adults of all ages and abilities.
They have also worked with communities to provide bike maintenance sessions and developed community bike hubs, for example, in liaison with Men's Sheds and this week are assembling bikes in the lead up to Christmas.
Steven Patterson, Communities Project Manager said: "We are really pleased to win this award which recognises the efforts of Sarah and Tom to engage with communities in active travel.
"It also highlights the importance of walking and cycling to making a healthier population and a healthier city."
The judges' praised the programme as "a city-wide initiative with a large number of participants, with strong evidence of impact".
They also agreed that the programme offered "wide-ranging solutions to challenges identified; good effort was made to make the programme accessible and there was a focus on the legacy of the programme to ensure long-term impact."
This is the seventh year of the awards, organised by Belfast Healthy Cities, the World Health Organization initiative in Northern Ireland, to recognise the work undertaken by organisations from all sectors towards improving the health and wellbeing of the people of Belfast.
There were four award categories, Promoting Health Equity; Healthy Places; Healthy Living and Engaging for Change.