School-children at a Co Down primary have found their journey to school much safer and more pleasant thanks to an innovative traffic calming initiative.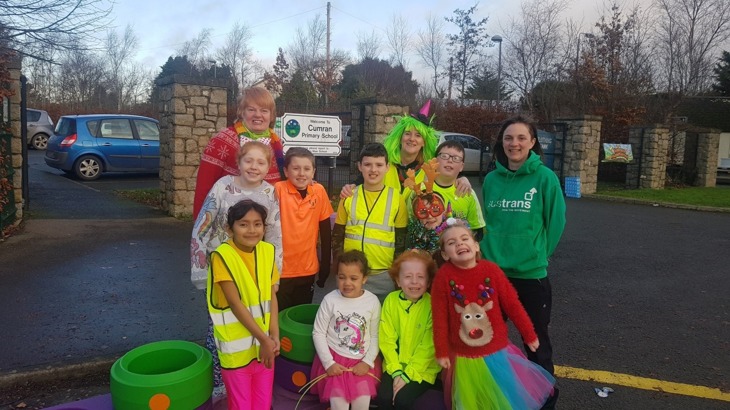 Cumran PS school children pictured with teaching assistant Sarah Murray, teacher and Sustrans Champion Ailsa Brown and Sustrans Schools Officer, Claire Lundy outside their school with the colourful School Kit on their 'Ditch the Dark' day.
Pupils from Cumran Primary School in Clough have been trialling innovative traffic calming and pedestrian safety measures immediately outside their school.
Over the past five weeks the school, in partnership with walking and cycling charity Sustrans, have set up Street Kit.
Street Kit is a bright and colourful alternative to bollards and barriers that can be used to protect pedestrian walkways from traffic or reduce traffic volume around the school gates.
The County Down primary school have been encouraging pupils to walk, scoot or cycle to school and promote safer pedestrian and driver behaviour during the school run.
They have explored a range of road safety activities in school to keep the safety of the children and families in the school community at the centre of this project.
As Street Kit stays in place even when school is closed, the measures have been well received by members of the school community as well as the local youth club and business owners who commended the high visibility of the system even in darkness and low light.
As the initiative draws to a close the school celebrated the end of the project with their annual Ditch the Dark day, encouraging pupils to dress as brightly as possible for their journeys to school in the darker winter months and have plans to continue their campaign for a safe school run into the New Year.
We have been working with the school as part of the Active School Travel Programme for the last two years.
The Active School Travel Programme is delivered by ourselves in over 400 schools in Northern Ireland, and is funded by Department for Infrastructure and the Public Health Agency.
The programme encourages children to walk, scoot or cycle for their school journey, to increase physical activity levels, reduce congestion around school gates, and have a positive environmental impact.
Sustrans Schools Officer, Claire Lundy said: "This was the first time we have placed Street Kit outside a school for an extended period of time and it was a real pleasure to support Cumran with their ideas for creating a more positive environment for pedestrians in the school grounds and on the paths outside the gates.
"Over the last two years, the school has seen an increase in the number of pupils who travel to school by active modes and their designs for the Street Kit project reflected the need to promote a safe environment for pupils to do this."
Cumran Principal Rhonda Moles said: "We are delighted to be the first school to trial this type of project in Northern Ireland and have seen a really positive reception from parents and families towards the road safety initiatives taking place in Cumran."