The National Cycle Network is the stage this summer for a Shakespearean theatre group, travelling around Britain by bike.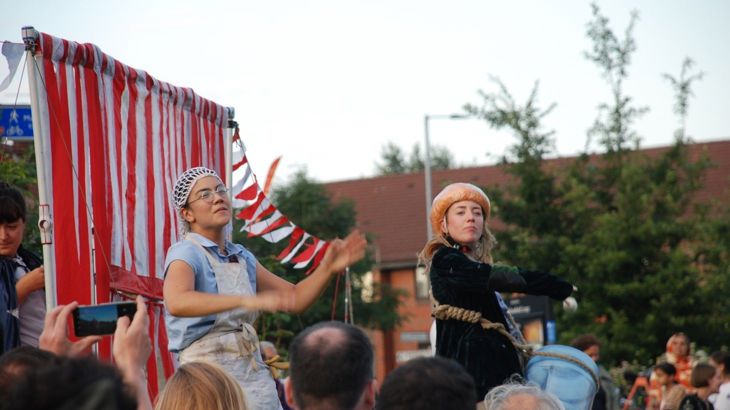 The acclaimed cycling HandleBards, who are using much of the 16,575 miles of cycle route on their energetic UK summer tour, will perform their hilarious bike-powered version of Much Ado About Nothing on 13 August on our Fallowfield Loop (locally known as the Floop) cycle path in Levenshulme, Manchester. The theatre group will then pedal on to New Mills in the Peak District, where they will perform in High Lea Park, off National Route 68, on 14 August.
The all-male cast of four follows an earlier all-female show of The Tempest (pictured) on the Floop on 2 August. The two troupes carry all their set, props and costume by bicycle and will cycle around 1500 miles from London to Edinburgh throughout the summer.
"This will be our third year of putting on shows on the Floop, and they just seem to get better every time!" says producer Paul Moss, who founded the HandleBards in 2013.

"We'll be clocking up our 10,000th mile of cycling this year, often taking National Cycle Network routes between venues - but this is the only cycle path that actually has a performance on top of it!
"The crowd in Levenshulme is always electric, and it's turning into one of our favourite venues as we travel up the country."
The troupes are a fantastic advert for sustainable travel, using much of the National Cycle Network as they go.
Rosslyn Colderley, our England North Director said: "It's really fantastic to welcome back The HandleBards to the Fallowfield Loop walking and cycling path in Manchester.
"The crowd loved The Tempest last week, and we're really looking forward to the men's interpretation of Much Ado About Nothing.
"The troupes are a fantastic advert for sustainable travel, using much of the National Cycle Network as they go.
"In the spirit of the show, we encourage everyone to come to the play on foot, bicycle or public transport.
"Please dress for the weather and bring a picnic."
The Fallowfield Loop is part of the National Cycle Network and is owned and managed by us.
The HandleBards' will perform Much Ado About Nothing on the Fallowfield Loop (Crayfield Road entrance), in Levenshulme, Manchester at 6.30pm on 13 August and at High Lea Park, New Mills at 6.30pm on 14 August. No tickets required, please donate.
Look up Sustrans North West events on Facebook or go to www.handlebards.com for details on all shows. 
The HandleBards are touring the UK until 14 September.