Did you know just 5% of Belfast residents usually cycle to work but as many as 54% would like to start cycling or cycle more?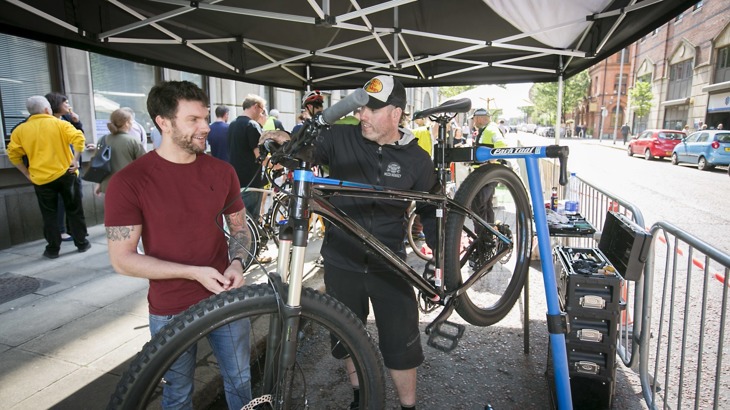 Come along to Sustrans City Cycle Stop on Thursday 8 August for Cycle to Work Day. Bike mechanics from Mech Monkey and the Bicycle Coffee Shop will be available to carry out some free light bike servicing.
To help kick-start a healthier, greener commute, we are promoting 'Cycle to Work' Day on Thursday 8 August with a number of activities to encourage people to get on their bikes.
In Belfast city centre, Sustrans is taking over four car park spaces in Adelaide Street, outside Department for Infrastructure headquarters, from 11am to 2pm with a City Cycle Stop.
The aim is to rethink car park spaces and offer incentives to people cycling to work. For example, an average of 14 bikes can fit in a singular car park space. Commuters who cycle in that morning should call by our City Cycle Stop, where from 11am there will be a range of activities open to the general public.
Bike mechanics from Mech Monkey and the Bicycle Coffee Shop will be doing some free light bike servicing
Get your bike registered with the PSNI Bike Register to help identify your bike if it gets stolen.
Get a free smoothie courtesy of our smoothie bike – you could even make one yourself and feel better about the calories!
Free tea and coffee from Snax 'n the City.
Talk to Sustrans staff and volunteers about route planning and advice on cycling to work.
Find out about the new Cycle-friendly Employer Accreditation Scheme, and get your employer or business to sign up.
Enter a free raffle for a chance to win numerous prizes, including M&S vouchers.
Department for Infrastructure will provide an opportunity for visitors to view and discuss new maps of current cycling infrastructure and cycle parking in the Belfast area.
See our new Streetkit and find out how it can be used to reimagine a car park space or your street
Patricia Magee, Sustrans Active Travel Officer, Workplaces, said: "Many people think that they would like to try cycling to work. Cycle to Work Day on 8 August is a UK-wide initiative to really encourage people to give it a go. We have lots of tips on our website and we'll be available in person at the City Cycle Stop for a chat, information and some freebies."
Sustrans delivers a workplace programme called 'Leading the Way', funded by the Public Health Agency across a number of public sector organisations in Belfast and in the North West to encourage staff to travel actively on their commute.
On Cycle to Work Day, you can also join Sustrans in a bike from work ride from Lanyon Place to CS Lewis Square. Meeting at the Lanyon Place Belfast Bikes Docking Station at 5.30pm, contact Pamela to book on 028 9073 8513 or email Pamela.Grove-White@sustrans.org.uk.
Don't forget to tag Sustrans @SustransNI in your social media posts and use the hashtag #CycletoWorkDay