On 8th April, a new charge for the most polluting vehicles in central London will come into force.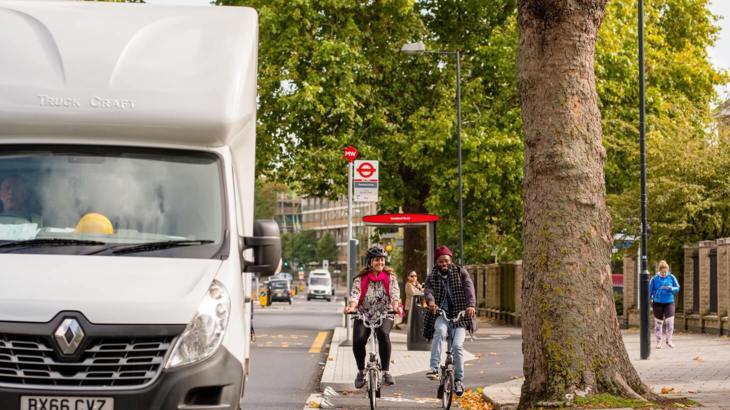 In response to London's appalling air quality, the Ultra Low Emission Zone (ULEZ) will charge diesel and petrol vehicles in the Congestion Charge Zone £12.50 if they fail to meet new emissions standards. From October 2021, this will expand to the North and South Circular Roads.
The scale of the problem
London continues to exceed maximum guidelines for poisonous nitrogen dioxide (NO2) and particulate matter (PM10, PM2.5), with half of the emissions coming from road traffic. In 2010, a shocking 9,000 Londoners died from conditions related to exposure to air pollution, such as cancer, asthma and heart disease. Alarmingly, children suffer seriously from poor cognitive development and reduced lung function because of our toxic streets.
What does Sustrans think?
Given this urgent public health crisis, Sustrans fully supports the ULEZ, which is expected to reduce harmful emissions by about 45%. So that all Londoners benefit, we urge Sadiq Khan to include the whole of London in the zone and commit to banning diesel cars from the capital by no later than 2025.
We also welcome the Mayor's plans to develop a comprehensive, single charge for vehicles in 
London based on emissions, distance travelled and time of day. This would ensure that drivers are charged more fairly, rather than paying a flat rate.
Social justice
Understandably, opposition to the ULEZ charge is often based on concerns that lower-income drivers or small businesses will be hit the hardest.
But, the lower a Londoner's income, the less they travel, the less likely they are to own a car, and the more likely they are to be unfairly exposed to traffic pollution. In this sense, the ULEZ is socially progressive; while drivers of polluting vehicles will be impacted by the charge, the 61% of inner London households who do not own a car should benefit from cleaner air and improved health.
In fact, TfL's research shows 69% of respondents within the North and South Circulars supported the scheme. Opposition emerged outside the Circulars, mainly amongst drivers who don't have to live with the acute effects of pollution caused by driving into more central areas.
We also believe it is vital for the Mayor and central Government to further support small businesses who depend on their vehicle to buy cleaner models. Failing to do will impact people least equipped to pay the hardest and leave polluting vehicles on the road.
Streets for people
We all need to take collective responsibility for the poisonous air that is harming our families, friends and neighbours and secure a city with fewer vehicles, not just cleaner ones.
6.8 million car journeys are made in London every day, yet 1/3 of these are under 2km and nearly half could be cycled in around 10 minutes. More than one third could be walked in under 25 minutes.
To reduce the number of car trips made in London and cities across the UK, we need ambitious transport policies that ensure streets are designed for people's everyday lives, enabling them to walk and cycle for short journeys. Some boroughs are demonstrating how ambitious design and community engagement can make a real difference, but this ambition needs the political will to be rolled out more urgently right across London.