On Wednesday 17 April 2019 the first traffic-free link between the rural communities of North Connel and Benderloch, Argyll and Bute was officially opened.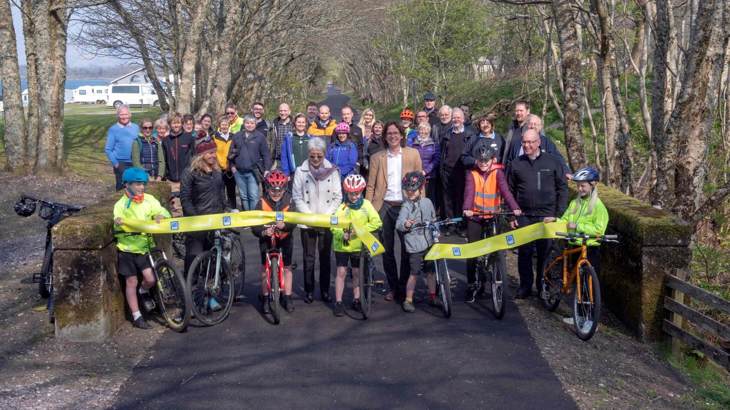 Children from Lochnell Primary School officially opened the route
Funded by Transport Scotland and delivered by Sustrans Scotland, the new link sees the first protected pathway for walking, cycling and wheeling between the two villages, and signifies the first milestone in a programme of UK-wide improvements to the National Cycle Network.
Forming part of a £2 million investment by Transport Scotland in National Cycle Network Route 78 throughout Argyll and Bute and the Highlands, local community councils and a petition group from the area have been heavily involved in the project, ensuring the new link best serves the needs of the local communities. Previously connected only by a busy trunk road with no pavements on either side, the new link between the villages opens following over a decade of community and landowner engagement.  
The 1.5km off-road section of National Cycle Network Route 78, the Caledonia Way, also provides young people from North Connel attending Lochnell Primary School in Benderloch with a safe route to school. Dependent beforehand on cars and buses to make the journey, the traffic-free section of the National Cycle Network now creates the first dedicated walking and cycling route for pupils and their parents.
Local resident Dr Andrew Henderson, who organised a petition calling for the extension of Route 78 in Ledaig, said:
"The project will make it much easier for children, particularly from the North Connel area, to cycle to school through a much safer and friendlier environment. The local community were able to add their voice, and Sustrans were very supportive in listening to what we had to say. We are very encouraged that this is now an excellent outcome."
Local school pupils Kai and Finn said: "It will definitely encourage us to cycle to school more frequently."
Within the Paths for Everyone report, Sustrans identified 50 key 'activation projects' crucial to improving conditions across the National Cycle Network in the UK. The link at Ledaig is the first of the projects to reach completion, and is the first step towards Sustrans' goal of doubling the amount of traffic-free sections of the Network to 10,000 miles by 2040, creating a UK-wide network of paths connecting cities, towns and countryside. The Caledonia Way, National Cycle Network Route 78, is used for an estimated 2,500,000 cycling journeys and 3,900,000 pedestrian journeys per year, and contributes significantly to the local economy.
Children can take bikes, old people can now use mobility scooters and parents with prams can have a lovely walk.
John Lauder, National Director, Sustrans Scotland said:
"It's fantastic to see this next traffic-free stretch of the Caledonia Way at Ledaig completed. With the section at Ledaig complete and construction of the next section at Keil Hill underway we will have a high-quality route between Connel and Ballachulish soon.
"This is a project close to Sustrans' heart as it fulfils so many of our core values: connecting communities, responding to public need, engaging with local people and schools, reducing car dependency and providing high quality off-road walking and cycling paths for everyone.
"It also represents an important milestone in the Scottish Government's commitment to improving the National Cycle Network making active travel safer and more accessible for all.
"A task of this scale requires time and dedication and I would like to thank local landowners, Transport Scotland, Sustrans' engineers, Jacobs, McGowan and local communities for their help in making this project a reality."
Xavier Brice, Chief Executive for Sustrans, said:
"The opening of this new link marks the start of delivering the vision we set out for the National Cycle Network: to create a network of traffic-free, safer and more accessible paths for everyone.

"The Network is a UK-wide asset, the impact of which is felt by communities across all regions and nations. And this traffic-free path will do just that, from the way it will help boost tourism, bringing benefits for local businesses, to the way it will serve local communities connecting them to places, and to each other.

"All of this would not be possible without the support of the Scottish Government, which we are very grateful for. Building on the success of the Caledonia Way, we look forward to working with governments and partner organisations over the coming years to grow the amount of traffic-free miles for today's and future generations."
Michael Matheson, Cabinet Secretary for Transport, Infrastructure and Connectivity, said:
"We have a bold, aspirational and challenging shared vision to increase levels of walking and cycling for shorter, everyday journeys, so a crucial part of this is to improve the necessary infrastructure across the country. To help achieve this we doubled our investment in walking and cycling to £80 million last year and we are maintaining that level this year.
"I am delighted the new section of National Cycle Network Route 78 at Ledaig is now ready for use - it's an excellent example of the good work that is taking place across Scotland to provide safer and friendlier segregated walking and cycling paths in our towns and cities, putting the movement of people before motorised vehicles.
"I am also heartened that at a local level this new path will encourage people to make walking and cycling a key part of their travel as they go about their daily business, as well as offer improved access for those wanting to make longer journeys around a better connected, fit-for-purpose walking and cycling path network."