The Department for Infrastructure (DfI), which is responsible for promoting cycling and developing better walking and cycling infrastructure in Northern Ireland, has shown they practice what they preach as it became the second UK organisation to receive international recognition as a cycle-friendly employer.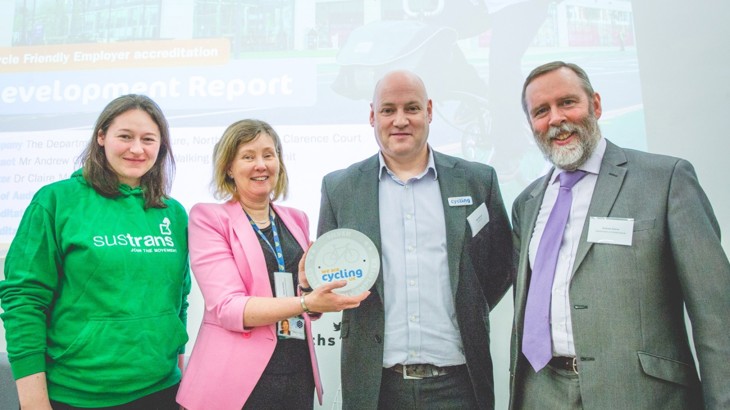 Awarded Silver accreditation in the Cycle Friendly Employer scheme, the DfI has met a set of stringent measures to demonstrate their "cycle-friendliness".
The Cycle Friendly Employer Scheme (CFE-UK) is part of the EU 'Bike2Work'project and is about helping more people cycle to work. Organisations can achieve Bronze, Silver or Gold accreditation within the scheme.
The CFE-UK scheme is the only international standard for workplace cycling and recognises how commuting by bike has many proven benefits for both employees and their employers.
To achieve the Silver accreditation, DfI has committed to provide a fleet of bikes for staff to use, including a cargo bike and Brompton folding bikes, and also have incentives for employees such as secure cycle parking and showers at their Clarence Court Headquarters in Belfast.
DfI is now the second organisation to be accredited on the CFE-UK scheme in the UK, after Queen's University Belfast which was awarded gold in November last year.
Cycling UK is the recognised provider of the scheme in the UK, and is working with Sustrans which provides site auditing and advisory work for business in Northern Ireland.
James Palser, Cycling UK's CFE Project Manager said: "I'm thrilled to present DfI with silver accreditation for the Cycle Friendly Employer scheme. It's absolutely fantastic seeing the Governmental department responsible for encouraging the whole of Northern Ireland to cycle more, practicing what they preach and making it easier for their own employees to cycle to work.
"In taking this approach, DfI really are acting as an example for other businesses and organisations throughout Belfast and Northern Ireland."
Programme for Government objective
Andrew Grieve, Head of the DfI Walking and Cycling Unit said: "The Department for Infrastructure is committed to the Programme for Government objective of increasing the percentage of all journeys in Northern Ireland that are made by walking, cycling and public transport.  One of the ways to achieve this is by making it easier for people to use the bicycle for everyday journeys – commuting, shopping and for going about their business.
"We are pleased to be one of the first UK organisations to participate in the CFE scheme and to receive this silver award. The scheme helps, to show what organisations can do to get more of their staff cycling and to identify ways in which we can do better.
"The Department has taken a number of recent steps to enhance cycling opportunities for staff and visitors and we will use recommendations from Cycling UK to make further improvements."
Dianne Whyte, from Sustrans said: "We've been working for many years with the Department for Infrastructure to improve its cycle-friendly policies and through the Leading the Way programme to encourage its staff to travel more actively. We're therefore delighted it has won a Silver accreditation and hope it will inspire other employers to promote cycling to work."
Regular exercise, such as cycling to work, has shown to reduce stress among employees assisting with mental, as well as physical, wellbeing. Employees who cycle to work studies are also less likely to be absent from work.