Funded by the Scottish Government and Dumfries and Galloway Council, the 'Neighbourhood Street Design Project' made the neighbourhood a safer, more vibrant and attractive place to live. Sustrans Scotland, local residents and Dumfries and Galloway Council have been recognised for their work at the Scottish Civic Trust 'My Place' Awards, after DG1 Neighbours were awarded the Civic Champion prize for their support to the Dumfries Street Design Project.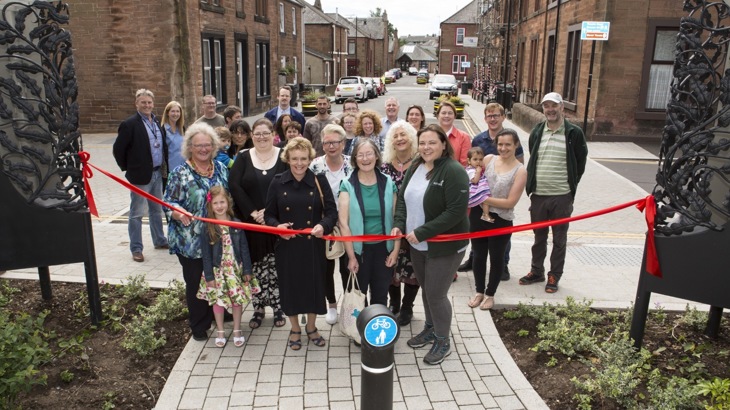 People living and working in Queen Street, McLellan Street, Brooke Street and Cumberland Street have closely guided the changes carried out on their streets from initial design ideas through to the construction process. Over the past five years this has seen the installation of innovative art work, traditional Victorian street lights, gateways and greenery.
Robert Rome, Chair of DG1 Neighbours said:
"There has been so many positive changes that have taken place over the past few years to transform our neighbourhood and it's great that our continued work has been recognised".
The local community was involved in the full process, and a priority of the project was to support and enable them to develop their own solution to the problems raised and ensure a lasting legacy.
As a result of the collaborative design process, the residents have come together to form a constituted community group, meaning they are now able to access funding and grants to help maintain the improvements to their local area.
The success of this project rests on the great partnership and involvement of representatives from DG1 Neighbours, Dumfries and Galloway Council and Sustrans Scotland. The local community are now feeling proud and more empowered to continue investing in and actively caring for their area.
Sustrans Scotland Street Design Co-ordinator Emily Davie said:
"We are thrilled DG1 Neighbours has been recognised for this award following their active participation in the Street Design project.
Leader of Dumfries and Galloway Council, Elaine Murray said:
"We're delighted that the neighbourhood Street Design project has been recognised for this award.
"This was an ambitious project which wouldn't have been as successful without the backing of the local community who were involved at every level of the project and actively participated in the look and design of their area. Hopefully, this project sets a good example of what can be achieved when the whole of a community is involved."
Chair of DG1 Neighbours, Robert Rome said:
"There has been so many positive changes that have taken place over the past few years to transform our neighbourhood and it's great that our continued work has been recognised."