A ban on pavement parking, high-quality cycling infrastructure, a 20mph limit on local streets and an overhaul of the Highway Code were amongst the measures recommended in a new manifesto released on 28 June from an alliance of the UK's major organisations dedicated to walking and cycling.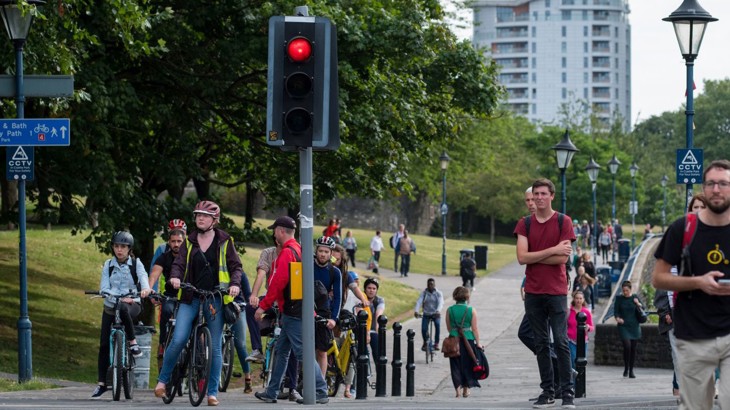 The alliance of the Bicycle Association, Cycling UK, the Ramblers, British Cycling, Living Streets and Sustrans, has a combined membership of more than 330,000 people and span every form of walking and cycling, from the school run to Olympic success.
Launching their 'Moving the Nation' manifesto at a major conference on cycling in Manchester, they unveiled a new vision of a future where everybody in the UK can live, work and play in places that are 'healthy, vibrant and that make walking and cycling the natural choice for short journeys'.
The alliance has outlined the five first steps it would like to see the Government take on board to realise their vision:
Speed
Lower default speed limits to 20mph for most roads in built up areas and 40mph for the most minor rural roads to make our roads and streets safer for everyone.
Space
Adopt and ensure consistent application of existing 'best-in-class' infrastructure design standards to create safe, attractive and inviting places for people of all ages and abilities to walk and cycle.
Safety
Revise the Highway Code to improve safety for people walking and cycling, particularly at junctions.
Priority
Prohibit pavement parking to create safer and more accessible streets.
Culture
Provide cycle training for all children during their primary and secondary school years and embed a culture of walking and cycling throughout the school curriculum.
Speaking at the launch, the Chief Executive of Sustrans, Xavier Brice said:
"For too long now our towns and cities have been designed around cars and motor vehicles, leaving them unsafe, unattractive and difficult to move around on foot or by bike.
"Sustrans advocated for the Cycling and Walking Investment Strategy, and with the launch of the manifesto, we want to ensure it is strengthened so that walking and cycling becomes the natural and realistic choice of transport for everyone, regardless of age, gender and ethnicity.
"Today, we are setting out a tangible vision of what good would look like and are calling on the UK Government to take urgent action, to unlock the incredible benefits in terms of health and economy which walking and cycling can deliver."
Also speaking at the launch was Olympian Chris Boardman, who last year was appointed Greater Manchester's Walking and Cycling Commissioner by Metro-Mayor Andy Burnham.
He said:
"Getting around on foot or by bike has a transformational effect on our local neighbourhoods but also on our collective health and wellbeing. In spite of this, consistently across several governments, we've seen a lack of leadership and far too little investment in new infrastructure to make it safe and easy to do.
"We're making major changes across Greater Manchester but we'd like to see it happen everywhere and that needs national action, now, supported by government."
Julie Harrington, Chief Executive of British Cycling, said:
"More people cycling and walking will reduce congestion, lower the costs of ill health on the NHS, and make our local communities safer and more pleasant places to be. The Government's Cycling and Walking Investment Strategy is a step in the right direction but we need to do more.
"By speaking out for the first time with one voice, we have set out a clear vision for the future which will help our country become happier, healthier and greener."
The vision set out in 'Moving the Nation' includes a number of areas of action, including: making walking and cycling the natural and easy choice for all short journeys; making sure every town and city is served by a core network of protected cycle routes and walking routes, particularly connecting people to green spaces; ensuring that every rail and bus stop has facilities that prioritise cycling and walking; making sure that every child is able to walk and cycle to school in safety and with confidence; and giving everybody an opportunity to take up walking and cycling, through programmes in schools, workplaces and local communities.
Aside from the five first steps outlined in 'Moving the Nation' the alliance is calling on the UK's Cycling and Walking Investment Strategy (CWIS) to be strengthened, alongside walking and cycling's place in the planned new Road Investment Strategy (RIS2).
It's also calling for long-term dedicated investment, to reflect a Safety Review carried out as part of the CWIS, and backed by charging for pollution.