This year it's the 40th Anniversary of the Bristol and Bath Railway Path (BBRP). Help us celebrate the path by entering our photography competition with your best pictures along the BBRP. You could be in with the chance of winning the final calendar with the winning photos.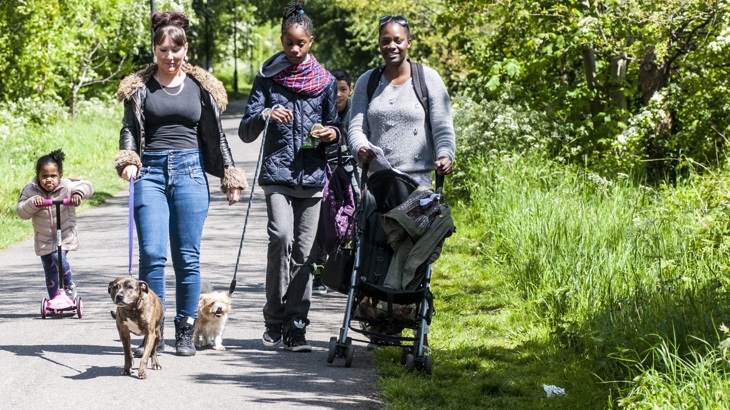 The competition has four phases representing the four seasons. Enjoy the path year round and enter one or all of the phases!
How to enter
The competition has four phases each with its own closing date for entries and opening and closing dates for voting. The four closing dates for entries are:
Phase 1 (Winter): Entries close at 5.00pm Thursday 28 February 2019
Phase 2 (Spring): Entries close at 5.00pm Friday 31 May 2019
Phase 3 (Summer): Entries close at 5.00pm Friday 30 August 2019
Phase 4 (Autumn): Entries close at 5.00pm Thursday 31 October 2019
Late, incomplete or corrupt entries will not be accepted.
Please send your images to south.photos@sustrans.org.uk with the following information:
Your name and contact email address.
The season you are entering.
The name you are happy to be made public if you are picked as a winner (e.g you may want us to use your first name and second name, first initial and surname only, initials only, or "Anonymous").
And optionally, location and the story behind your picture.
We are committed to protecting your personal data. For information on how we do this, see our privacy notice.
Entries will be shortlisted by representatives from Sustrans and the winners for each category determined by the public on the Sustrans South Facebook page.
Before entering the competition we recommend you read the terms and conditions below.
If you have any questions please contact south.photos@sustrans.org.uk
Terms and Conditions
Eligibility
The competition is open to residents of the United Kingdom who are 16 years of age or over, except employees of Sustrans and their close relatives, those judging the competition or anyone professionally connected with the competition.
Entries must have been taken on the Bristol and Bath Railway Path.
All images entered must celebrate your experiences on the BBRP and be no more than three years old.
Participants must not be professional photographers. In the context of this competition, a professional photographer is defined as someone who makes over 50% of their annual income from the sale or publication of their photographs.
Images submitted must not have been published elsewhere (excluding social media) or have won a prize in any other major photographic competition, or be entered into a major competition where the results are still pending.
Participants warrant that no animals depicted in their entries were harmed in the taking of the photographs.
Entries
Entrants may submit up to five different photographs for each phase.
Entrants found to be using multiple email addresses to exceed the allowed number of submissions will be disqualified.
Photos submitted on behalf of another person will not be accepted.
The promoter is not responsible for entries that are sent via email and not received, and proof of transmission will not be accepted as proof of entry.
Sustrans may contact entrants to provide extra information or an extended description of their image.
Sustrans reserves the right to transfer an entry to a different category during the competition or judging if it feels it is more relevant.
If entrants fall below the required standard Sustrans reserve the right not to declare a winner and award prize.
Technical specifications
Photos must be sent by email in digital format to south.photos@sustrans.org.uk.
Minimum file size is 1MB and the maximum file size is 10MB.
Photos must be submitted with no watermarks, borders or excessive digital manipulation.
Judging, notification and prizes
All valid entries made before the closing date for each phase will be judged as follows:
Shortlisted photos in each category will be chosen by representatives from Sustrans.
The shortlisted photos will be uploaded to Sustrans South's Facebook Gallery. The winning photos are the ones which receive the most 'likes' on our Facebook Gallery.
The winner will be notified by email within 28 days of the closing date of the relevant phase of voting.
Winners must confirm acceptance of their prize within 28 days of being notified by Sustrans and must provide a UK postal address for their prize to be sent to.
The prize is a printed copy of a calendar featuring winning photos of the Bristol and Bath Railway Path.
The prize is as stated and no cash or other alternatives will be offered. The prizes are not transferable. Prizes are subject to availability and we reserve the right to substitute any prize with another of equivalent value without giving notice.
The promoter's decision in the respect of all matters to do with the competition will be final and no correspondence will be entered into.
The winners will be announced on the Sustrans South Facebook page at the end of each phase, no later than 28 days after the closing date.
Rights and ownership
All images submitted must be the work of the individual submitting them, and entrants must have full copyright for any images they submit.
Entrants retain the copyright to images submitted.
It is the responsibility of each entrant to ensure that:

any images they submit have been taken with the consent of anyone who is identifiable in that image or the consent of their parent/guardian if they are under 18 and that they have been advised of the purpose of the submission and that their photograph may be published by Sustrans.
any images submitted do not infringe on the copyright of any third parties, and to indemnify Sustrans against any claims made by third parties in the event of such an infringement.
they have received any necessary permissions from the owner(s) of objects including buildings featured in submitted images for the usage rights required by Sustrans and will indemnify Sustrans against any claims made by any third parties in respect of such infringement.
they have not licensed or disposed of any rights in their images that would conflict with uses to be made by Sustrans.

Photographs entered in the competition must not promote brands or businesses other than the promoter's.
Sustrans and any partners may use photographs entered into the competition to promote the 2019 competition.
Sustrans may seek permission from entrants to use photographs and photograph descriptions entered in the competition for promotional purposes beyond the promotion of the 2019 competition. This discussion and negotiation will be independent from the competition and will not affect entrants' chances of winning.
Sustrans may wish to exhibit photographs entered in the competition at a later date – however, permission will be sought from the entrants for this.
When displaying images online or in print Sustrans will always credit the photographer with their supplied name unless asked not to.
There is no plan envisaged by Sustrans, or any of its partners or sponsors, to create a general commercial library of the images entered into this competition.
Publicity
Prize winners may be required to take part in publicity and their winning entry may be published on the Sustrans website, in Sustrans publications, social media channels as well as the wider media reporting on the competition.
Data Protection and Privacy
The winners agree to the use of their supplied name and image in any publicity material in relation to the competition.
Personal information provided by entrants will be used for the purposes of administering the competition and their entry in accordance with our privacy policy: www.sustrans.org.uk/privacy.
Personal data supplied by entrants, other than winners, will be deleted no later than three years after the end of the competition. The personal data of shortlisted winners will be kept to enable the photos to be used to promote future competitions, and to give appropriate credit, and also for historical record keeping where appropriate.
The promoter reserves the right to cancel or amend the competition and these terms and conditions without notice due to any event outside of the promoter's control. Any changes to the competition will be notified to entrants as soon as possible by the promoter.
Entering Sustrans photography competitions
During summer 2019 there will be three separate Sustrans photo competitions themed around the National Cycle Network (one covering the Bristol and Bath Path, one covering Scotland, and one covering the whole of the UK). A single person may enter one, two or all three of these competitions, provided they are entering a significantly different photograph in each competition.
If you would like to enter more than one Sustrans photography competition but are unsure whether the images you'd like to enter are sufficiently different, please contact us at photocompetition@sustrans.org.uk.