More than 12,000 premature deaths from air pollution would be prevented over ten years, if both England and Scotland reached their respective official goals to get more people to walk and cycle. In addition, there would be £9.31 billion worth of benefits to the economy over the same time period.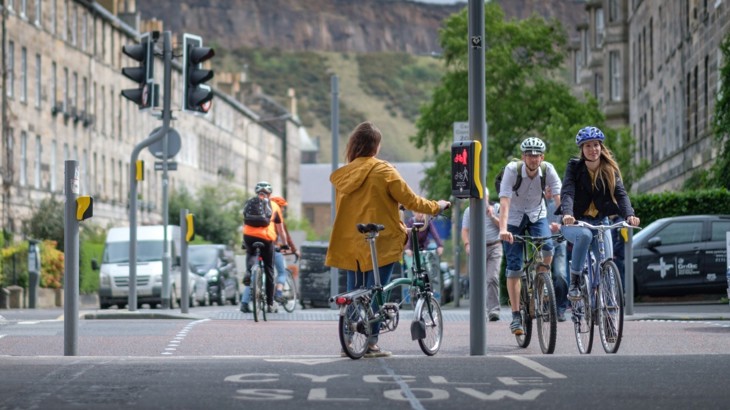 Sustrans, in partnership with environmental consultancy Eunomia, has today released a first of its kind model to measure air quality benefits from both: reducing motor emissions due to shifting to walking or cycling, and the changes in personal exposure to air pollution.
The model aims to support local authorities in making the case for investment in walking and cycling and estimates the contribution of active travel in reducing air pollution – and the subsequent benefits to public health.
It found that if the targets to double journeys by bike and increase walking by 300 stages per person in the England's Cycling and Walking Investment Strategy were met, this would prevent more than 8,300 premature deaths from air pollution and would result in £5.67 billion in benefits to the public purse over ten years – through the avoided costs associated with poor air quality, including NHS treatment for respiratory diseases.
" This innovative model could be of considerable value in supporting local authorities and government, as these bodies consider options to tackle the air pollution emergency at a local level. "
Equally, if the vision of 10% of everyday journeys by bike set out in Scotland's Cycling Action Plan was realised, nearly 4,000 premature deaths would be avoided and £3.64 billion of savings would accrue over a decade.
The gains would be even bigger if wider benefits to health and wellbeing from increased physical activity were included.
Xavier Brice, CEO for Sustrans, said:
"At a time when road transport is responsible for the majority of air quality limit breaches in the UK, it has never been more important to reduce the number of motorised vehicles on our roads.
"The new findings reiterate that walking and cycling has a huge role to play in tackling the air quality crisis that causes tens of thousands of premature deaths every year. If we are to make a major modal shift, we need to provide a network of direct protected cycle routes on roads in addition to quieter routes across the UK.
"We're urging governments at all levels to include funding for walking and cycling infrastructure in their Clean Air Plans and the UK Government to prioritise investment in active travel as part of wider urgent action to make air safe again."
Every year, tens of thousands of early deaths can be linked to breathing polluted air. The UK has repeatedly broken legal limits of nitrogen dioxide, derived mainly from diesel vehicles in the last few years. Many towns and cities are now also failing World Health Organisation's guidelines for particulate matter, 45% of which comes from car tyre and brake wear and won't be reduced by a move to electric vehicles.
In England, 29 local authorities that are breaking legal air quality limits are to produce Clean Air Plans by November 2018, whilst the devolved nations are trialling a number of different plans to improve air quality. The Scottish Government, for instance, is proposing to introduce Low Emission Zones in four cities by 2020 and air quality management areas (AQMAs) by 2023 across the country.
Ann Ballinger, lead modeller and air quality expert at Eunomia, said:
"This is the first time that Sustrans' data has been used alongside public health data to understand what impacts walking and cycling schemes have on an individual's exposure to air pollution.
"Our analysis suggests investment in cycling and walking has considerable potential to improve local air pollution. We believe this innovative model could be of considerable value in supporting local authorities and government, as these bodies consider options to tackle the air pollution emergency at a local level."
For further information about the new model and the accompanying research Air Quality Benefits of Active Travel go to: www.sustrans.org.uk/airquality