Children spend less time playing outdoors and more time using technology than their parents did as youngsters, according to our survey released during Bike Week.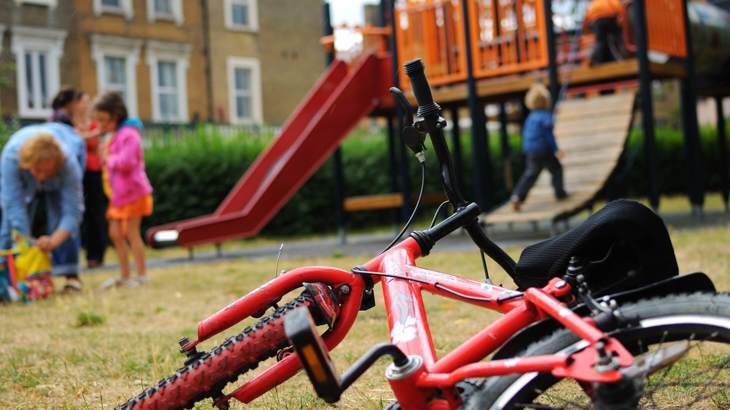 Research shows kids play outside half as much as parents did
On average children spend 1 hour and 20 minutes playing sport and playing outside after school, whilst their parents reported spending 2 hours and 15 minutes doing similar activities.
Indeed over a third (33%) of children do not play outside after school at all, compared with 20% of their parents.
The YouGov survey of over 950 parents asked participants about the exercise and technology habits of their oldest child between 5-11 and the time they spent on similar activities at that age.
Children spend almost half the amount of time playing outside than their parents did
A third of children do not play outside after school at all
A fifth of children's time after school is spent on tablets and smartphones
Despite growing up with Ataris, Amigas and Gameboys parents reported spending a significantly shorter amount of time using technology. Today's children spend nearly two hours each evening using games consoles, personal computers and tablets/smartphones. Their parents, who would have used consoles to play Super Mario, Pac Man and Space Invaders, spent just under 40 minutes playing games consoles and using personal computers.
Our Policy Director Jason Torrance explained that the survey demonstrates the need to ensure children get more exercise in their daily routines:
"The physical inactivity epidemic in the UK threatens the health of a generation of children. Whilst the UK Government has announced several strategies in England to increase the physical activity of the nation, there is a chronic lack of investment that will produce little action. 
"Exercise is a vital component of keeping healthy and as this survey reveals children today are simply not as active as previous generations. The journey to school is a great way to build in more exercise into children's daily lives and the popularity of events like Bike Week demonstrates how much children enjoy getting active. We want to see the UK Government make this a priority by investing in safe cycling and walking environments that children and adults can use.