We're working in partnership with Bosch to place e-bike charging stations along iconic routes on the National Cycle Network. These charging stations will enable more people to travel long distances across the UK using electric bikes. Find one on a route near you below.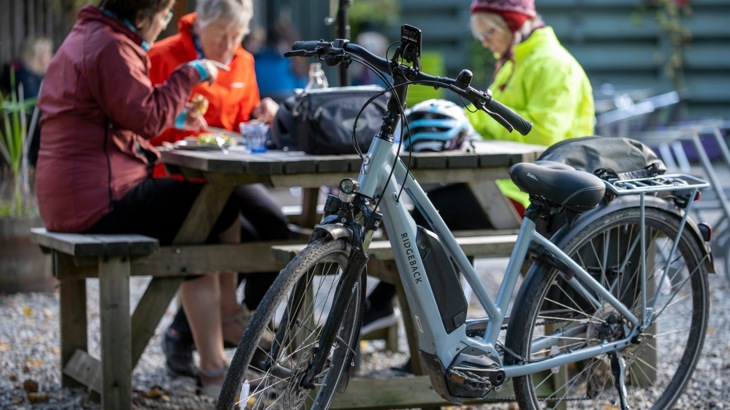 You'll find each of the electric bike charging stations at cafés and rest spots. Credit: Andy McCandlish
The Devon Coast to Coast cycle route passes through lush valleys as it connects the county's north and south coastlines.
Along this 99-mile trail, you'll find two electric bike PowerStations to keep you going.
The northernmost is at Barnstaple Bike Shed in the heart of town.
This well-stocked cycle shop sits alongside the Tarka Trail, a traffic-free route which forms part of the Coast to Coast.
Your second spot for a top-up can be found just past Okehampton at the Pump & Pedal.
A cycle store, café and pub, this establishment does it all.
It's on the doorstep of the picturesque Dartmoor, so make sure to stop by before skirting round the western edge of this national park.
Moreton-in-Marsh, Cotswolds – Cotswold Line
The Cotswolds is England's largest Area of Outstanding Natural Beauty.
The green and glorious countryside is dotted with picturesque little villages and hills which will be no match for an e-bike.
There are many quiet on-road routes to explore, including the Cotswold Line.
If you find your e-bike battery getting low along the way, make a pit stop at Cotswold Cycles in Moreton-in-Marsh.
As well as a shop, it also houses the Revolution Café, a cycling-themed spot for good food and good coffee.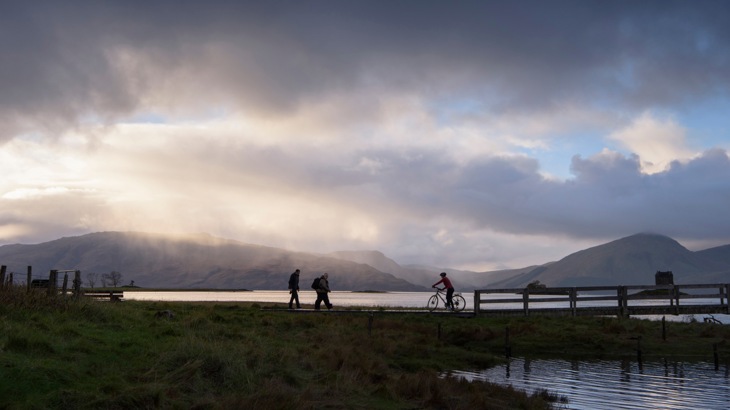 The Caledonia Way passes through some of Scotland's most dramatic scenery. Credit: John Linton
The Caledonia Way is a stunning route ranging over 230 miles of Scotland's west coast.
It runs from Campbeltown in the south to Inverness in the north, with waterside views aplenty.
On it, you'll find four e-bike PowerStations:


Oban
A moment or two from the start of the Caledonia Way is where you'll spot its first electric bike charging station.
It's attached to West Coast Motors, a family-owned bus, coach and tour company.
Set in the centre of Oban, you'll have no shortage of options for taking a break while you let your bike charge back up.


Achintee
This PowerStation sits in the shadow of Ben Nevis, Britain's highest peak.
It's connected to the mountain's visitor centre, a base where you'll find weather information, toilets and a riverside picnic area.
Although historically best known as a hiking and climbing spot, you can also mountain bike at the Nevis Range.
Recharge here on your e-bike trip and take in some amazing views while you're at it.


Fort Augustus
You'll find this most northerly e-bike charging station at the Caledonian Canal Centre, a visitor and information hub.
It's a great spot to take a break and marvel at the views you've passed and the distance you've covered.
This stop also sits at the southern end of the world-famous Loch Ness, where you may or may not be able to spy a beastie of mythical proportions…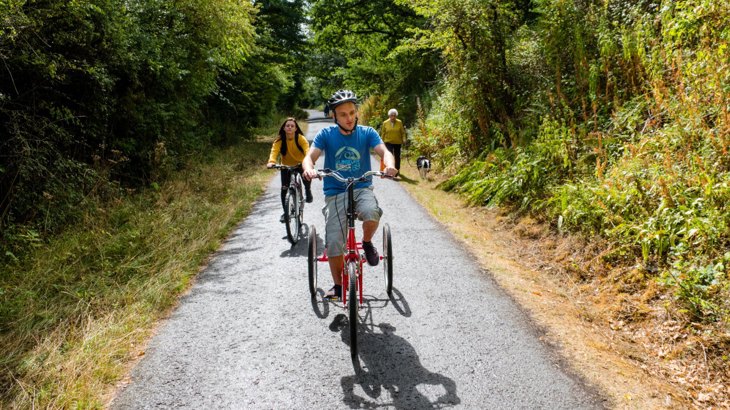 The Bristol and Bath Railway Path is an accessible route great for all users. Credit: photojB
Sherwood Forest, Nottinghamshire – National Route 6
This charging station is situated right outside Sherwood Pines Cycles.
You can find the bicycle hire shop tucked under the boughs of Sherwood Forest, a stone's throw from National Route 6.
This long-distance way travelling from the hustle and bustle of London to the open spaces of the Lake District.
Route 6 passes along historic canals, such as the Grand Union Canal towpath, and traffic-free havens like the Brampton Valley Way.
Make a stop over at the Sherwood Pines Cycles to replenish your e-bike battery and recharge yourself too with coffee and cake.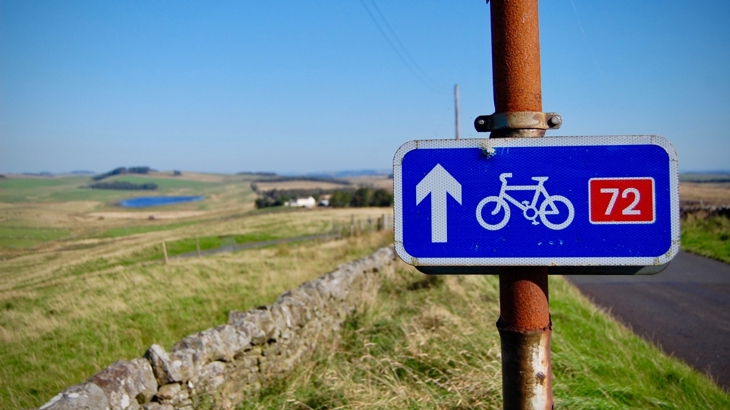 Hadrian's Cycleway follows the ancient Roman frontier from Cumbria's coast in the west to the mouths of the Tyne and Wear in the east. Credit: Rebecca Hills
You'll find an e-bike charging station just off the 170-mile Hadrian's Cycleway at Carlisle Cathedral.
This route follows the historic Hadrian's Wall to take you from stunning coastal views to quaint villages.
And while that distance may seem a bit daunting, a fully-charged battery will help you conquer this castle-lined path.
In Carlisle, you can admire the Norman architecture and take a break at the cathedral's café.
There are also plans to install another charging station in Hexham on the eastern half of this route.
This is expected to be completed in early 2023, with more details to follow soon.
Using the charging stations
Depending on the size of the e-bike battery, a 50% charge can be achieved in approximately one hour.
The Bosch PowerStations are all located in fully accessible indoor locations and are fully set up to receive your battery.
There is no need to bring your charging cable with you.
There is cycle parking located in close proximity to every charging station.
The PowerStations have six charging compartments which can be used simultaneously, each with a lockable door.
Simply detach your battery from your bike and connect it to the mounted charging cable inside one of the compartments, lock the compartment with the key provided and enjoy your break.
Find out more about our work with Bosch to make the National Cycle Network more accessible to e-bike users.


Don't own an electric bike yourself? See our guide on where to hire ebikes around the Network.