Fancy a new adventure and the chance to see the best nature the UK has to offer? We've teamed up with our friends at Saddle Skedaddle to pick out some of the UK's best cycle rides and areas to spot interesting wildlife as you go.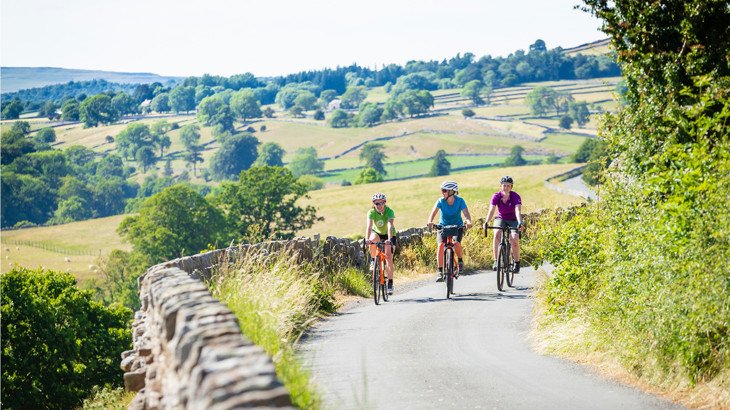 As custodians of the National Cycle Network, it's our responsibility to ensure that the wildlife and flora surrounding the paths can be preserved for everyone to enjoy. 
These green corridor routes are ideal spaces for nature to thrive. And are great places to spot wildlife! 
Hadrian's Cycleway
This 100-mile ride has something for everyone. And it's a great route for families.
Starting at Bowness-on-Solway, take in the sights as you ride to Tynemouth.
You'll glimpse some of the UK's best ecology as you cycle along Hadrian's Wall with many native species found along the route.
One familiar bird you'll be likely to spot is the robin. Robins don't migrate so are seen all year round.
We recommend observing these beautiful birds from afar, so as not to disturb their nests.
It is against the law to disturb a nesting bird and robins will readily abandon their nest (even with chicks or eggs in) if they think you know where it is.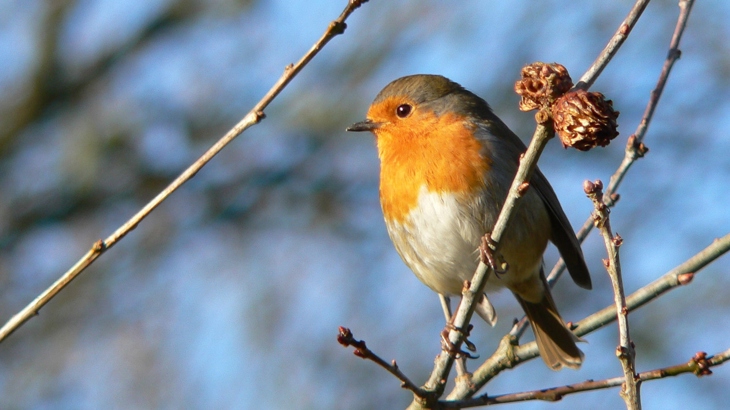 Robins can be spotted all year round along Hadrian's Cycleway.
Robins typically nest close to the ground, finding safe, hidden spaces in hedges, trees and undergrowth.
They are fiercely protective and sing to guard their territory. They may even follow you when you move through their patch due to their feisty and bold nature.
Read more about Hadrian's Cycleway.
Head to Saddle Skedaddle's website for information on how to book your Hadrian's Cycleway trip.
Coast and Castles
On this route, you'll hop from Northern England to Scotland via one of the most beautiful stretches of coastline in the UK, abundant with wildlife all the way.
This 202-mile ride from Newcastle upon Tyne to Edinburgh sees you start and end in two of the UK's most vibrant cultural cities.
The journey has two very distinct halves – the Northumberland Coast Area of Outstanding Natural Beauty and the gorgeous green valleys of the Scottish borders.
We recommend keeping an eye out for hedgehogs in the hedgerows and birds in the more rural and increasingly wild landscapes along the way.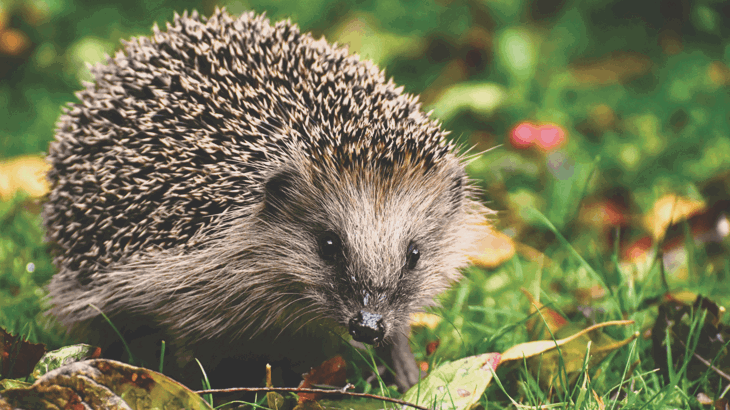 Hedgerows provide great shelter and foraging opportunities for hedgehogs
Take a look at what other sights you can spot on the Coast and Castles route.
Visit Saddle Skedaddle's website for more information about the Coast and Castles cycling holiday itinerary.
Sea to Sea (C2C or Coast to Coast)
Travelling the 142 miles from Whitehaven to Tynemouth, this route is the UK's most popular route to ride.
It's a challenge, but you can spread the ride across multiple days or think about hiring an e-bike to give you a boost up the hills.
This varied route explores some of England's most spectacular regions to spot local wildlife, including the North Pennines and Lake District.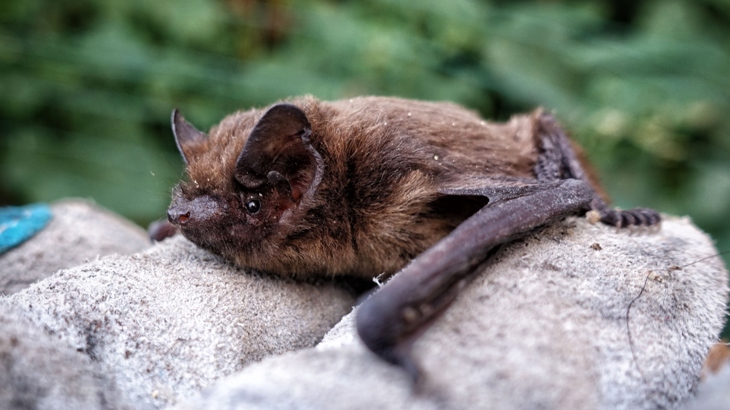 Keep an eye on the skies as you cycle through the Beamish Woods in County Durham (National Route 7), as bats can be spotted in both urban and rural settings along this route.
We have surveyed many of these fabulous animals along this route. There are 18 species of bats in the UK, making up one-third of all mammals.
They roost in hollow trees, caves and roof spaces and are excellent biodiversity indicators as they rely on the success of many other species.
Find out more about the famous Coast to Coast route.
Visit Saddle Skedaddle's website for information on how you can take on this classic coast to coast route.
Caledonia Way
The Caledonia Way is a stunning 234-mile long-distance bike route through Scotland's breathtaking countryside, passing lochs and mountains before ending in the capital of the Scottish Highlands, Inverness.
A top choice for adventurous cyclists looking to spot a huge array of wildlife including golden eagles, pine martens, and plenty of hairy coos!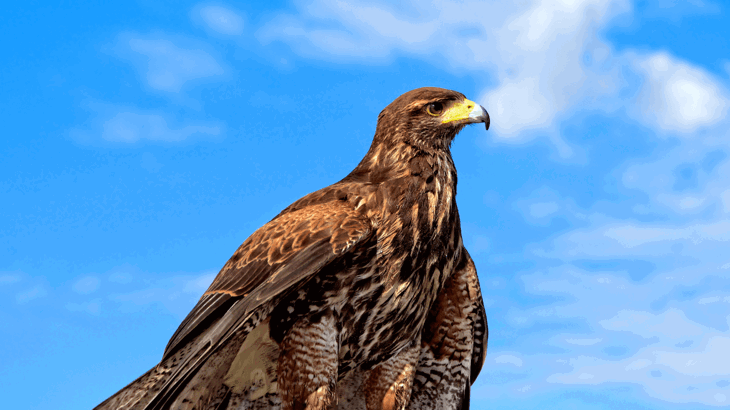 Golden eagles can be spotted all year round soaring high above the mountains of Scotland
In addition, this route is renowned for its stunning topography and landscapes, abundant with flora. It's not one to be missed. 
Head to Saddle Skedaddle's website for information on how you can cycle the iconic Highlands on The Caledonia Way cycling tour.
Way of the Roses
A picture-perfect coast-to-coast adventure.
The Way of the Roses is a more challenging 170-mile ride from Morecambe to Bridlington but the abundant fauna found along the route makes it worth it.
A small but mighty animal to keep a lookout for as you travel through Cumbria and Northumberland between Haltwhistle and Alston, is the bee.
There are over 250 species in the UK, which feed on flowers or fallen fruit. Some solitary bees hibernate over winter, while others die after laying eggs in the autumn.
Nests vary by species from crevices in buildings and trees, tunnels in wood and earth to mossy hideouts built by the bees themselves.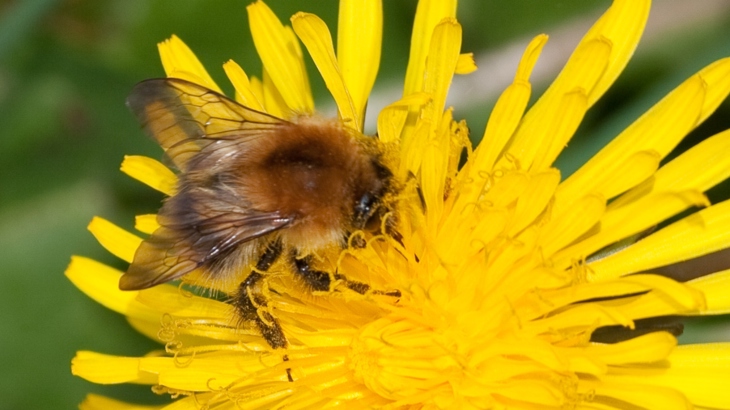 Keep an eye out during the warmer months and in areas with lots of wildflowers along the route.
Remember, they only sting as a defence if they think you are threatening their hive and the babies (known as larvae) inside.
Find out more about the Way of the Roses.
Take a look at Saddle Skedaddle's website to see how you can book your Way Of The Roses tour.
Lochs and Glens Way
The Lochs and Glens Way is a stunningly beautiful route through the heart of Scotland.
It travels between Inverness and Glasgow through two fantastic National Parks.
It's ideal for long-distance cycle tourers or bike packers looking for an adventure in Scotland's wildlife-filled landscapes.
As you go, keep a look out for common toads.
The common toad spends their days burrowed in shady piles of moist leaves and logs and eats slugs and insects – some even eat slow worms or mice.
After dark, keep an ear out for the toad's low croaking. You'll be most likely to spot one in early spring, near damp and wet places.
We encourage amphibians to take up residence by creating wet scrapes next to the paths. These shallow sloping pools provide valuable habitats for breeding.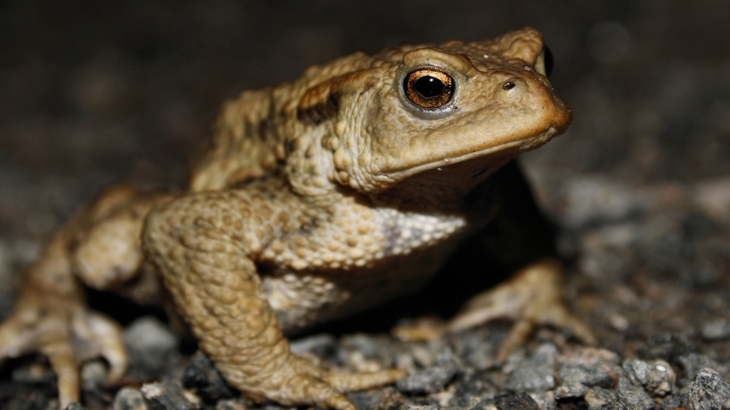 You're most likely to spot a Common Toad in early Spring
There are many other green gems to find along this route including an area near Kilbarchan where our volunteers have cleared a large patch near the path to promote wildflowers.
The River Leven is also a haven for wildlife and marshland. Just north of Dumbarton, it has many visiting species from salmon and sea trout to otters and feeding birds.
In recent years, there have even been sightings of the extravagantly-plumed Mandarin duck on the water at Balloch, as well as seals swimming upstream.
You'll also spot an orchard of apples, plums, and pears at Elderslie.
Head to Saddle Skedaddle's website for information on how you can explore this beautiful part of Scotland.
Lands End to John o'Groats
The UK's ultimate way to see wildlife. Taking you from the toe to the tip of the country, you'll ride 1,042 miles end-to-end. 
A rare sighting would be a dormouse. These adorable tiny creatures live in hedgerows across the UK, but their homes are being lost at an alarming rate.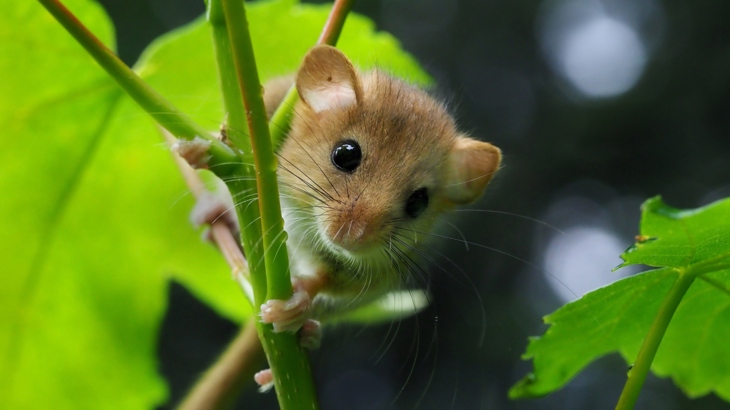 Without the safety and protection of hedgerows these little dormice have no way of travelling to find food or shelter.
Our teams work to maintain these important habitats and install nest boxes at sites where we have good reason to believe dormice are. 
Sightings are extremely rare so consider yourself incredibly fortunate if you spot one.
They are only found in certain areas of South England and Wales, so look out for them as you cycle along National Route 32 (the Camel Trail) on your epic journey.
As you traverse up the UK and enter North Yorkshire keep an eye out for barn owls as you go. Dawn and dusk is the best time to spot them. 
These excellent predators are found along the Solar System Way (National Route 62) and feed on small mammals.
Feeling inspired? Learn more about this iconic long-distance ride.
Visit Saddle Skedaddle's website to join a two or three-week adventure from Land's End to John O'Groats.
Monmouthshire and the Brecon Beacons
A canal and riverside route which connects Newport with the canal basin at Pontymoel.
The Monmouthshire and Brecon Canal trail is a beautiful green corridor that's perfect for a leisurely family day out.
As you cycle along this tranquil route keep an eye out for the great crested newt. It lives on water and on land in wet habitats next to paths where it can breed.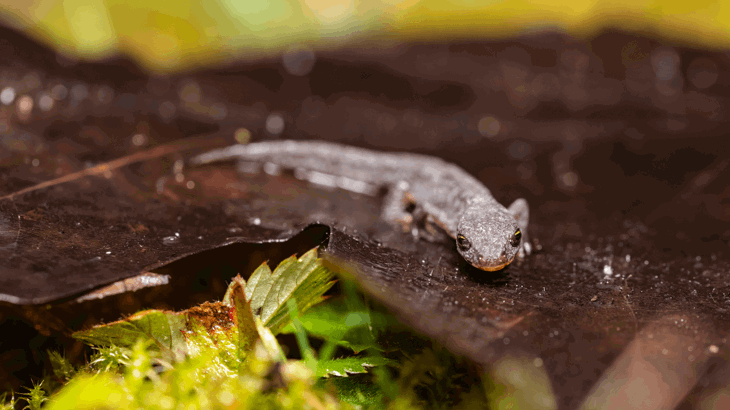 The great crested newt is black in colour with spotted sides and an orange belly
That's not all you're likely to spot on this nature-rich path. There are a variety of water birds to see. And peek into the hedgerows surrounding you on a summer's day and you'll find them filled with butterflies.
You may even spy otters hunting fish in the waters or sheltering in the reedbeds.
Take a look at Saddle Skedaddle's website to see how you can book a cycling holiday in Wales.
About Saddle Skedaddle
Saddle Skedaddle are the UK's leading independent cycling holiday specialists.
They want to inspire as many people as possible to travel the world by bike.
And we've been working with them for over 12 years. 
For every mile a Skedaddle customer rides on the National Cycle Network during their holidays, Saddle Skedaddle donates 5p to Sustrans. 
2021 was their biggest year to date with Skedaddlers cycling a whopping 147,694 miles just that year! 
Whether you're new to active holidays or you're a seasoned tourer, Saddle Skedaddle can help you plan the perfect cycling holiday. They offer:
luggage transfers
quality accommodation
detailed route notes
a handy navigational app
24/7 emergency support
as well as guided small-group cycling holidays