A pit stop at a bakery can make a walk or cycle ride feel like a piece of cake. If you appreciate bread and pastries as much as an outdoor adventure, take a look at our favourite bakeries along the National Cycle Network.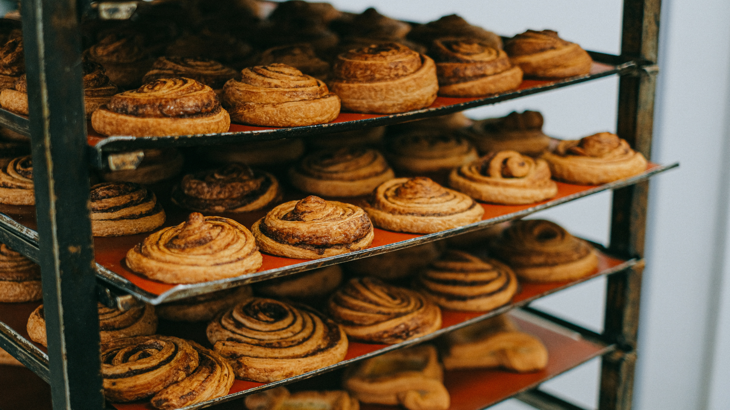 We've put together a list of our favourite bakeries along the National Cycle Network. Credit: Anna Shvets
Hart's Bakery is an artisan bakery working its magic in a large Victorian railway arch at Temple Meads, Bristol.
Specialising in sourdough, pastries, cakes and savouries, the bakery is ideally placed for a treat before or after a leisurely ride towards Bath or a hillier haul towards the Mendips. 
At the other end of the Bristol and Bath Railway Path lies a Grecian bakery, located beside a canal outside the city of Bath.
Basil treats his customers to sourdough rye bread, cinnamon rolls, koulouri, and spanakopita.
You can pick up a vegan jammie biscuit slice or a buttery cheese-twist to give you a boost.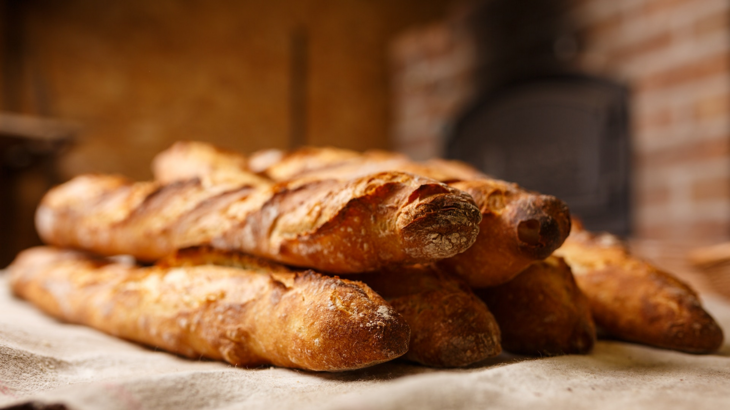 You can grab a delicious pastry here, or some tangy sourdough to fuel a morning venture along the banks of the River Dun.
Catering for your foodie needs is a team of environmentally-minded bakers, and the produce is made using local and sustainable ingredients. 
On an industrial estate in the village of Stoke Row, just off the quiet lanes of Route 5, there is a micro-bakery.
Here you can stock up on long-fermented artisan bread and pastries, with local and foraged seasonal goods to keep you going on your journey towards Oxford, "City of Dreaming Spires."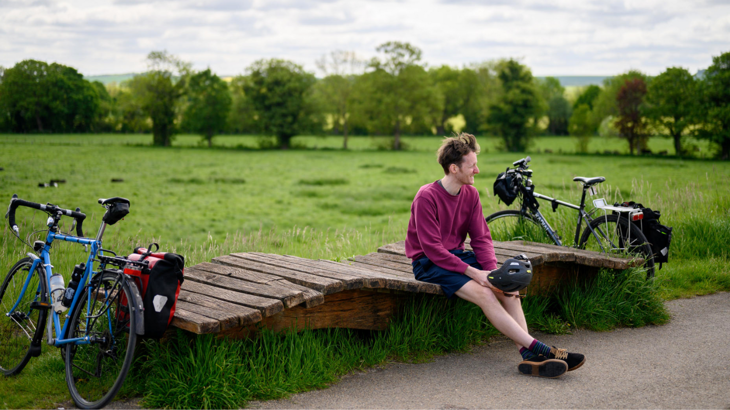 Oxfordshire countryside - Credit: Sustrans
This bakery requires a little detour from Waverton on Route 45 or Tarvin on Route 71 to the River Gowy in Cheshire.
You can watch the wheat grains being transformed into flour by the slow rotation of the mill stone, powered by the flow of the river.
The bread and cakes are baked on site, made using their own flour.
The mill is surrounded by scenic walks, so it's a great opportunity to combine a cycle ride and a walk to help digest their delicious baked treats.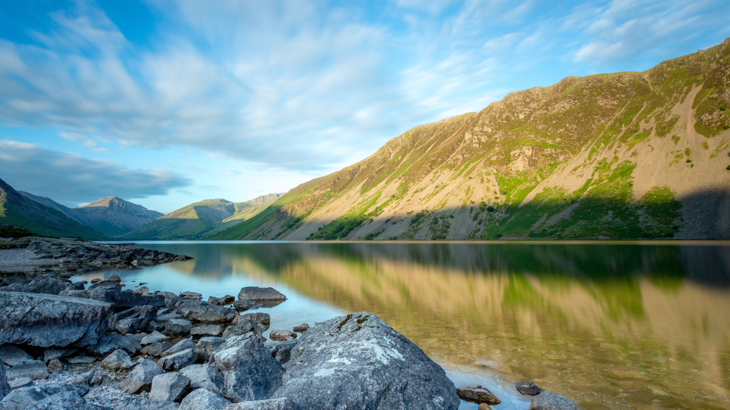 Tackle the mountains and valleys of the Lake District's landscape with the help of some soft, pillowy sourdough. Credit: Martin Stroud
A cycling and hiking haven, More? is the perfect place to refuel as you journey to or from the ribbon lake of Windermere.  
Tackle the mountains and valleys of the Lake District's landscape with the help of some soft, pillowy sourdough, soups, sandwiches, pies and pastries.  
Peach Danish pastries, almond croissants and hot ciabatta sizzlers line the shelves at this award-winning craft bakery and continental delicatessen.  
You can fill your belly with local and continental cheese, olives and charcuterie from the deli counter, before continuing along rural roads to the Victorian mills and warehouses of Macclesfield Canal.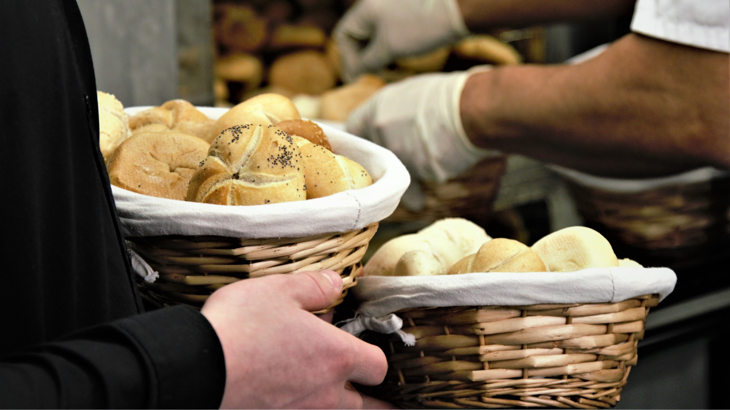 You might have to queue for a pastel de nata or rosemary and sea salt twist at Flori Bakery, but it'll be worth it.  
Grab a cardamom bun for breakfast, filled with whole almonds and whipped organic vanilla pod cream.
Then continue on your long-distance tour of the Trans Pennine Trail.  
A trip along Route 77 towards the Cairngorms National Park will take you through the village of Dunkeld, beside the River Tay.  
In this highland Perthshire village you'll find Aran Bakery, serving bread, cakes and pastries. 
Linger over a buttered leek and brie toastie or a chocolate nutty brownie before settling back into your saddle.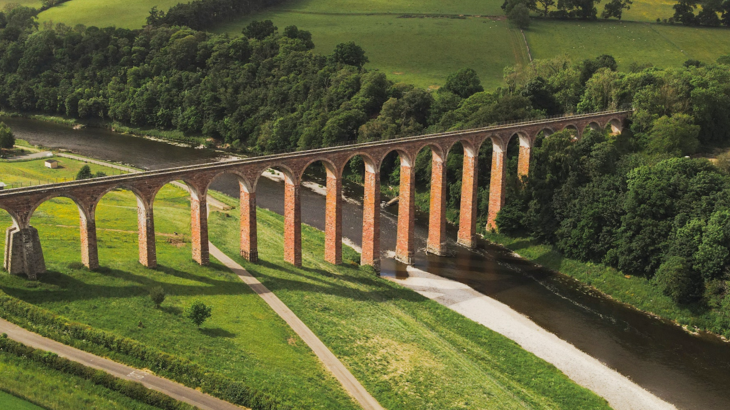 Leaderfoot Viaduct. Credit: Lewis Ashton
After heading inland from the coast, Route 1 meanders through the Scottish Borders.  
At the foot of the Eildon Hills lies the town of Melrose, where you'll find Alex Dalgetty & Sons – an artisan bakery.  
Must-have treats include the Selkirk Bannock, a rich and buttery leavened tea bread.  
Or try the Scotch Black Bun, a pastry wrapped fruit cake crammed with raisins, currants, almonds, citrus peel, allspice, ginger, cinnamon, and black pepper.  
For a longer break during your adventuring, treat yourself to an afternoon tea.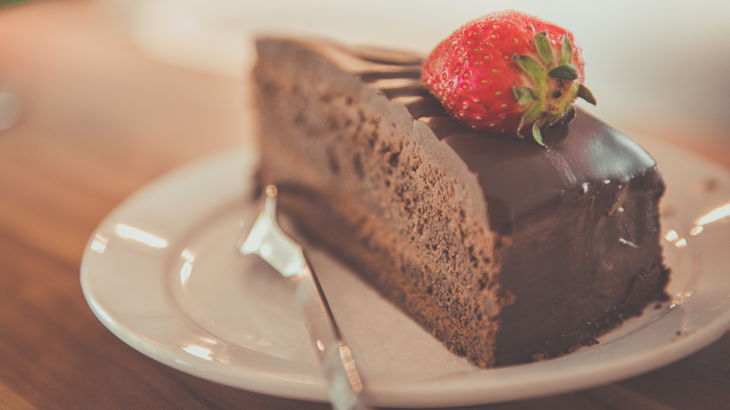 Walk or cycle along Route 8 through Cardiff's Bute Park and take a little detour north for a taste of Alex's sourdough.  
Made from a wild yeast starter he has named Daphne, the sourdough is award-winning and taste-bud pleasing.  
Also available are focaccia, pastries and more. Everything is vegan and made using organic ingredients. 
A community training bakery in Rhyl, North Wales, it's ideally situated near Rhyl Beach. 
Drop by for some reasonably priced nourishment, made by Use Your Loaf trainees, and enjoy your food with views across the Irish Sea.  
Or stock up on snacks before continuing towards Anglesey or the English border.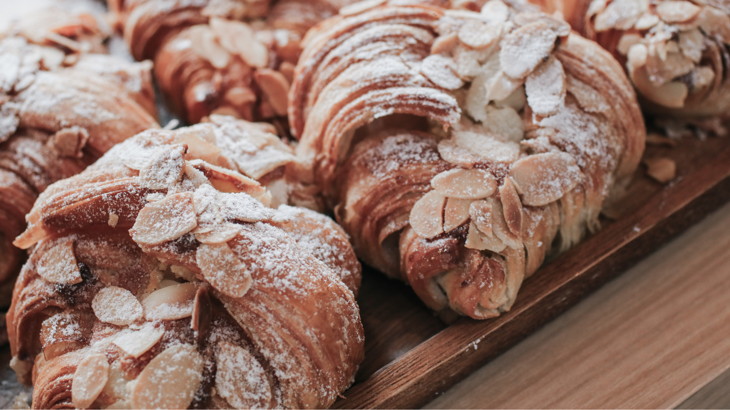 Rosa's Bakery is an organic artisan family bakery with a Romanian twist.  
The bakery is in the town of Neath and lies not far from the Celtic Trail West.  
A raspberry croissant, fig roll or apricotine might help you reach Swansea, or give you some encouragement as you roll towards the Brecon Beacons.  
Perhaps grab some honey and banana cake for an emergency energy boost.  
Route 9 follows the River Lagan towpath south-west from Belfast.  
Near the Botanic Gardens in Northern Ireland's capital, you'll find Aleksandar's Bakery, specialising in artisan bread, pastries, desserts and hot food.  
Refuel with a pastry and coffee before continuing down the riverbank on foot or by cycle.