Greater Manchester is home to a variety of National Cycle Network routes. Alongside great paths for walking, wheeling and cycling, you'll find wonderful cafés and eateries to take a much-needed break at while on the move. Our fantastic volunteer, Jay Henry has selected some of our favourite pit stops to refuel at.
Walton Perk is one of the few eateries around Manchester that operates out of a canal boat. Photo Credit: Jay Henry
There are lots of National Cycle Network routes to walk, wheel and cycle on around Greater Manchester and Cheshire.
Whether you're an experienced rider travelling along a quiet route in your local area, or whether you're looking for a traffic-free stretch to help build your confidence, there's something for everyone.
Along with providing a terrific way of getting from A to B, the Network is also dotted with many cafés and eateries worth stopping off at.
To help you enjoy your day out, we've put together a collection of some of our favourite spots to take a breather at on the Network around Greater Manchester.
Alongside the river Irwell near Bury and just off Route 6, Jersey Girls sets the standard for top-notch treats on this part of the Network.
With classic and innovative flavours of ice cream made on-site, there's also a fabulous range of sorbets, coffee, and cakes.
The large seating area has plenty of tables both covered and open, making it a nice spot to rest on your trip.
Expect queues on warm days, but rest assured it's worth the wait.
The Boathouse Café is at the centre of Oldham's bustling Alexandra Park – a perfect place to stop on Route 626 of the Network. 
It's a tranquil place to relax while looking over the boating lake, and it offers a big selection of locally made cakes and light meals.
The café is operated by Pure Innovations, a charity which supports people with disabilities and learning difficulties, so your afternoon treat will make a real difference for people in Greater Manchester.
 'Quirky' is certainly the right word to describe Tea Hive's homely interior.
Filled with an odd selection of furniture and bric-a-brac, it's a perfect place to hide out at the Chorlton end of the Fallowfield Loop, or if you're continuing to Salford on Route 55.
With a cabinet full of fine cakes and ice creams and a full menu catering to all dietary needs, there's sure to be something to suit your taste.
The current occupant of Alexandra Park's central pavilion, Coffee Cranks, is much more than a café.
It sits in 60 acres of open green space in the middle of the city's Victorian residential sprawl.
The community co-operative provides a great menu of snacks and light meals.
It regularly hosts open events, including community gatherings, classes, and fitness sessions.
A small library of children's books in the corner makes it the perfect place to bring younger members of your group.
While Alexandra Park is a destination in itself, it's located on National Route 6, an on-road route which runs up from the Fallowfield Loop to Salford and beyond.
Grapefruit is a top spot for excellent coffee and freshly baked buns.
Just over the road from the canalside Route 82 of the Network, this small café has seating inside as well as a street-facing hatch.
It's well worth grabbing a takeaway and taking time to relax by the water.
Grapefruit is also right next to the Manchester Metrolink station, so if you're using public transport to explore the waterways, this is a great starting point.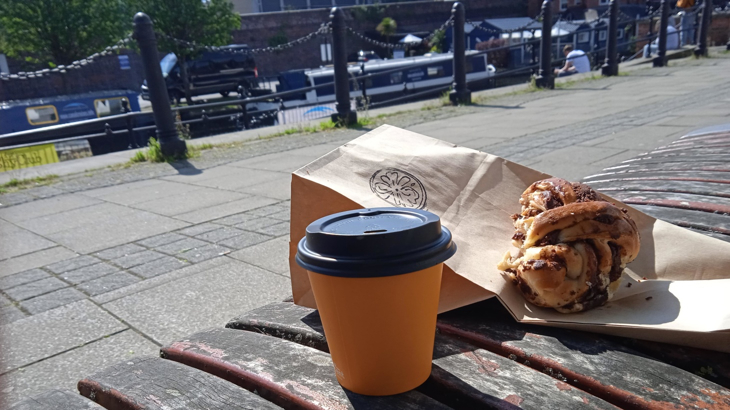 Grapefruit in Sale is a top spot for excellent coffee and freshly baked buns. Photo Credit: Jay Henry
Slap bang in the middle of the Fallowfield Loop is Station South, a café and community space housed in a beautifully restored station building first built in 1892.
A useful way-marker on the route from Fairfield station to Chorlton, there's unique pastries, barista-made coffees, and delicious lunchtime meals.
If Station South is looking a bit full, there are some nearby alternative eateries, including Aunty Ji's, Trove, and Nordie.
A few wiggles away from the main Trans Pennine Trail lies the Art of Tea, a true Didsbury institution.
There are hidden depths to the unassuming storefront.
Behind the excellent café is one of Manchester's top second-hand bookshops, and a picture framer.
If you pop in for food or drink, you can easily end up spending a lot of time floating through the maze of bookshelves.
There's also outdoor seating for when the weather's warm.
Reddish Vale is the perfect spot to explore wildlife and industrial heritage just a stone's throw from the city centre.
It's also a key point on the Trans Pennine Trail (West), which runs from coast to coast across the North – keep an eye out for the distinctive signposts, however far you plan to go.
The Coffee Bean Dream has recently ceased to operate from the Reddish Vale car park.
Fortunately, the Reddish Vale Visitors Centre has now re-opened for teas, coffees, and light snacks.
Just outside of Stockport, the Trans Pennine Trail (West) travels quietly alongside the River Mersey.
This section of the route is an excellent place to start an adventure - whether that's a day-long ride or a short afternoon stroll.
If you need a break before or after your outing, Stockport's central marketplace is a prime destination.
The Produce Hall is open from 11am until late, Tuesday to Sunday.
The delicious range of food available there includes tapas, Caribbean food and burgers, as well as coffee, cakes and a bar - whatever time of day you arrive, you'll be well catered for!
Macclesfield may be a bit far out for an easy-going exploration, especially if you're starting in or around Manchester.
But once you've built up a bit of confidence, Route 55 will take you all the way there.
With just a short detour from the route, you'll be spoilt for choice in the town centre.
Ethos stands out with its outstanding selection of day-time meals without the use of any animal produce.
There's seating inside and out, and children are actively welcomed to the 'Snug Area'.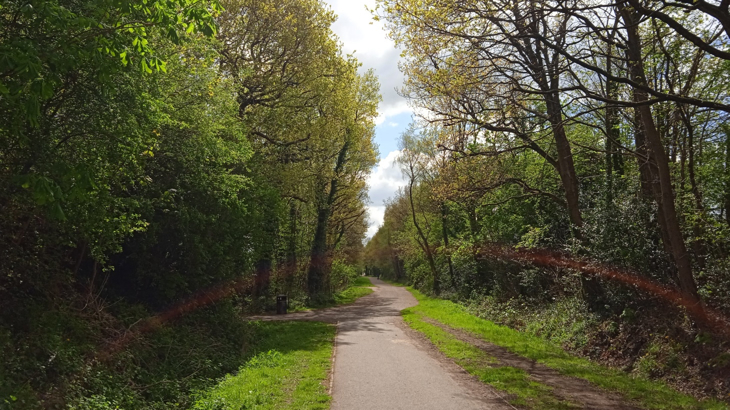 A stunning rural stretch of Route 60 in Chorlton. Photo Credit: Jay Henry
Route 626 of the Cycling Network runs in two sections between Ashton and Oldham, and the Park Bridge Heritage Centre falls right between them.
It's 2.5 miles north of Ashton's railway station, mostly along a gloriously traffic-free stretch of the Network.
At the time of writing, the Heritage Centre café is currently closed, due to be re-open after a refurbishment.
We advise checking in with Tameside Council before you make any travel plans.
National Cycle Route 55 takes you from the edges of Manchester to the depths of Cheshire on a gloriously long stretch of secluded bridleway.
While you enjoy this traffic-free escape from the city, Coffee & Co can sort you out for a quick drink and bite.
Operating out of a repurposed horse box, it offers a range of hot and cold drinks, toasties, and other snacks.
When you're riding along Route 55 on the Network, it's easy to forget that an outside world of roads and traffic exists.
The Mulberry Leaf, located just off the Middlewood Way in Bollington, is a great place to ease yourself back into civilisation. 
Making a pit stop here will ensure you get the fuel you need to power the rest of your journey.
On a warm and still day, the canal path by Walton Park in Sale is idyllic.
There you'll find Walton Perk, one of the few eateries around Manchester that operates out of a canal boat.
Sandwiched between the calm waterway and a 12-acre park, you wouldn't know that the bustling A56 is just metres away.
The café offers a surprisingly substantial menu at great prices.
Whether you make this a stop on a longer journey, or make this a destination in itself, the experience of ordering your takeaway from the Walton Perk hatch is hard to beat.