Late April to early May marks the blooming of bluebells all across the UK. Here's a list of our top spots for finding these wildflowers on the National Cycle Network - many can be found just off traffic-free paths, perfect for a walking or cycling day out.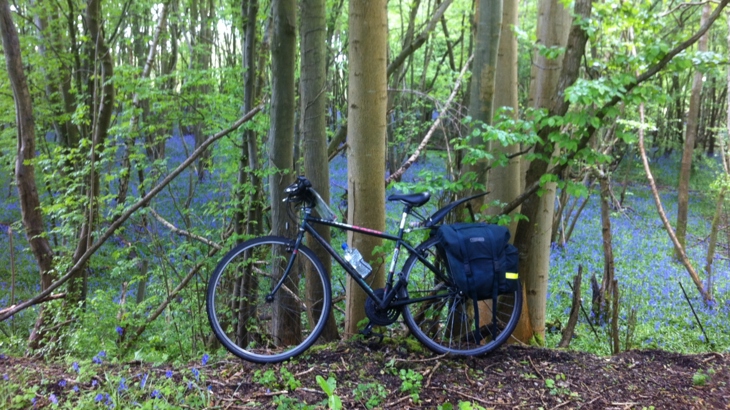 Carpets of bluebells can be spotted along the Cuckoo Trail
Hampden Park, East Sussex - Cuckoo Trail
This 11-mile route travels between the towns of Heathfield and Polegate in East Sussex. It's traffic-free and perfect for families, running through woodland and farmland filled with birds and wildflowers. From the Polegate end, it's a short cycle on National Route 21 to Hampden Park, which you'll find filled with daffodils, crocuses and bluebells.
This reserve is made up of woodland, heath and grassland and covers over 400 acres. It's a great spot for bluebells as well as birds - whitethroats and willow warblers can often be heard here, and red kites have even been seen soaring above. The Lodge is just a short hop over from National Route 12.
A mixture of ancient and newer woodland, Burroughs Wood is carpeted with bluebells during the spring. It's also very easily-reachable from the heart of Leicester on a mainly traffic-free stretch of Route 63.
RSPB Wood of Cree, Dumfries & Galloway - National Route 7
This RSPB site is the largest ancient woodland in southern Scotland and is home to an abundance of bluebells. You'll also be able to spot willow tits and tawny owls, and hear the songs of warblers and pied flycatchers. Find the reserve just off Route 7.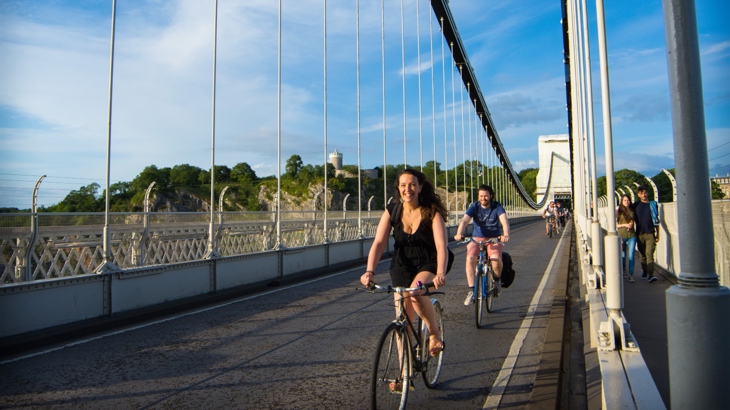 A great place to spot bluebells, Leigh Woods can also be accessed from the iconic Clifton Suspension Bridge ©photojB
Both National Routes 41 and 334 will take you to Leigh Woods, a wonderful reserve overlooking Avon Gorge and Clifton Suspension Bridge. Pathways through the wood will lead you along avenues of oak, ash and small-leaved lime. In springtime, you'll see bluebells dotted throughout the nature reserve.
Just half a mile off Route 42, this 18th-century estate is an absolutely fantastic place to see bluebells. Find them at Coed y Bwnydd hill fort amongst other flowers, such as orchids and red campion. From the area, you'll also get beautiful views of Sugar Loaf mountain and the wider Usk Valley.
Murlough National Nature Reserve, County Down - National Route 99
This small reserve is accessible from a traffic-free section of Route 99 and is home to one of the most stunning beaches in County Down. You'll find paths running through the dunes, woodland and heathland filled with wildlife and wildflowers. From the reserve, you can also enjoy views of Slieve Donard, the highest mountain in Northern Ireland.
Lanhydrock House and Garden, Cornwall - National Route 3
This fantastic National Trust property is easily reached on the long-distance Route 3. Lanhydrock House is surrounded by beautiful gardens and woodland that's awash with bluebells in the spring. You'll also find cycle trails for all ability levels in the surrounding woods.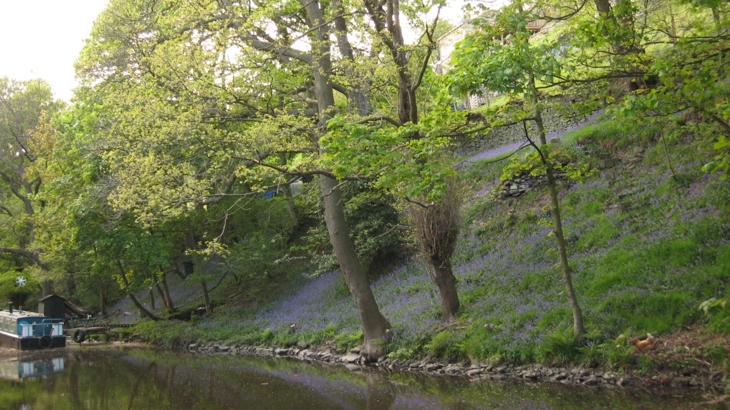 Bluebells on the banks of the River Calder
This forest forms part of the largest ancient oak woodland in west Wales and is full of bluebells and other flowers. Along the many walking paths through the reserve, you may find signs of badgers and polecats who have made it their home. You can reach the forest on Route 82.
Embleton Beach, Northumberland - National Route 1
This beautiful beach is overlooked by the magnificent Dunstanburgh Castle and can be reached by Route 1. Above the fine sands, you'll find dunes that are often flooded with bluebells during spring. You can also spot many other seasonal wildflowers, such as bloody cranesbill, burnet roses and cowslips.
Margam Country Park, Neath Port Talbot - National Route 4
This estate is set around a restored 19th-century Tudor gothic mansion and is a great place to spot bluebells. It's located near Port Talbot, with National Route 4 passing through the north of the park. There are also a number of other signed walking and cycling trails to enjoy.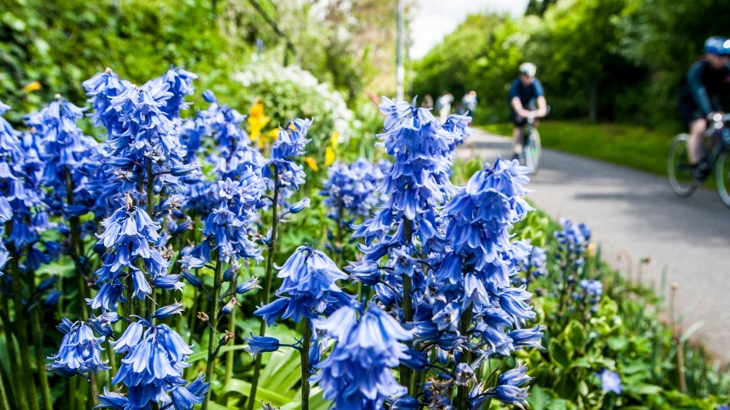 Bluebells on Bristol and Bath Railway Path
Owned by the National Trust, this country park is the go-to destination during bluebell season. The property stretches over 3,800 acres and provides a wonderful combination of gardens, heath and woodland. You'll find Clumber Park just a moment or two off a traffic-free stretch of Route 6.
Route 25 takes you past Duncliffe Wood, an ancient woodland a few miles west of Shaftesbury. It's one of the largest forested areas in North Dorset, covering over 227 acres. Keep your eyes peeled for butterflies, bats, birds and of course the springtime bluebells.