An electric bike can help you go further and reach new places on your cycling trips. Whether you're planning a UK staycation or exploring your own neck of the woods, find an e-bike to hire near the National Cycle Network.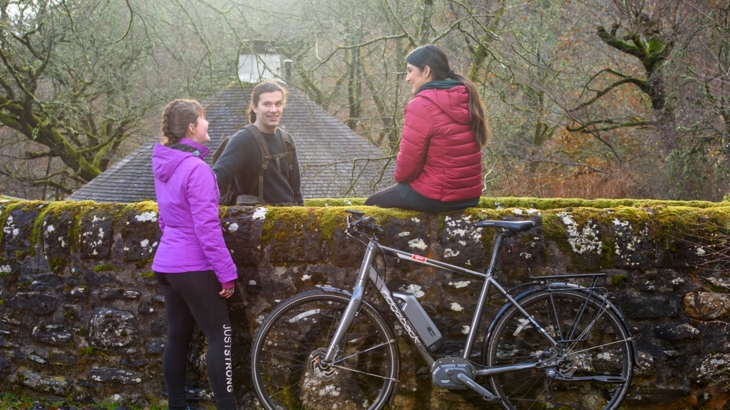 An e-bike can help you reach new places on the National Cycle Network.
Based on the beautiful Isle of Barra in the Outer Hebrides, Barra Bike Hire offers quality electric bikes available to use all year round.
E-bikes can be booked for a single day or a longer period of time, and the team will provide back-up and emergency support during your trip.
Nevis Cycles offer a range of e-bikes to hire and is known as the place to go in the west of Scotland.
Every bike is serviced before you get your hands on it.
Your rental comes with a helmet and a basic tool kit in case you need to fix a puncture along the way.
Also found in the Fort William area, Off Beat Bikes sits on the shores of Loch Linnhe on National Route 78.
With lots of e-bike and mountain biking experience, their knowledgeable team will set you up well for any trip out.
They offer Cube e-bikes to hire, which come equipped with quality Bosch motors for the best riding experience.
Wheels Cycling Centre is in the perfect spot for you to explore the dramatic landscapes of the Trossachs.
They have a wide range of electric bikes to hire, from £30 for four hours to £50 for for the whole day.
Their bikes are brand new each season, and they can sort you out with helmets, tools and anything else you'll need.
They also offer free route planning advice when you hire an e-bike.
Aberfoyle Bike Hire and Café is ideally located for exploring the miles of trails that surround the Trossachs village.
They offer a range of electric bikes to hire, with prices starting at £50 for the day.
Traffic free routes start from the door and take riders into the forests and hills of the National Park.
Located a stone's throw away from Route 76 in Scotland's capital, Leith Cycle Co have a large fleet of bikes to hire from as little as £15 for half a day.
When you hire one of their e-bikes, you'll also get a helmet, bike lock and a puncture repair kit.
And there are lots of extras you can add on to keep you going on your trip, like seat covers, mitts and trailers.
This family-run business prides itself on great customer service and good quality e-bike hire.
As well as being located just off Route 636, you can use your e-bike to travel along this route to the beautiful traffic-free Nidderdale Greenway.
Located just off Route 71, the western part of the iconic C2C route, the team at E-venture offer expert advice on their fleet of e-bikes.
Whatever adventure you're after, they're on hand to guide you to the best e-bike hire for you.
You can also hire kid's trailers, child seats and luggage holders – everything you need for your micro-adventure.
The Bike Place is a great place to hire an e-bike to explore the North East's longer cycle routes, including Hadrian's Cycleway and the breathtaking Coast and Castles route.
You can hire an e-bike from two hours up to three days, with the option to extend your hire for additional days if you're planning a longer adventure.
They offer delivery and collection so hiring an e-bike can fit in around your trip.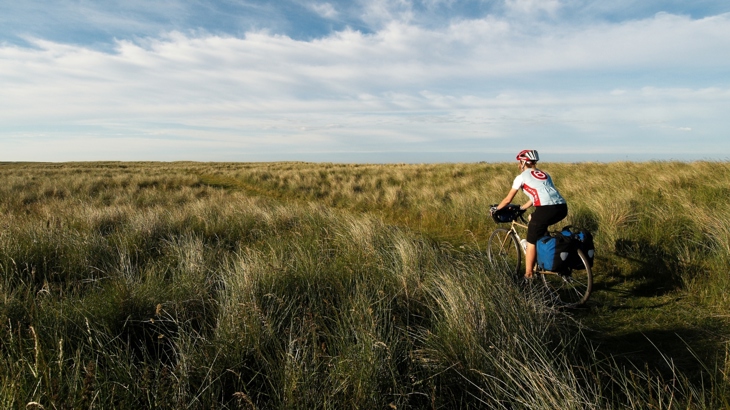 The border-hopping Coast and Castles route takes you through wild and beautiful landscapes.
This bike hub is the go-to place in Leicester.
All cycles - from racing bikes and hybrids to e-bikes - receive a full service by their skilled technicians before hire.
You'll find the centre near to the Grand Union Canal.
From here, you can travel north to spot wildlife along the traffic-free Leicester to Watermead Park route.
Explore the Norfolk Broads or link up with the green corridor of the Marriott's Way from this hire centre.
Broadlands Cycle Hire offer a range of quality bikes, and will even deliver their cycles for longer term rentals within a 10-mile radius.
With tag-alongs, trailers and baby seats available, they have plenty of options for families.
The Bike Hub looks out over the beautiful, clear waters of Rhyl's Foryd Harbour.
From their base, you can access traffic-free stretches of National Route 5 on the North Wales coast.
Hiring an e-bike from here supports the local community; as a social enterprise, the Bike Hub offers training and employment opportunities for adults with learning disabilities.
The Afan a Blast bike centre is set in the Afan Forest Park, and easily takes the title for best name on this list.
Starting on the traffic-free Route 887, you can easily link up with the Afan Valley Trail or the Llynfi Valley Trail.
If you're feeling ready for a few inclines then the forest's Skyline trail is also an exciting option.
With a number of e-bikes available to hire, Jeff and his friendly team will set you up for a fantastic day out.
Explore the Mawddach Estuary and its surrounding foothills with a bike from Coed Cae Rental Bikes.
This small local business has two electric bicycles available alongside their main fleet of bikes.
With their knowledge of the area, they're more than happy to recommend a range of routes to try out.
Discover Llŷn offer a choice of flexible e-bike hire and guided tours on the stunning Llŷn Peninsula in North Wales. 
They will deliver e-bikes to your home or holiday accommodation, allowing you to enjoy the quiet lanes, panoramic views, beautiful beaches and excellent cafés.
Their fleet of Bosch-powered Raleigh e-bikes will give you the ultimate riding experience.
The team will be happy to help you with routes and suggest some of their local favourites.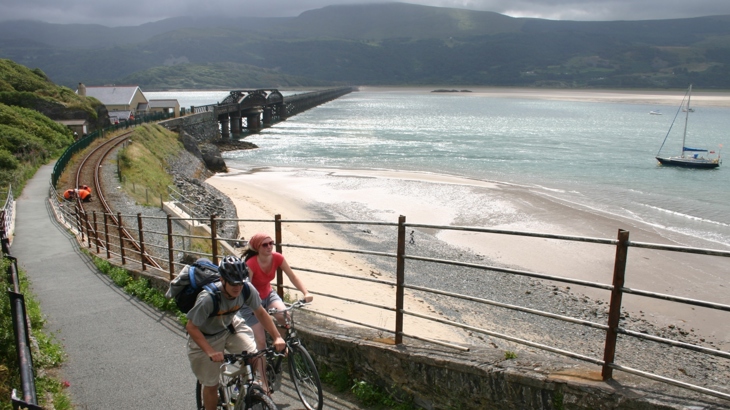 The Mawddach Trail provides amazing views on a traffic-free, well-surfaced path.
This e-bike hire and repair shop is perfectly situated, offering easy access to two of Kent's best routes.
You're in good hands here - each cycle comes fully equipped with a helmet, stand, lock, spare inner tube, pump, tool kit and more.
Travel east along the Oyster Bay Trail and link up with the longer Viking Coastal Trail to really get the most out of your e-bike.
There are a few different models available to hire at Electric Bikes Guildford, including electric mountain bikes ready for any challenge.
From here, you can test out your powered pedals in the nearby Surrey Hills.
If you're feeling particularly adventurous then you can also take Routes 22 and 223 to the South Coast. 
You'll find this friendly bike hire spot in Braunton, near the most northerly point of the Tarka Trail.
They have a large stock of reliable and practical e-bikes, with reduced rates if you hire for a week or more.
With baskets and child seats available to add on, all the family can enjoy a cycling trip on this traffic-free route.
Enjoy a flat and scenic ride around the Exe Estuary from Route 2 Bikes in Topsham.
Make your journey a full loop by taking the Starcross to Exmouth ferry.
At only £95 for a whole week's hire, you can take your time to explore Dartmoor nearby or travel further along the coast.