Discover the inspiration behind many of our favourite children's books with these unmissable spots on the National Cycle Network.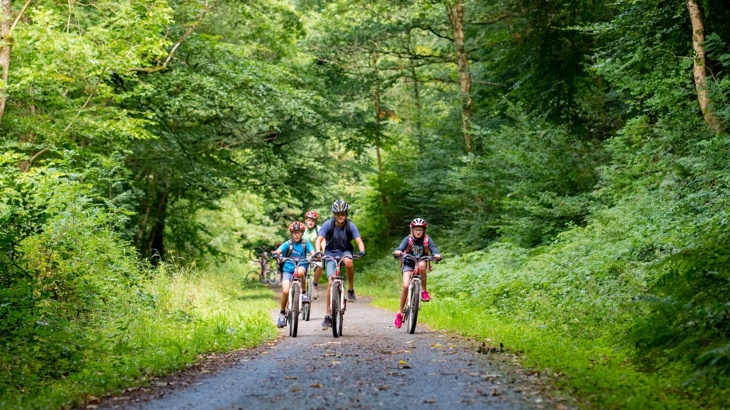 The Tarka Trail in North Devon is perfect for walkers, wheelers and cyclists of all ages - ©photojB
Winnie-the-Pooh - AA Milne
Ashdown Forest, East Sussex - National Route 21
Deep in Five Hundred Acre Wood, you'll discover the inspiration behind Winnie-the-Pooh's enchanted home.
The wood is part of the larger Ashdown Forest, on the edge of which author A.A. Milne bought a farm in 1925.
After many family weekends and summers there, Milne published his first stories about Christopher Robin and Winnie-the-Pooh's adventures in the Hundred Acre Wood.
The magical forest can be found a short cycle away from National Route 21. Friends of Ashdown Forest's recommended walk begins at Gills Lap. It visits Wrens Warren Valley (Eeyore's Sad and Gloomy Place), a disused quarry (Roo's Sandy Pit) and the North Pole, to which Christopher Robin led an 'expotition' in the much-loved series.
Harry Potter - JK Rowling
Shambles, York - National Route 658
This historic street in York was long considered the inspiration behind Diagon Alley in the spellbinding book series.
It's easy to see why. Diagon Alley is said to model early 19th-century London, where shops and houses seemed to fight for space in the densely-packed streets.
This is apparent in the cobbled lanes of the Shambles, where some buildings seem to lean at angles that only magic could support.
Many Potter-themed establishments can now be found among the cheerful cafes and quirky boutiques. In 2020 however, J.K. Rowling stated that she'd never visited nor seen pictures of the Shambles before conjuring up Diagon Alley.
For film purists, there is in fact an official shooting location that can be visited - Leadenhall Market in London, a short hop over the Thames from National Route 4.
The Snickelways (small side streets) leading off the Shambles are full of character - © Peter K Burian CC-BY-SA-4.0
Treasure Island - Robert Louis Stevenson
Edinburgh & North Berwick - National Route 1 and National Route 76
Robert Louis Stevenson was born in Edinburgh in 1850. Author of the classic Treasure Island, he grew up in the capital city before setting off on his own seafaring adventures.
Edinburgh has a number of plaques and memorials to the literary great, and traffic-free stretches of National Routes 1 and 75 will help you enjoy these landmarks and the city around.
However, it's east of the capital and along the coast from National Route 76 that the swashbuckling tale truly begins to unfold.
Here, at Yellowcraig Beach in North Berwick, you can spot the island of Fidra. Stevenson would often visit this coast with family, and the lonely piece of land is said to be the inspiration for Treasure Island.
Kids can prepare to set sail from these sandy shores, keeping an eye out for buccaneers on the water; the island of Fidra is described as uninhabited, but we wouldn't say for certain that no buried gold exists there today...
Paddington Bear - Michael Bond
St. Mary's Terrace, London - National Route 4
Cycle 20 minutes from National Route 4 - a trip which will take you past Buckingham Palace and Hyde Park - and you'll find yourself on a small green between St Mary's Square and St Mary's Terrace.
There you'll find a heart-warming artwork of Paddington Bear with his creator, Michael Bond. The sculpted pair can be found alongside Mary Seacole and Alan Turing, fellow former residents of the area.
Exploring the surrounding streets, it's easy to imagine (quite literally) bumping into Paddington on one of his madcap adventures. Be sure to stow a marmalade sandwich under your hat in case of such an emergency.
The statues are part of a series of 250 portrait benches found all over the UK. Commissioned by Sustrans, they are lasting celebrations in steel of local heroes from every walk of life.
Paddington Bear with his creator, Michael Bond OBE, at their sculpture on St. Mary's Terrace
The Gruffalo - Julia Donaldson
Beechenhurst, Forest of Dean - National Route 42
Step into the story and become the little mouse wandering through the forest in the Gruffalo Spotters trail at Beechenhurst. Keep your eyes peeled for beasts around you, particularly ones with terrible tusks and terrible claws...
The Gruffalo trail can be found halfway along a pleasant and largely traffic-free strip of National Route 42, just seven miles long.
Starting at either end of the route, it's a short walk, wheel or cycle to Forestry England's Beechenhurst Visitor Centre, perfect for little legs. Buy an activity pack here to make the most of your visit, or download the Gruffalo Spotter app.
The Lion, the Witch and the Wardrobe - C.S. Lewis
C.S. Lewis Square, Belfast - Comber Greenway (National Route 99)
To the east of Belfast city centre you'll find C.S. Lewis Square, an open-air art space commemorating the Belfast-born author.
C.S. Lewis was the creator of the magical land of Narnia, a world of mythical beasts and talking animals which has captured the imaginations of children for generations.
At the square you'll find his creatures cast in bronze, with stunning sculptures of Aslan, Mr. Tumnus and more.
The square is easily accessed by the Comber Greenway, a tranquil corridor through east Belfast on National Route 99. Whether you're walking, wheeling or cycling, this shared path is for everyone, including local wildlife.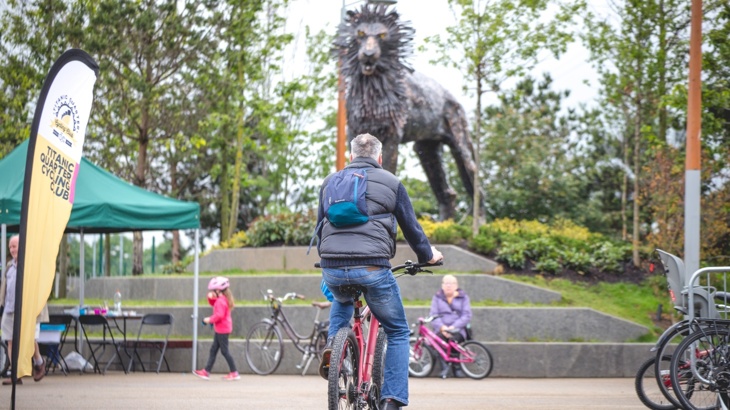 The great lion Aslan is a standout sculpture on CS Lewis Square, Belfast
The Great Mouse Plot - Roald Dahl
Llandaff, Cardiff - National Route 8
Possibly the best-loved children's author of all time, Roald Dahl was born in Cardiff to Norwegian parents.
He was a prolific writer, with many stories still children's favourites. The Great Mouse Plot, though, is perhaps the easiest to trace back to his time growing up in Cardiff.
At age seven, he began education at Cathedral School in Llandaff, just a hop over the River Taff from scenic Route 8. Here Dahl displayed his mischievous side, common to many of his characters, in the Great Mouse Plot.
This true story is an extract from Dahl's childhood memoir, describing how he and his school friends played a trick on the owner of the local sweetshop, their favourite haunt.
This interest in gumdrops and gobstoppers clearly carried through into greats such as Charlie and the Chocolate Factory.
The sweet shop is now available for rent as a B&B, and can be visited on Llandaff's High Street to see the blue plaque commemorating Roald Dahl.
Peter Rabbit - Beatrix Potter
Hill Top, Cumbria - National Route 6
The unspoilt beauty of the Lake District is what inspired the charming tales of Peter Rabbit. So where better to visit than the Cumbrian home of Beatrix Potter herself?
Situated on a working farm in Near Sawrey, Hill Top was built in the 17th century and is now owned by the National Trust.
It's just a ten-minute cycle from National Route 6, a walking and cycling path that takes you along the shores of Windermere.
To the north west of Hill Top, National Route 71 skirts the edge of Derwentwater. It was alongside this lake that Beatrix Potter spent many summers sketching and writing.
Her tales of Benjamin Bunny and Squirrel Nutkin are set here, and the surrounding woodland is still home to a small population of rare red squirrels under protection.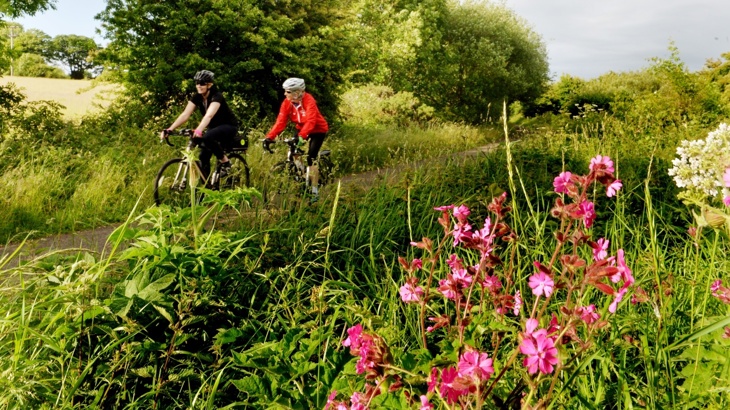 Cumbria features many fantastic cycling and walking paths, including the long-distance Sea to Sea route (C2C)
Tarka the Otter - Henry Williamson
North Devon - The Tarka Trail
This addition is less of a single location and more of a 180-mile, figure-of-eight route. The Tarka Trail takes in North Devon's beautiful beaches, cliffs, and countryside.
The trail is inspired by Tarka the Otter's own habitat and journey, described in the prizewinning novel by Henry Williamson.
It's one of the country's longest traffic-free paths, giving you that much more time to explore and savour your surroundings.
From woodland to meadows, mudflats to salt marshes, this trail has it all. It also features 30 works of art to spot along the way, many of them sculpted benches to help you take the load off.
The story of Tarka the Otter is credited with changing our attitude to otters, from pesky vermin to the cuddly critters of our waterways.