Take a break while walking and cycling on the Network and enjoy a pint at these great pubs and beer gardens across the UK.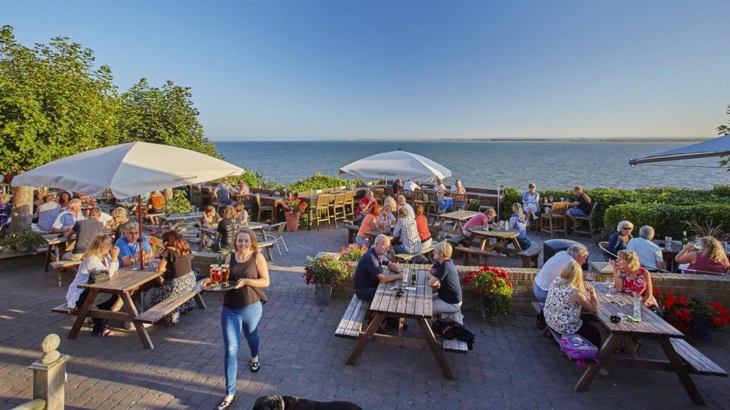 The Belle Vue Tavern in Ramsgate can be found on the Viking Coastal Trail in Kent. ©Belle Vue Tavern
There's nothing quite like a cold, refreshing drink to keep you going on an active day out.
You'll find these pubs and beer gardens alongside National Cycle Network routes in England, Wales, Scotland and Northern Ireland.
Good food, good beer and good views are what you can expect from the Turf Hotel.
This waterside spot looks out over the Exe Estuary and offers homegrown and locally-sourced food and drink, including Otter Ale. 
You can follow a flat and largely traffic-free path for 22 miles around the estuary.
If you plan to make a loop of your journey, then you can take the ferry between Starcross and Exmouth.
And if it's been a long day, it's only a quick train ride for tired legs back to Exeter from Starcross Station.
The Bristol and Bath Railway Path is popular for good reason - it's flat, free from traffic and surrounded by greenery.
And it's right alongside this route that you'll find the Bird in Hand, a warm and welcoming traditional English pub.
You'll spot its beer garden from the path, where you can sit in the sun and enjoy a refreshing cider, lemonade, or whatever takes your fancy.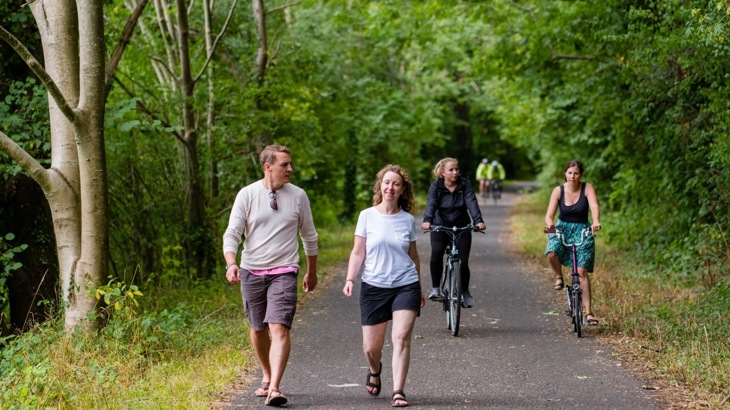 The Bristol and Bath Railway Path is a flat route that's great for walking as well as cycling. ©photojB
On the outskirts of Leeds, alongside the Leeds and Liverpool Canal, you'll find the Railway Inn.
The pub has a great reputation for its good service and simple but tasty menu. 
Its charming interior is matched by a lovely beer garden just a stone's throw from the water.
This stretch of the National Cycle Network is away from the road and follows the exciting and accessible Aire Valley Towpath.
The Architect is a stylish pub and restaurant with a large, well-kept garden and drinking area.
It looks out on Chester Racecourse, the oldest race ground in the world to still be in operation.
You'll find this free house just off National Route 568, which follows the River Dee into Chester.
The route can be looped with the Millennium Greenway for a longer walk or cycle on traffic-free paths.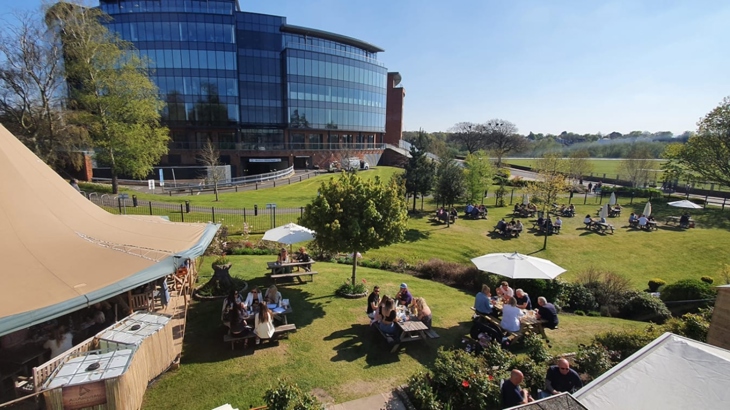 The gloriously green beer garden at the Architect overlooks Chester's racecourse, also known as the Roodee. ©The Architect
Howling Hops is definitely one of the hipper additions to this list, as you might expect from a London-based establishment.
It's a microbrewery offering new and exciting flavours of beer all the time. 
And with a large outdoor seating area, there's plenty of space to relax and start sampling their exciting menu.
Make a stop here while travelling the London Docklands and Lea Valley route. 
This green and mostly traffic-free path takes you out of the city centre all the way to the River Lee Country Park to the north.
The Belle Vue in Ramsgate sits directly on National Route 15, part of the Viking Coastal Trail.
Here, you can enjoy outstanding views from their south-facing suntrap of a terrace, rightly named the Balcony of Kent.
Bask in the sun, whatever the season, and savour a pint of Master Brew from Britain's oldest beer makers, Shepherd Neame.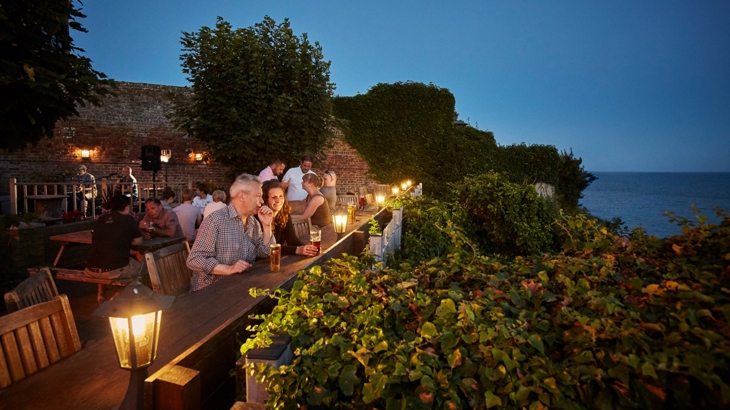 Enjoy stunning views of Pegwell Bay from 'the Balcony of Kent', found alongside the Viking Coastal Trail. ©Belle Vue Tavern
Along a traffic-free shared path through Leadgate you'll find the Jolly Drovers.
This friendly and lively pub offers great service and a mouthwatering Sunday roast.
Its stylish and sizeable beer garden will make a welcome break from an activity-packed trip on the Consett and Sunderland Railway Path.
This route will take you from Roker Beach, past Beamish's living museum, to Washington Wildfowl and Wetlands Trust centre, a haven for birds.
A brew with a view is top of the menu at this pub on England's north east coast.
Serving a selection of real ales, it sits across the road from the picturesque Warkworth Castle.
This well-preserved castle dates back to the 12th century and offers an immersive audio tour.
It's a great destination to aim for while exploring the National Cycle Network between Alnmouth and Druridge Bay.
This welcoming village pub can be found on the edge of Woolsthorpe by Belvoir.
Its glorious beer garden sits beside Grantham Canal, a historically important waterway which is now a haven for wildlife and walkers.
National Route 15 follows the canal for five miles between the pub and Grantham.
It's a great walking and cycling path for an out-and-back trip to the Dirty Duck.
Another canal-side destination, the Blue Lias is known for good beers and great service.
It can be found in Warwickshire on the Lias Line, part of National Route 41, which is an accessible path popular with horse riders.
You'll spot their large beer garden from the path.
Stop by for a break from your walk or ride and watch life float by on the Grand Union Canal.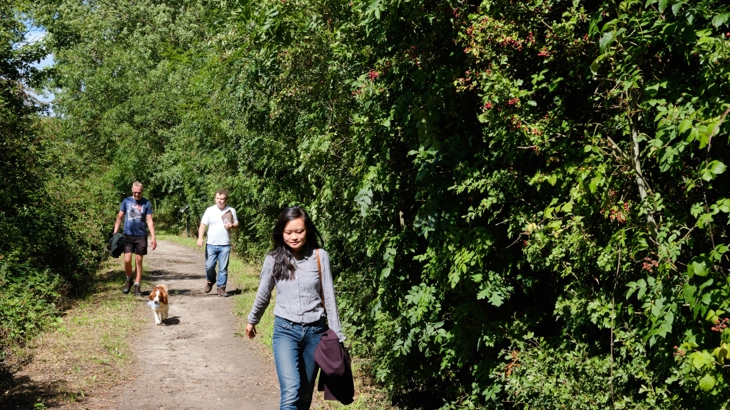 The Lias Line is a green path popular with people dog walking, cycling and horse riding.
In Geldeston you'll find the Locks Inn, a brilliant pub which is owned by the local community.
Set in the Norfolk Broads National Park, the inn sits right alongside National Route 1.
It's a great place to take a break while exploring the surrounding paths and waterways.
Enjoy a pint from local producer Green Jack Brewery, and during the summer months you may even catch some live music in the sunshine.
This friendly, family-run pub lies in Reepham at the end of the Marriott's Way.
With a charming courtyard garden to enjoy, the inn's interior is just as idyllic, dating back to the 17th century.
Pop in for a pint and enjoy a great selection of ales after a trip out on the National Cycle Network.
This former railway line connects the village of Reepham with Norwich, passing farmland, woodland and water meadows.
Situated on National Route 8, this charming countryside hotel makes a great stop-off point when exploring the Elan Valley.
The family-run establishment offers real ales and excellent home-cooked food with scenic outdoor spaces.
From here, you can walk or ride a gloriously traffic-free stretch of National Route 8 along the edge of four of Elan Valley's five reservoirs. Needless to say, the views on offer here are breathtaking.
Popular with locals and visitors alike, this bar and restaurant is situated on the edge of the tranquil Monmouthshire and Brecon Canal.
Take a seat next to the canal and enjoy the pleasant atmosphere as people walk and cycle by on National Route 49.
This route follows the canal, stretching northwards from Newport to Llanfoist, near Abergavenny. 
The towpath is a welcome escape from the built-up areas further south, connecting users with the Brecon Beacons and beyond.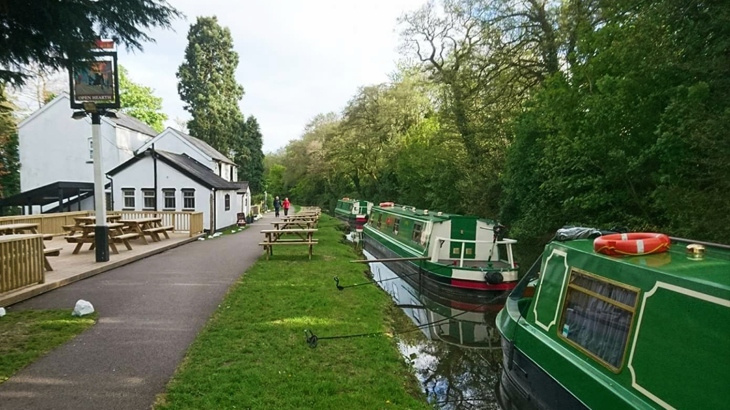 Follow the canal on National Cycle Route 49 to find the Open Hearth's al fresco drinking and dining spot. ©Open Hearth
Teuchters Landing is another waterside watering hole, this time located in the buzzing port district of Leith.
With its pontoon seating and covered beer garden, this pub offers a great outdoor setting to cool down after a cycle out of Edinburgh's centre.
It's renowned for its craft beers and whisky. Find it on the mainly traffic-free National Route 75.
At the Eagle Barge Inn, your al fresco drinking and dining won't be in a beer garden but rather on deck!
This converted Dutch barge is a pub and restaurant which offers great food and a large range of whiskies, as you'd expect from a true highland establishment.
Floating serenely in the Caledonian Canal near Laggan Locks, it's a great stop-off point when exploring the Caledonia Way.
Be sure to nip a few minutes down the Way on National Route 78 to see the glorious Loch Lochy.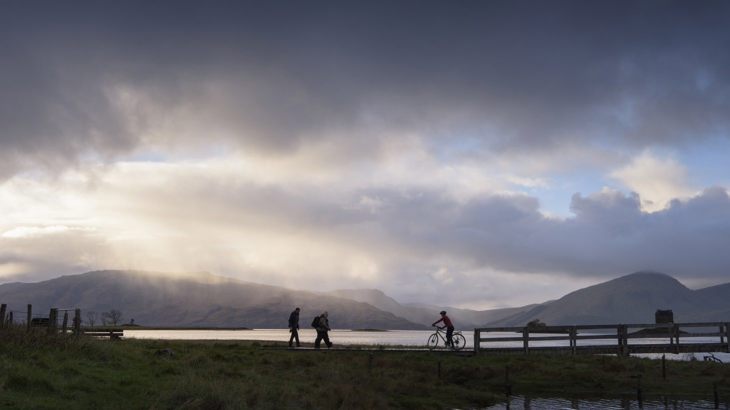 The Caledonia Way offers dramatic landscapes in any weather.
On the outskirts of Belfast, in a small village called Drumbeg, you'll find this country pub.
Bob Stewart's, as it's also known, is an establishment with a lot of history; the pub has been the site of inns and watering holes since the 1600s.
It sits along the Lagan and Lough Cycle Way, a traffic-free route skirting the River Lagan from Belfast for nearly 20 miles. 
It's a great choice if you're looking for a longer day ride out of the capital city and back. 
With Robert Stewart's as your halfway point, you'll have certainly earned that lunchtime pint!