During summer many National Cycle Network routes are the perfect places to see plants bursting with life and to hunt for insects and animals. Use our handy spotter guide to help you find wildlife you can't see at any other time of year.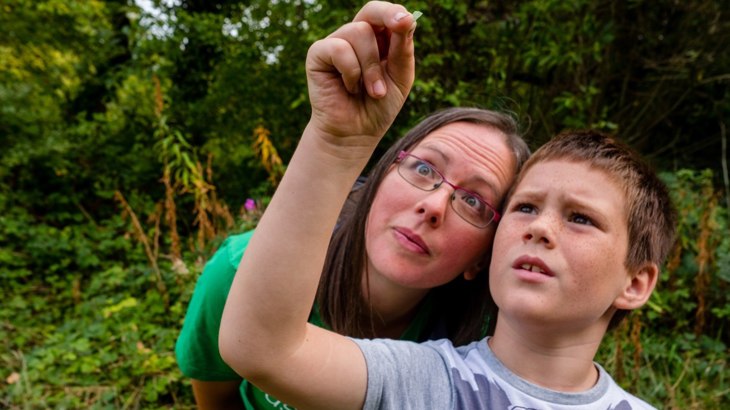 Many Network routes include great habitats for a variety of wildlife.
The trail follows the picturesque Cleddau estuary through Westfield Pill Nature Reserve and is one of Sustrans' Greener Greenways. Over 150 bird species have been recorded here and the reserve attracts osprey, little egrets and little grebe, kingfishers, shelduck, mute swan, mallard and heron.
The whole of Marriott's Way has been designated as a County Wildlife Site, recognising its importance as a valuable habitat. Marriott's Way is an impressive haven for wildlife, creating a "green corridor" linking natural habitats.
The River Camel has been designated a Special Area of Conservation for the otter and the bullhead freshwater fish. The estuary is also home to large flocks of wading birds, peregrine falcons and mute swans and was the first place in England to be colonised by little egrets.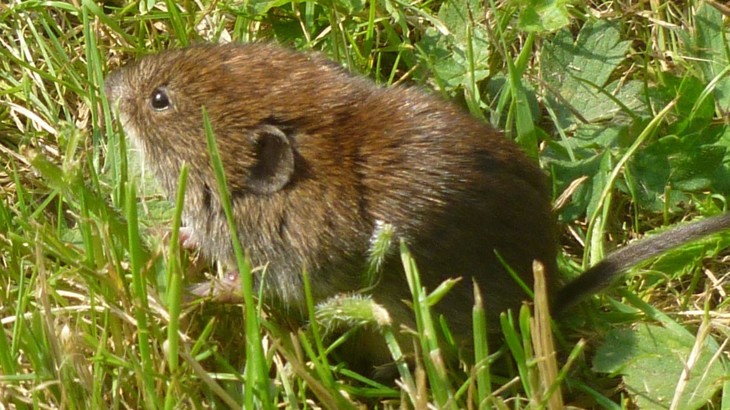 A vole spotted along one of the Network's routes
This great route takes you through the New Forest where you're likely to spot wild ponies and grazing cattle. The route has some rough sections so be mindful of this when selecting your mode of transport.
Travel from urban Leicester to a beautiful green space using this relaxing route. At Watermead Park you're likely to see dragonflies, grasshoppers and wading birds. You can also spot otters and water voles.
Wicken Fen is one of the last remaining fragments of undrained fenland and Britain's oldest nature reserve. It's also a Special Area of Conservation (a European designation) and a Ramsar site (international wetland designation). It's home to thousands of migrating summer birds and there are nine hides which let you spy the wildlife!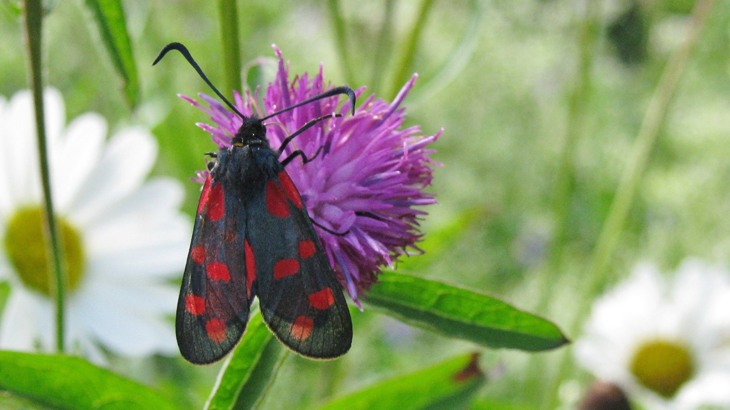 A Burnet moth spotted along a section of route in Scotland.
This path has become a refuge for wild plants and animals as intensive farming practices drive them out of the surrounding fields. You'll also see fruit and walnut trees and are likely to spot cowslips, knapweed, wild carrot and tansy.
Running close to the River Spen, this green corridor between Dewsbury and Oakenshaw passes a nature reserve and is a great place for spotting interesting insects such as grizzled skipper butterflies, dragonflies and glow worms.
This scenic section of the Airdrie to Bathgate Railway Path boasts pretty wildflower meadows along the route, and there's the opportunity to spy out dragonflies and more at the nearby Blawhorn Moss National Nature Reserve.