We've picked out some of our favourite routes on the National Cycle Network that showcase the best of the South East region. From canals to beaches and cities to countryside, these rides are easily manageable for families with young children and novice cyclists.
The Crab and Winkle Way is a scenic route between Canterbury and Whitstable.
This route does feature some hills, with a 61m (200ft) climb out of Canterbury and an undulating middle section. However, there are fine views over Whitstable from the highest point of the ride. Please take care on the on-road section by Kent University.
The Cuckoo Trail is one of the most popular family cycle rides in the South East and gained its name from an old Sussex tradition of releasing a cuckoo at the Heathfield Fair. Keep your eyes peeled as this route is rich in birdlife.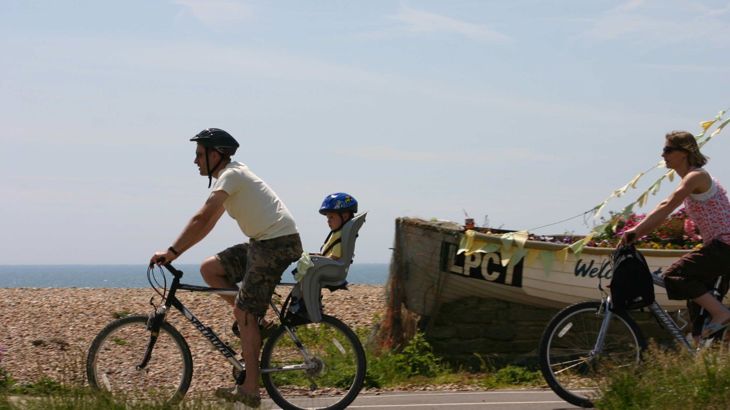 Ride along the seaside on the Rottingdean to Shoreham route.
The ride begins at Rottingdean on a path between the A259 and the sea, with the ups and downs and spectacular views you would expect from a clifftop path. The path takes you down to Brighton Marina, where luxury yachts are moored alongside small pleasure craft, and into the vibrant and cosmopolitan city of Brighton. Please note there is an on-road section at Shoreham Harbour where you should take care. 
This splendid family-friendly circuit takes in Windsor Castle, Eton College, Dorney Lake, the Jubilee River and the River Thames. Please note there are some rough surface sections. There's also a tricky bit between Maidenhead Bridge and the start of the Jubilee River - if not confident cycling along the A4, push your bike or walk along the footway.  
This route offers an excellent, almost entirely traffic-free ride from the heart of Tonbridge alongside the River Medway, out into the countryside as far as the glorious buildings of Penshurst Place, some five miles to the west.
Why not try the Cuckoo Trail on foot? Image by Ian Chamberlain/Sustrans
The Phoenix Trail links the two market towns of Thame and Princes Risborough, providing an ideal traffic-free ride or walk for all the family. There is also the opportunity to admire the magnificent views of the nearby Chiltern Hills and spot red kites, the impressive birds of prey that thrive in the area.
This great eight-mile route takes you from the historic city of Oxford out to Blenheim Palace, the birthplace of Sir Winston Churchill. The Churchill exhibition gives a fascinating insight into the 'Greatest Briton' including personal letters, photographs and paintings. Please note there is a section of this route along canal towpath with surface that is unsuitable for skinny road tyres. 
Running from East Grinstead to Groombridge, the Forest Way is perfect for walkers, cyclists and horse riders. This route follows a disused railway line and is flat and traffic-free.