Travelling to a fun day out on foot or by bike can make sure that the journey is as memorable as the destination. These rides and tourist attractions make for a great day out with the kids. 
Here are our fab five days out within cycling and walking distance from the National Cycle Network.
The traffic-free Pentewan Trail takes you from St Austell to Mevagissey vis the Lost Gardens of Heligan. The fantastic 200-acre Lost Gardens of Heligan are amazing all year round. Here you can discover the Victorian Productive Gardens, lush sub-tropical Jungle and their pioneering wildlife project.
The Afan Valley route travels between Port Talbot and the gorgeous Afan Forest. Test your mettle at this world-class mountain bike centre which has a range of bike trails for all levels and abilities.
The Telford to Ironbridge Gorge route takes you to the Ironbridge Gorge World Heritage Site. It's a great day out and the heritage site is now home to 10 museums celebrating the social and industrial history of the area.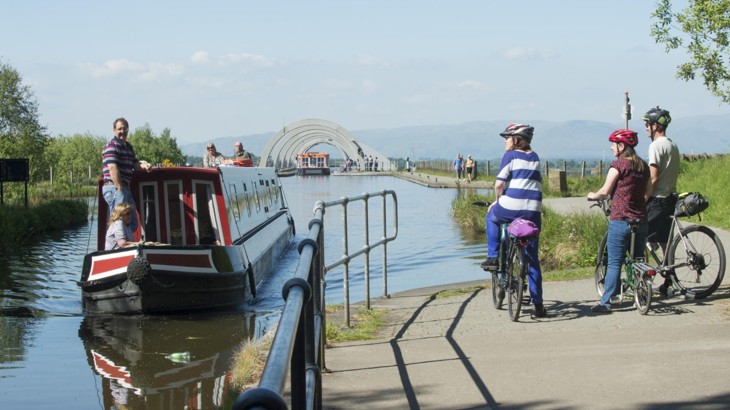 Some of the best tourist attractions Britain has to offer are within easy reach of our National Cycle Network.
The Clay Trails are a great way to access this fantastic destination. The Eden Project, which offers discounts (and fast-track queueing) to people arriving on foot or by bike, is a famously popular visitor attraction. This scenic network of clay trails first opened in March 2005 and there are four to choose from. 
The Forth and Clyde Canal trail links Glasgow to Falkirk providing a wonderful, flat traffic-free walking and cycling route across central Scotland. The highlight of this route is the famous Falkirk Wheel, the world's first and only rotating boat lift which connects the Forth and Clyde Canal with the Union Canal.