Whether you're hoping to take full advantage of the extra day off work and plan a challenging multi-day cycle route, or are simply looking for a leisurely bike ride for all the family, we've got the inspiration you'll need for a long weekend enjoying the National Cycle Network.
Distance: 170 miles, 273 kilometres
With three bank holiday weekends to look forward to this May, plus the added possibility of some sunshine, the UK's spring and summer months are the perfect time to take on a multi-day cycling trip.
At over 170 miles this is a challenging trip that anyone would be proud of completing. Your efforts will be rewarded with some of England's most dramatic countryside, Roman forts, museums and attractive market towns, all set in a World Heritage Site.
Distance: 85 miles, 136 kilometres
The route begins in the UNESCO World Heritage city of Bath then passes through the UK's longest cycle and walking tunnel at Combe Down. At 85 miles and without too many climbs the route's not too taxing and could be done in two days. This allows you to spend more time on the beaches near Bournemouth, which have some of the warmest sea temperatures in the UK and stunning views of the Isle of Wight.
Distance: 119 miles, 191 kilometres
Part of the Caledonia Way, this mainly on-road route offers adventurous cyclists the chance to explore spectacular Scottish scenery. This is a physically demanding long-distance route and is best suited for those who enjoy hill climbs and want to challenge themselves. If this sounds like your cup of tea then you'll get to enjoy stunning views of the Scottish countryside and picturesque harbours, castles and abbeys.
"The Father of the Bicycle Industry" by sculptor Ben Dearnley in Ashton Court, Bristol
Distance: 24 miles, 38.9 kilometres
The longer and brighter days are a perfect time to head out for a day ride and see the signs of spring and, latterly, the blooms of summer all across the countryside. 
This lovely 24-mile loop takes you out of busy Bristol and into the Somerset countryside. Stop at Chew Valley Lake to spot wildlife before heading back via Ashton Court, where you can stop for a cup of tea.
Distance: 21 miles, 33 kilometres
Escape the city on this 21-mile route which takes you from Greenwich Maritime World Heritage site to Lea Valley, a 10,000-acre green lung for London. You'll cycle along Regent's Canal towpath, a fantastically tranquil waterway in the heart of London, and pass parks and nature reserves.
Distance: 55 miles, 88.5 kilometres
This day out starts in Wales' bustling capital and ends in the heart of the Brecon Beacons National Park. On the way, you'll pass the 19th-century fairytale folly Castell Coch, weirs rich with wildlife and Cyfarthfa Castle before arriving in Brecon. The 55-mile route is a long day but there are several train stations near the route, so you can take on as much as you like.
Family-friendly bike rides
Distance: 7 miles, 11.2 kilometres
This seven-mile traffic-free route follows an old disused railway from Belfast to Comber. The trail includes views of Stormont, Scrabo Tower, the Harland & Wolff cranes and the Belfast Hills. Once back in Belfast visit the Titanic Quarter, then end your day in the National Trust-run Crown Bar, a fantastically atmospheric pub with period gas lighting and cosy snugs.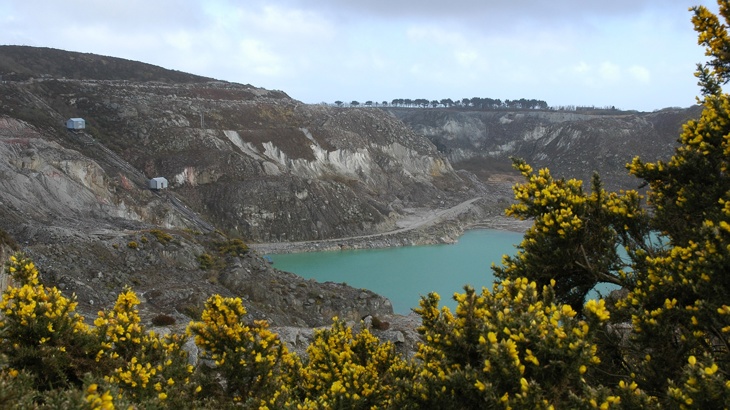 View of man-made lake from clay workings.
Distance: 12 miles, 19 kilometres
This is one of our absolute favourite routes in the South West. The Clay Trails consist of three spurs of three, four and five miles so you can easily do as much (or as little) as younger riders are ready for. One trail ends at Par Sands beach where the water is safe and shallow, making this a great spot for a midday picnic or as an end of the day treat. All the trails connect to the Eden Project, where the sci-fi-looking Biomes house huge rainforests. You can even stay overnight at the on-site YHA hostel or campground and spend a few days exploring the nearby Camel Trail.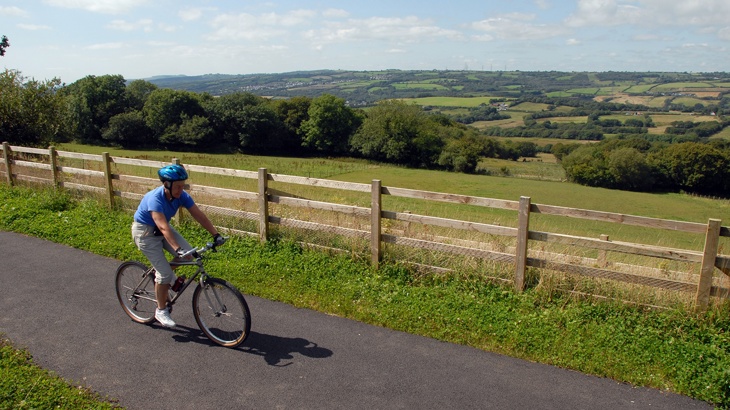 Distance: 11 miles, 17 kilometres
This 11-mile route winds through a little slice of alpine scenery in South Wales. It starts at Sandy Water Park (where you can spot swans and mallards) then climbs gently up a disused railway into rolling hills and past the peaceful Lliedi Reservoirs. If you have the energy you can extend the route to the National Botanic Garden of Wales where there are themed gardens, a butterfly house and the world's largest single-span glasshouse.