Be free for a day and experience what Northern Ireland and the Republic of Ireland have to offer. Here are our top easy rides and walks in Northern Ireland - perfect for a fun family day out or a chilled rendezvous with your friends.
What better way to explore Northern Ireland and the Republic of Ireland than by bike? Follow country lanes and waterside paths to take in beautiful scenery at a leisurely pace.
With many stretches of these routes on traffic-free paths, they're also perfect for walkers, families and those new to cycling.
This stunning 23-mile cycle route runs along the North Atlantic coast from Castlerock to the Giant's Causeway via Coleraine and forms part of National Route 93.
The Comber Greenway is a wonderfully tranquil green corridor that provides local people with a traffic-free route for walking or cycling. As you travel from Comber to the heart of East Belfast, you'll be treated to views of Stormont, Scrabo Tower, the Harland & Wolff cranes, and the Belfast Hills.
The ecos Cycle Trail is a 17-mile cycle route between Ballymena and Glenarm, mainly along quiet minor roads passing over the Antrim Plateau. It passes through the ecos Millennium Environmental Centre, set in 150 acres of parkland where you can have fun exploring the natural world.
This route connects Derry City to the border towns of Lifford and Strabane, where you'll find the magnificent steel and bronze sculptures known as Let the Dance Begin. The route is made up of a mixture of traffic-free paths and quiet country roads and lanes which cross between Northern Ireland and the Republic of Ireland.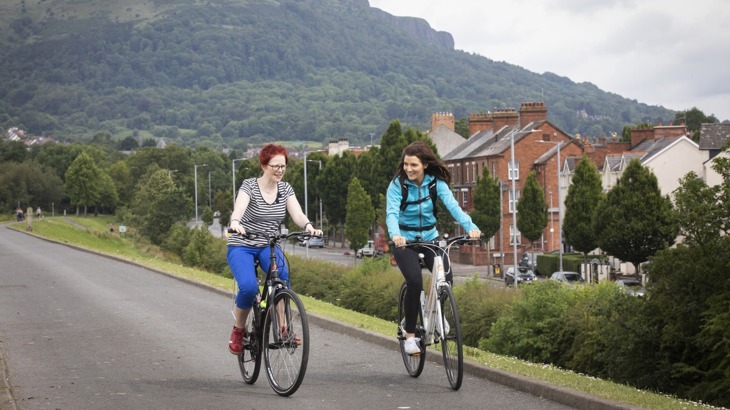 The Inis Eoghain Cycleway is a 36-mile loop connecting the River Foyle in County Londonderry to Lough Swilly in Donegal. Look out for the spectacular Foyle Bridge, which the route will take you under.
The Lagan and Lough Cycle Way is a level, traffic-free cycle ride or walk connecting Lisburn, Belfast, and Jordanstown. The route passes along the waterside of the Lagan Towpath and Belfast Lough and is suitable for cyclists of all ages and abilities.
This 28-mile cycle route stretches from the northern Sperrins foothills at Foreglen, through the Roe Valley, and over the magnificent Binevenagh mountain with spectacular views of Lough Foyle.
This cycle and walking route from the Bann Bridge in Portadown to the Town Hall in Newry is a 20-mile trip on part of Route 9 of the National Cycle Network. The route follows the towpath on the western bank of the now non-navigable Newry Canal.
Connecting Bangor to Newtownards, this cycle route is a mixture of traffic-free paths and quiet country roads and lanes. It starts off on the traffic-free North Down Coastal Path through Crawfordsburn Country Park before heading inland to Newtownards past the Clandeboye Estate on country roads.
This 48-mile linear cycle trail runs between Maghery, County Armagh, and Clones, County Monaghan. On the way, you'll discover a rich tapestry of lowland lakes and rushing rivers.