Taking part in Veganuary this year? Hop on the National Cycle Network and walk, wheel or cycle your way to these vegan-friendly eateries and support your local businesses.
Down the Hatch is right along National Route 56 and serves top notch vegan grub
The conversation surrounding the benefits of a plant-based diet is everywhere.
Meat Free Mondays, World Vegan Month and Veganuary have undoubtedly helped to elevate this lifestyle choice, with vegan options now appearing in mainstream supermarkets and restaurants. 
To celebrate this month and the diversity of plant-based meals, we've rounded up some of the best vegan-friendly restaurants on the National Cycle Network.
And while it's not possible right now to sit inside at these delicious dining spots, the following restaurants and cafes are still providing food for collection and delivery.
Please remember to follow local Covid restrictions wherever you are. Read our advice relating to Covid-19.
You'll find Down the Hatch along National Route 56 in Ropewalks – the creative bohemian heart of Liverpool.
From the depths of 'Seitan's Basement' comes an array of mouth-watering vegan junk food, including beer-battered, plant-based fish and chips made from banana blossom.
There's a fantastic collection of vegan sauces to choose from and you can even get yourself a jar of your favourite to take away.
Take your own container when stopping by and you'll save yourself some cash with their discounted offer.
Close by the Marriott's Way sits Namaste, an authentic, family-run restaurant.
From northern to southern India, their menu will take your taste buds on a mini-adventure.
A short distance from National Route 1, any stop here is sure to satisfy your hunger while keeping you on course for your Veganuary goal.
Just a stone's throw away from Route 4 in Kingston is Riverside Vegetaria, a vegetarian restaurant that has been serving great food from its ideal Thames-side location for decades.
Dealing mainly in organic produce, they cater to vegan tastes, as well as people who are wheat- and gluten-free.
Their diverse menu takes in cuisine from all over the world, and they even offer a lunch box delivery service - very handy for those working from home.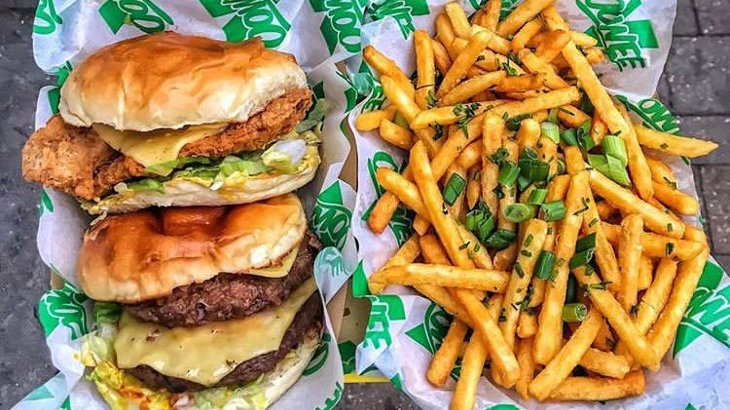 Grab yourself some tasty vegan food at Oowee Vegan - right along Route 4
Located right along National Route 4, award-winning restaurant Oowee Vegan offers a vegan experience like no other.
Oowee creates a variety of scrumptious plant-based takes on all of your fast food diner favourites. Their plant-based offerings were awarded the 'Best Vegan offering in Britain', as well as 'Restaurant of the Year' in last year's national Deliveroo awards. 
Whether you fancy a vegan fried chicken, dirty fries, or loaded quarter pounder, washed down with a vegan milkshake – Oowee is the place to be.
A hop and a skip off National Route 1 will take you straight to the doors of the Mother Works in North East London.
This vegan cafe is run by a friendly team who are all about organic, plant-based eating. From salads and smoothies to speciality lattes, their wholesome menu will leave you feeling both healthy and glad you took on the Veganuary challenge.
For a more indulgent treat, try out their Mother burger or their vegan sausage roll, voted the best in London by Vegans of LDN.
In the small town of Penrhyndeudraeth, North Wales, you'll find The Eating Gorilla, a much-loved vegan cafe and restaurant. 
Opening every Saturday evening for pre-order, they offer vegan cuisine from a different part of the world each week.
Route 8 on the National Cycle Network will take you straight to the door of this friendly eatery, just make sure to remember your lights and reflectives if cycling during these darker evenings.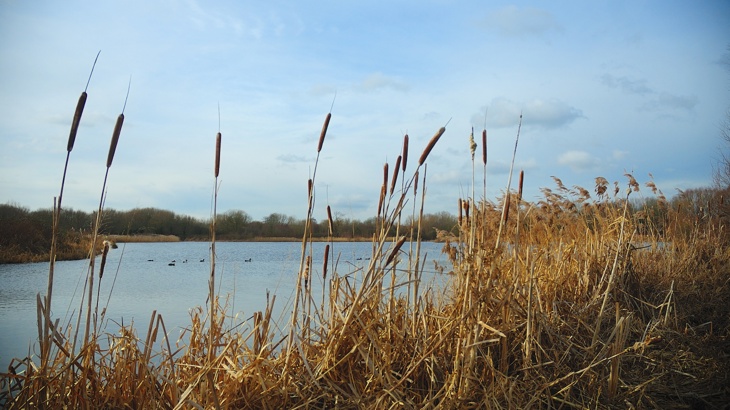 National Cycle Network Route 6 takes you north to the lakes and wildlife of Watermead Park
This punnily-named establishment is Leicester's first 100% vegan shop, with a delicious selection of savouries and sweets also available.
Takeaway options include samosas and burritos, alongside indulgent treats like their banana and walnut cake and their gluten-free rocky road.
Currant Affairs is situated a road or two away from the Leicester to Watermead Park path, part of National Route 6.
This largely traffic-free cycle and walking link from the city centre follows the River Soar for 7.7 miles north out of the city, ending at the tranquil wetland habitat of Watermead Park.
Just off National Route 1 in Inverness is the chilled out and quirky Velocity Café.
Doubling up as a bike workshop, it's no wonder the social enterprise has won Cycling UK's award for Scotland's Cyclist Cafe of the Year twice!
The friendly and knowledgeable staff serve up delicious vegan and vegetarian food, with an expert team on hand to help give your bike some TLC, a service still available during lockdown.
Nestled on the edge of Dorset's coast you'll find The Secret Garden Cafe, well-known in more normal times for their breakfast waffles (they have a whole separate menu for them). 
During lockdown, they've brought back their delicious vegan Sunday roast dinners, available for takeaway as well as delivery. 
The cafe can be found just off National Route 26, a route which stretches all the way from Portishead on Somerset's coast to the Isle of Portland.
The uninterrupted path takes you all the way out to Portland Beach, although do make sure to keep your exercise trips local.