We've put together a list of Sustrans staff recommended vegan-friendly eateries on the National Cycle Network that are guaranteed to tickle your taste buds.
Down the Hatch is right along National Route 56 and serves top notch vegan grub
The conversation surrounding the benefits of a plant-based diet is everywhere.
Meat Free Mondays, World Vegan Month and Veganuary have undoubtedly helped to elevate this lifestyle choice, with vegan options now appearing in mainstream supermarkets and restaurants. 
To celebrate the diversity of plant-based meals, we've rounded up some of the best vegan-friendly restaurants on the National Cycle Network.
Be warned, however: you're about to get seriously hungry. 
You'll find Down the Hatch along National Route 56 in Ropewalks – the creative bohemian heart of Liverpool.
When you arrive, head down to 'Seitan's Basement' and indulge in an array of mouth-watering vegan junk food.
The majority of the menu is vegan, with a selection of vegetarian options available too. There's a fantastic collection of vegan sauces to choose from and you can even get yourself a jar of your favourite to take away.
Planning your trip in advance? Take your own jar and save yourself some cash with their discounted offer.
Located just off National Route 14, the Jumping Bean is Durham's first-ever vegan eatery.
They create a variety of scrumptious plant-based takes on all of your fast food favourites.
Whether you fancy a vegan hotdog, dirty fries, or nachos that are washed down with a vegan milkshake – the Jumping Bean is the place to be.
Just a stone's throw away from Route 4 in Kingston is Riverside Vegetaria, a vegetarian restaurant that has been serving great food from its ideal Thames-side location for decades.
Dealing mainly in organic produce, they cater for vegan tastes as well as people who are wheat- and gluten-free.
Their diverse menu, taking in cuisine from all over the world, is complemented by daily specials.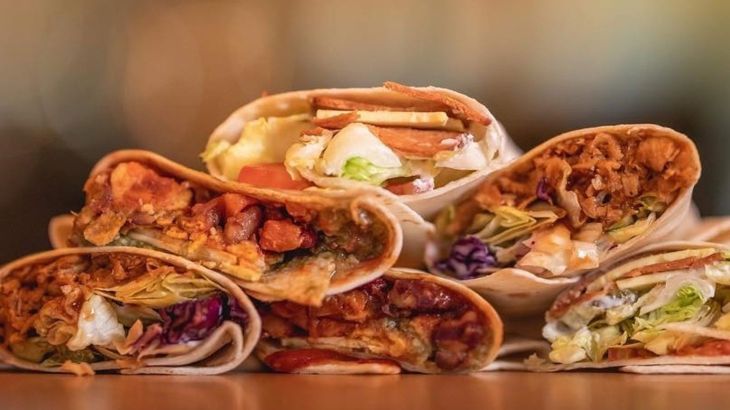 Grab yourself some tasty vegan food at the Jumping Bean - just off National Route 14
Close by the Marriott's Way sits Namaste, a family-run authentic Indian restaurant. Its cosy and intimate atmosphere along with the welcoming staff will make you feel right at home.
From northern to southern India, their menu will take your taste buds on a mini-adventure.
Stop off here after the 15-mile ride from Reepham to Norwich and satisfy your hunger.
Mono provides great food, amazing music and good times all round. It's a vegan café bar based in Glasgow's Merchant city and is not to be missed when enjoying National Route 75.
They serve fresh, home-cooked favourites with plenty of delicious starters, mains and puddings to choose from.
They've got pizzas, burgers, hotdogs, stews, noodle salads and tasty sides to help you fill your boots. There really is something for everyone at Mono.
If you're lucky, you may even catch an international band, exhibition, book reading or art performance while you're there.
A short detour off National Route 65 will take you straight to the doors of the Green Room in Middlesborough.
This vegan bistro is the perfect spot to take a break and revel in some truly tasty food.
With a lovely laidback atmosphere and friendly staff, they've got a varied lunchtime and dinner menu of mains and desserts for you to sink your teeth into.
And to top it all off, you can even try out their vegan version of the Middlesbrough classic 'Parmo'.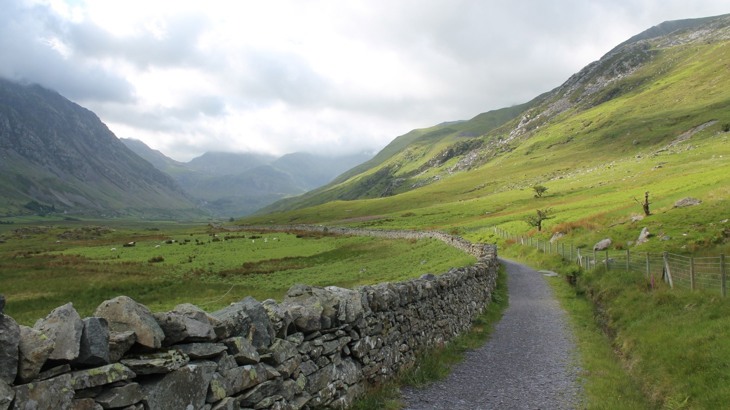 Go for a ride on the beautiful Lon Las Ogwen route before refuelling and Bangor's Voltaire
Right along National Route 3 in Glastonbury is the wonderful Excalibur Café. It's the perfect place to refuel with locally sourced, organic and wildcrafted dishes.
Get yourself down there to experience Arthur's feast – a vegan buffet with a wide selection of vibrant and colourful delights. Just pay for the plate size you want and you can even get it to take away if you're short on time.
After just a snack and a drink? They have a great selection of cold-pressed juices, smoothies and delicious raw biscuits.
Just off National Route 1 in Inverness is the chilled out and quirky Velocity Café. The staff are friendly and welcoming, and the coffee and cakes are heavenly.
Open seven days a week, they serve delicious vegan and vegetarian food.
Fuel all of your breakfast needs with tasty pastries and granola bowls. Warm-up with a steamy bowl of soup and a hunk of fresh bread. Or, just stop by for a coffee and a piece of homemade carrot cake.
They also have a workshop with experts who can help you give your bike some TLC.
If you're enjoying Lon Las Ogwen near Bangor, get yourself over to Voltaire for an incredible foodie experience.
Set in a cosy and intimate venue, Voltaire's healthy and delicious menu certainly won't disappoint.
Indulge in a scrummy burger and fries with their signature own-recipe sweet hot sauce. Get yourself a steaming hot curry. Share a pizza and onion ring combo on Pizza Mondays.
Whatever you fancy, they've got it.
You can also wash your meal down with an array of colourful 'mocktails'.