There's nothing better during a long bike ride than stopping off for a well-deserved coffee and slice of cake to top up your sugar levels and rest those tired legs. So we've put together a list of some of the best cycle-friendly cafes the UK has to offer.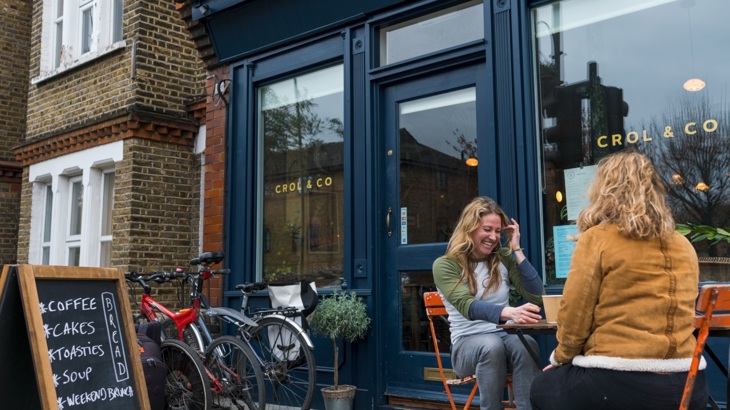 Crol & Co has an idyllic atmosphere, a lovely vintage bike rack outside and serves delicious specials daily.
In light of the healing power of coffee and cakes, we've put together nine of our favourite cycle-friendly cafés and coffee shops across the UK.
Located in the picturesque town of Ilkley, The Commute is the perfect combination of the handy bike shop and top quality coffee house.
With plenty of space to park your bike both inside and out, The Commute has lots of tables to accommodate groups, families and even four-legged friends.
The menu offers lots of variety from independent, local providers.
Whether you're after a healthy breakfast, a quick and easy lunch, or scrumptious snacks for cycle sustenance – this place is guaranteed to get your taste buds tingling.
The Commute also offers a full range of bicycle servicing and maintenance. So pop by, hand your bike over for a health check and enjoy a hearty cup of coffee.
  
In the heart of Liverpool's popular Baltic Triangle, Ryde is a bicycle café combining smooth coffee, great food and a passion for cycling all under one roof.
As well as the café, there's also a handy bike workshop offering a range of bicycle repairs and services.
So pop in, put your feet up and enjoy a coffee whilst the experts get your bike feeling shipshape.
The freshly prepared breakfast dishes come highly recommended by our Network Development Manager, Alice Irvine – so get down there early and fill your boots before you head off on your bike.
Situated close by to National Route 56, it's a great spot to visit on your way to or from Liverpool city centre.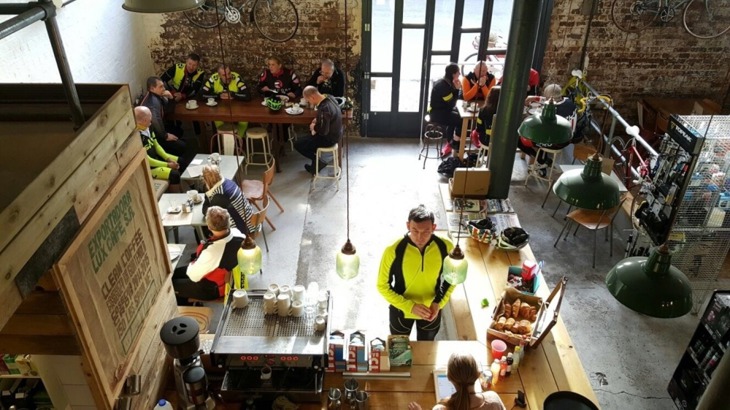 Ryde Liverpool is the perfect pit stop when cycling to or from the city.
Located in the bustling area of Bermondsey, Crol & Co is one of the capital's top café gems. 
Its handy location along Quietway 1 makes it a brilliant place to stop off for a mouthwatering brunch and warm your cockles with a smooth hot chocolate.
Crol & Co has a delightful décor and a truly lovely atmosphere, and you'll get an extra special warm welcome from the staff when you arrive.
They serve specials daily, and the menu includes a range of healthy food, high-quality coffee and scrummy cakes.
There's a vintage bike rack outside with plenty of space to lock up your bicycle. Our London Volunteer Co-ordinator, Roxane Hackwood, is a big fan.
I've lived in the area for years and often found it hard to pick somewhere in the immediate area to get to by bike when meeting up with friends for a coffee and a catch-up. But then Crol & Co popped up. The staff are very friendly and the vibe feels like you're in your living room. I'm so glad they arrived!
You'll find this beautiful café between Brighton Marina and Rottingdean.
It's the perfect pit-stop to refuel with a cuppa when you're cycling along the Rottingdean to Shoreham Port coastal route.
With a great selection of cakes, savoury snacks and even ice-lollies, there's something tasty for everyone.
You'll receive a very warm welcome from the friendly staff as you enjoy your coffee whilst looking out onto the beach.
I love Ovingdean Beach Café as it's right on the most beautiful coast and you can only get there by bike or on foot. I love a good cup of tea and some yummy cake on the beach. It's the perfect stop on my favourite cycle path.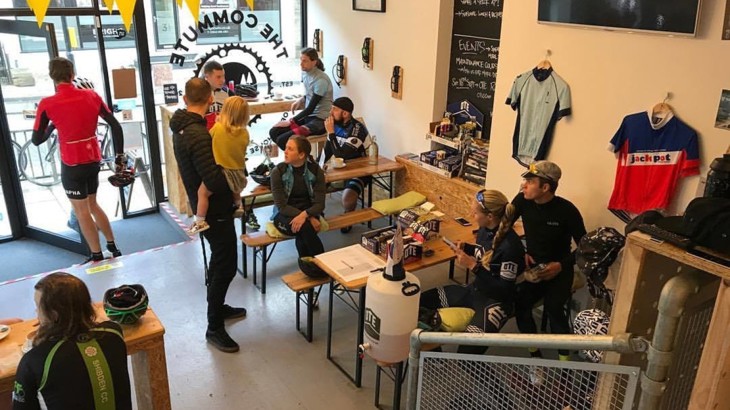 Bicycle workshop meets coffee house: The Commute Cafe in Ilkley is a great place to stop and refuel.
The Sugarcane Café Bistro in Comber is a popular spot for cyclists at the end of a leisurely ride on the Comber Greenway (National Route 99).
It was one of the first cafés to sign up to Sustrans' Pedal Perks cycling loyalty scheme and offers a generous 15% off your food bill if you arrive by bike.
There is also an excellent cycle parking opposite the café on the Square.
Open 7 days a week, Sugarcane has delicious food and a warm, friendly welcome from staff.
  
Sit down to a bicyclatte at this homely café with a conscience.
With an aim to inspire more people to cycle and lead a happy, healthy lifestyle it's a café for everyone, serving locally produced vegetarian and vegan food.
It also delivers bike workshops to teach people new skills in bike maintenance, and sessions to encourage more people to cycle.
Located on National Route 1 and next to great transport links, it's a fantastic pit stop to refuel and re-energise.
  
Passionate about bikes, Gamma Transport Division delivers bike servicing, custom bike builds and exhibitions.
If that isn't enough, it prides itself on its locally roasted coffee. Unique to GTD, you'll get a taste of a bold and fruity espresso like no other.

Located in the heart of Stockbridge near National Route 75, it's in an ideal position to access the many routes throughout the city.
And it's close to the famous Stockbridge Market every Sunday, where you will find delicious international cuisine and baked goods. Bonus.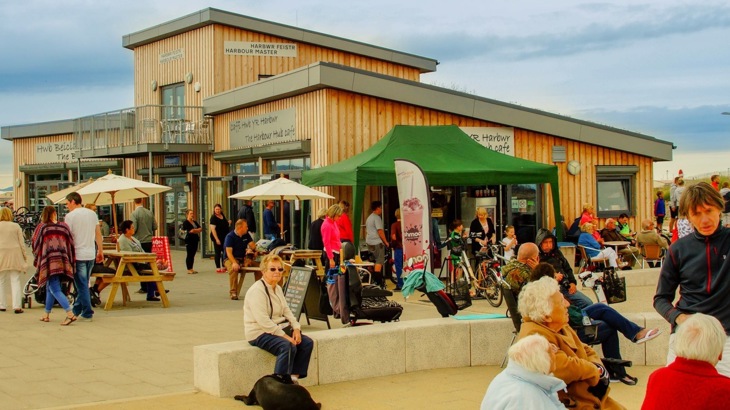 Pick up new parts and get tips on maintaining your bike whilst you enjoy a fantastic coffee in Rhyl's Harbour Hub café.
Harbour Hub Café can be found at Rhyl's beautiful Harbour, next to Pont Y Ddraig – the iconic pedestrian and Cycle Bridge, by National Route 5.
It forms part of the Bike Hub and is open seven days a week serving a wide range of hot and cold snacks, fresh cakes, grilled sandwiches, rustic rolls and barista coffee.
It's the perfect spot to stop for a cuppa and take in the scenic harbour views.
And if you need any advice or new parts for your bike then you've certainly come to the right place.  
  
This award-winning venue set in the heart of the stunning Swansea to Mumbles bay is an ideal location for all, being next to the Swansea Bike Path. 
With uninterrupted views across the bay as far as the eye can see, the famous Mumbles Head and lighthouse in one direction and Swansea docks and marina in the other.
This is the ideal location to stop for a coffee or enjoy a leisurely lunch.