There's nothing better than treating yourself to a tasty ice cream cone or yummy tub of sorbet to cool off during your walk or bike ride. So we've put together a list of some of our favourite ice cream spots along the Network that you've just got to try.
With so many great ice cream shops to choose from, which one should you try?
Well sit back and relax, as we've asked our teams across the UK to give us the scoop on their favourite ice cream shops on or near to the National Cycle Network.
Located in the Titanic Quarter just off Route 99, the Paper Cup is part of Pedal Perks – our brilliant cyclist loyalty scheme in East Belfast.
They have a selection of tasty ice creams with a choice of toppings and sauces.
And if that's not enough to get you jumping on your bike and heading over there, they're also offering 10% off the bill for anybody riding a bicycle.
The Ice Cream Factory in Troon
This friendly, family-run ice cream and sweet shop is truly scrumptious.
Owner Michele has over 30 years' experience in the ice cream business and he really knows his stuff when it comes to creating yummy flavours.
Whether you fancy vanilla or mint choc chip in a cone or a cup, the Ice Cream Factory has it all.
And if you're all about the extras, you can top your ice cream off with a selection of wafers and sauces.
Give the Scottish Tablet ice cream a go – it's their bestseller and a flavour not to be missed.
Di Meo's Ice Cream in Whitley Bay
National Route 1 is home to lots of ice cream stops, but Di Meo's definitely tops the list.
The shop is about 20 metres from Route 1, with a kiosk on the route along the seafront too.
Their homemade gelato is freshly made by hand every day using the finest milk sourced from local dairy farms.
Flavours from this Whitley Bay spot include mango Alfonso, Amarena cherry, and their very own chocolate and hazelnut delight, aptly-named Whitella!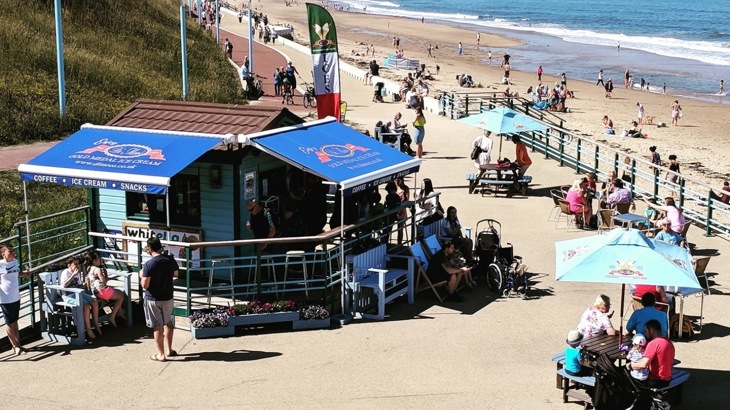 As well as their shop, Di Meo's also have a kiosk on Whitley Bay's seafront selling their delicious ice creams.
Parkgate is renowned for its delicious ice cream shops, and Nicholls is certainly no exception.
Making ice cream for over 75 years, there's nothing they don't know about crafting truly tasty flavours.
The shop overlooks the Dee Estuary and is just a stone's throw away from Route 56, the best place to stop and enjoy an ice cream with a view.
And with dozens of flavours to choose from, why not reward yourself after a long bike ride with two or three different scoops?
Situated in a spacious old station building with a sun terrace overlooking the beautiful Monsal Trail, Hassop's is a must-see when cycling along National Route 680.
As well as delicious ice cream sundaes sourced from a local Peak District dairy, they also offer a range of bike hire for adults and kids including e-bikes, tandems and trailers.
Located along Route 16 in the lovely seaside resort town of Southend-on-Sea, Rossi has been making award-winning ice cream in Essex for over 85 years.
Their Lemon Ice sorbet picked up a prestigious national award from the Ice Cream Alliance (ICA).
The team there are always coming up with new and exciting ice creams to enjoy, so prepare for a surprise;  previous flavours have included a Candy Crush range and an eye-catching jet-black vanilla ice cream.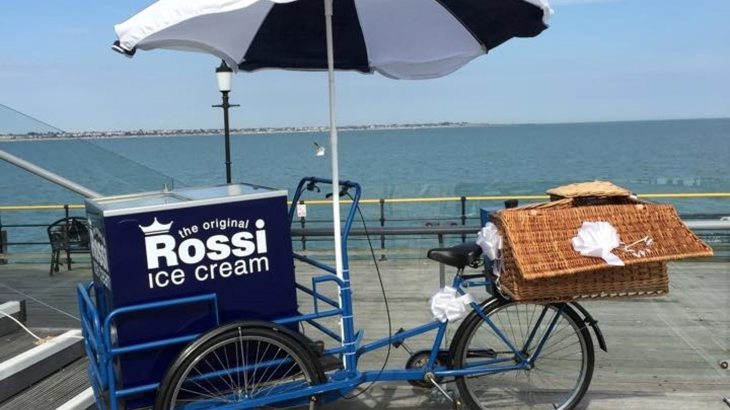 There are plenty of places to stop and enjoy ice cream during your adventures on foot or bike.
Warmley Waiting Room in Warmley
Situated along the Bristol and Bath Path, Warmley Waiting Room is a bustling cafe and an ideal stop for mid-journey refreshment on the repurposed railway line.
Along with hot drinks, cakes and sandwiches, you can also grab a delicious Marshfield ice cream to help you on your way.
There's plenty of bike parking available nearby so you can lock up your bike and keep both hands free for your ice cream.
  
Perched right on the Plymouth Hoe and overlooking the breathtaking Plymouth Sound harbour, the Coffee Shack is a great place to stop when cycling along Route 27.
They have a range of Italian ice creams, but it's the Devon special which is the one to look out for – vanilla with clotted cream for just £1!
Our Plymouth schools officer has the scoop:
For affordability and sheer views, the Coffee Shack can't be beaten. The Devon special is a delicious and bargain joy of an ice cream that tastes so great. They're open for business in all weathers too!