Could you ditch comfy B&B stops whilst cycle touring? And carry everything you need on a bike? First-time bikepacker Deepti took on the challenge to travel light and cycled 750 miles from Yorkshire to Orkney. In this blog she shares everything she learned, so you can create your own bikepacking adventure.
Have you ever wished that you could really see a country?
Experiencing the beauty of the flora and fauna, watching the landscapes shift and change.
Finding hidden paths so pretty, you wonder how they can possibly be deserted.
Whiling away hours in cafés and pubs, indulging in treats and getting fit along the way.
Simplifying your day so your only decisions are:
where you'll go
what you'll eat
and where you'll sleep.
If you're nodding along with me, you should definitely consider bikepacking.
And in this blog, I'm going to do my very best to convince you to plan your own adventure.
Starting out in bikepacking
Choosing bikepacking over cycle touring was a conscious decision.
You can split hairs about the difference between the two, but to me bikepacking is a lightweight business.
Hauling heavy panniers up hills makes me grumpy and slow.
And this became my incentive to pare down my kit to the bare essentials.
With a much lighter bike, I found the need to have any prior fitness level pretty low.
Prior to the trip, I could only describe myself as a low-key hobby cyclist of about three years.
I'd get out for a two or three hour ride every other weekend in the summer, with long periods out of the saddle over winter.
Speed-focused cycling has never been my thing, and I also fervently dislike the pressure to keep up on group rides.
In readiness for the 750-mile trip, my only preparation was to make sure that I could comfortably ride 30 miles at a leisurely pace.
I hoped I could 'ride into fitness' through the trip itself and thankfully found that I could.
Bikepacking is a lightweight business and I found the need to have any prior fitness level pretty low.
Planning my bikepacking adventure
It was summer 2018 and my husband and I had 750 miles of cycling to plan from Yorkshire to Orkney.
I decided I could comfortably cover 40 to 60 miles a day in two weeks.
To start planning our route, we immediately turned to the National Cycle Network (the Network).
I unreservedly celebrate Sustrans at this point because the Network is a fantastic and reliable source of safe, traffic-free and low-traffic long distance routes.
Find a route on the National Cycle Network.
I took my gravel bike with its slightly chunkier tyres on this bikepacking trip, but I have done a lot of cycling on the Network on road tyres.
We plotted the route to begin and end with a train station to get us to and from home.
We opted for Dent, the highest altitude train station in England, so from there we could roll downhill, all the way to Scotland.
I used a mapping website called Ride with GPS to link different routes on the Network and put this overall route into my entry-level cycle computer.
The Network is lovingly signed by Sustrans though.
So if you don't have a cycle computer, you can follow the little red signs, stopping just occasionally to check your map.
I unreservedly celebrate Sustrans for the National Cycle Network's fantastic, reliable and safe traffic-free and low-traffic routes.
Sleeping wild
A couple of years ago, I became smitten with Alastair Humphreys' Micro Adventures.
Alastair's achievable adventures were a great introduction to wild camping in a bivvy bag rather than a tent.
My first attempt was a short hike to a wild campsite near my house, sleeping in a £30 second-hand, ex-army bivvy bag.
I was hooked.
Bivvying offered a goody two-shoes like me a little adrenaline rush and the chance to live outside of my comfort zone.
Bivvy bags are a game-changer because not having to lug a tent around dramatically reduces your overall bike weight and eliminates the need for panniers.
Sleeping wild under the stars is also pretty thrilling.
We took a basha (a tarpaulin sheet) to string from trees or our bikes in case of unforecasted rain.
But I admit, if the forecast didn't look good in advance, I would book a B&B.
After all, you need a shower, laundry facilities and a soft bed every now and again.
Wild camping is legal in Scotland and on the days leading up to bivvy nights, we just cycled as far as we liked.
Café lunches were leisurely and pub dinners even more so.
We cycled into the dusk, stopping whenever we saw a suitable place to sleep, with no pressure of having to reach a campsite or B&B by a certain time.
Some of the most memorable spots we bivvied at included:
beside a barrow on Orkney (the only shelter from unrelenting gales)
a picturesque layby in the forest of Galloway (we were smug until the midges arrived)
under a pub garden table (by kind permission of the owner who didn't have a room)
on a beach in the Highlands, being lulled to sleep by the waves.
To guarantee a good night's sleep, midge nets and midge jackets are a must have.
Summer in Scotland is no joke without them.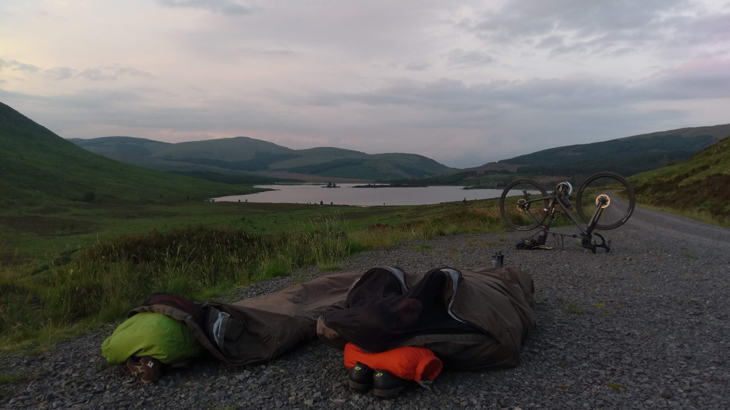 Bivvying offered a goody two shoes like me a little adrenaline rush... sleeping wild under the stars is thrilling.
Fueling up 
On a trip like this your days become orientated to all the delicious food your body needs and deserves.
What's more, every slice of cake and flake of pastry is guilt-free.
We never really found it a challenge to find a supermarket, café or pub.
Only in the upper Highlands did this require a little planning.
And whenever you do see a large supermarket, remember that's a great loo stop.
A highlight was the breakfast pastries, toasted each morning on our homemade beer can stove.
Followed by a fry-up just five or 10 miles later.
I really was in food heaven for two weeks.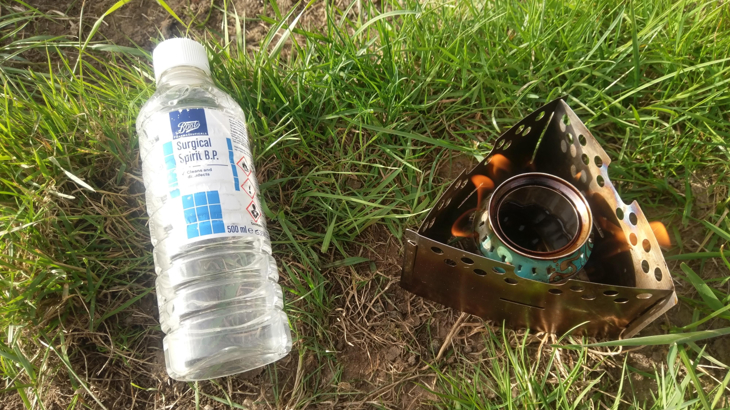 Sunsets, stars, and sunrises
I'd planned the trip to really see and experience more of the UK.
When cycling, the scenery doesn't whip by like it does in a car or train.
The lazy, ambling pace of life offers you a more intimate connection with the countryside.
At the same time, you see much more than you could by foot.
It's hard to explain the freedom and sheer joy of meandering through our beautiful countryside on a sunny day.
This was added to by the knowledge that ahead of us lay a well-deserved dinner and the thrill of sleeping under the stars.
Bikepacking made me feel as though I didn't have a care in the world.
Honestly, give it a go, no matter how short the time or modest the distance.
As Dr Pepper would say, "what's the worst that could happen?"
Bikepacking made me feel as though I didn't have a care in the world.