Cycling to work is a great way to incorporate more exercise into your daily routine and many people find it makes them feel more alert and ready to start the day.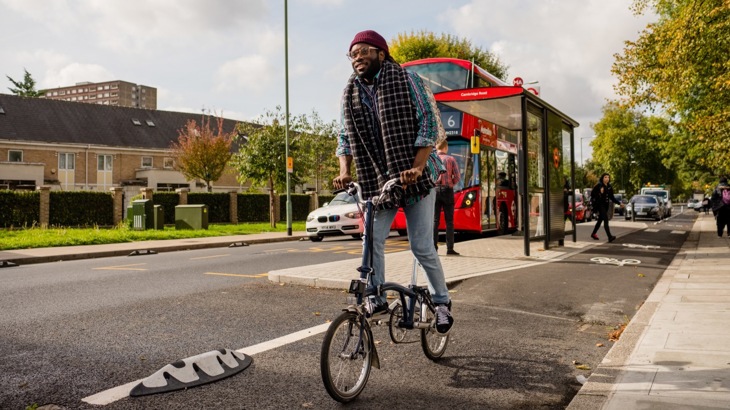 If you cycle to work, it's not always necessary to shower once you get there.
Commuting by bike is becoming more and more popular - research from the British Council for Offices recently found that up to 38% of British office workers would consider commuting by bike if their workplace offered better facilities.
But is it possible to switch to cycling to work regardless of what facilities are available?
No shower, no problem
You won't be surprised to hear that a lot of people at Sustrans cycle to work but you may be surprised not all of them take a shower when they arrive in the office.
In our experience, with the correct preparation and know-how, it's not always necessary to shower after cycling to work (and please don't think we're advocating being smelly at work). 
Changing the way you approach cycling to work may be the answer.
Here are our top tips to help you on your way whether or not your office has shower facilities.
1. Slow down
Cycling at a leisurely pace means you sweat less and could also make your journey more enjoyable.
Leave more time for your journey – that way you'll also be able to spend some time cooling down on arrival, as well as feeling more relaxed.
You might even be able to treat yourself to a breakfast post cycle – perfect.
2.
 

Switch to panniers

If you've ever had to carry a backpack on a hot summer's day you'll be all too familiar with the problems of a sweaty back.

Switching to panniers that attach to your bike can be a revelation and you'll probably never look back.

 
3. Leave some clothes at your workplace
One way of getting around a bit of sweat on your cycle is to leave some clothes at your workplace – having a change of shirt, T-shirt, blouse and socks or tights can help keep you feeling fresh all day long.
4. Use products that don't need water
From dry shampoo to reusable damp baby wipes (wet them before you leave and keep them in a waterproof pouch), there are plenty of products out there that can help you freshen up without needing a sink or shower.
5.
 

Invest in an electric bike

Electric bikes are on the rise – you only have to look around our towns and cities to see that – but despite their growing popularity, there are still some misconceptions, myths and even snobbery surrounding them.

One thing is clear: e-bikes are making cycling more accessible to a new audience – people who may never have considered it as a viable option for commuting, popping to the shops or for leisure.

What's more, they're also making it possible for people who already cycle to keep doing what they love most. Give one a go and you might well be pleasantly surprised.

 
6. Wear loose clothing made from natural fibres
Natural fibres, such as merino wool, pure cotton or linen, are breathable and cause less sweat than synthetic materials.
Loosely fitted clothing allows the air to circulate as you cycle, keeping you cool.
We believe both employers and employees benefit from workplaces with good facilities for people who want to cycle to work, but we also understand providing such facilities may not always be possible.
If your workplace does not have the facilities you need, you could try suggesting an alternative solution, such as sharing shower facilities with a local gym, swimming pool, hotel, or another office building.