With the warmer weather and lighter evenings, there is no better time to dust off your bike, get outdoors and set yourself a cycling challenge.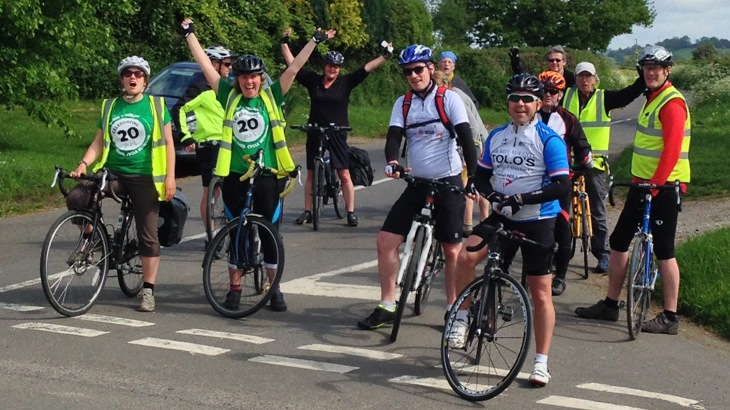 Group of cyclists at a cycling event
Please bear in mind current restrictions due to Covid-19.
A cycle challenge is a great way of giving you something to look forward to and keep you motivated through spring.
It can also help you accomplish something you didn't think you could, get fit, and make new friends, all with the added bonus of raising money for your favourite charity.
So why not join one of our bike rides and conquer some of our favourite long-distance routes.
Join team Sustrans and 24,000 other cyclists in this 100-mile challenging Olympic legacy event, now one of the greatest cycling events in the world.
This event starts from the Queen Elizabeth Olympic Park then follows a closed road route through the capital and onto Surrey's stunning country roads, including the famous climbs of Leith and Box Hill, before an iconic finish in central London. 
If you are looking for something a bit different, why not try a night ride? 
The Nightriders are exciting and unusual events that involve cycling a city's streets and admiring its iconic sights by moonlight and this year it's coming to Bristol. 
The rides include full support, back up and regular break stops as well as a well earned breakfast at the finish line.
Routes are fully signed allowing you to cycle at your own pace and GPS is also provided for those who want it.
We have a few places available for riders wanting to join team Sustrans and raise money for us.
You'll get a free T-shirt and a Hi-Viz vest so you'll stand out from the crowd.
To see Bristol city in a different light sign up on the Nightrider website.
Registration is still open for this year's London Nightrider.
You'll see the capital in a totally new way and be rewarded with quiet streets and the first glimmers of daybreak as you complete your ride.
This is a truly memorable event not to be missed. 
We still have a few places available for riders wanting to join team Sustrans and raise money for us.
If you don't fancy a pedal-pushing challenge, why not test yourself on the Two Tunnels Running Race? 
These events take in the iconic Bath Two Tunnels route, which passes through two former railway tunnels, one of which is over a mile long.
Organised by Relish Running Events, this is the fourth year of the race and there are plenty of options to choose, whether it's 5km, 10km, 50km, Marathon, Half Marathon and the fun-fuelled 300m or 1 mile Colourburst Runs.
All the races will allow you to take in the beautiful sights of the historic city of Bath, with races starting and finishing at Brickfields Park - the perfect place for a family picnic after your run.
All runners will receive a custom-designed medal, goody bag and a selection of fresh fruit and treats around the course and at the finish line.
Do it yourself
These are just some of the fundraising events we are involved in this year so if you don't fancy any of these why not organise one of your own instead.
We have branded T-shirts, cycling tops and running vests ready to give to anyone taking on their own challenge and raising sponsorship in aid of Sustrans.
Just email us at fundraising@sustrans.org.uk and let us know what you're planning to do.
We can help support you by sending you a fundraising pack filled with ideas to help you reach your target and tips about setting up an online giving page.
No matter how big or small your challenge every penny raised counts and will help our work to enable people to choose and enjoy healthier, happier, cleaner and cheaper journeys every day.