Streets are public spaces that belong to everyone. They make up 80% of all open space in towns and cities, precious space that can be designed to benefit the whole community.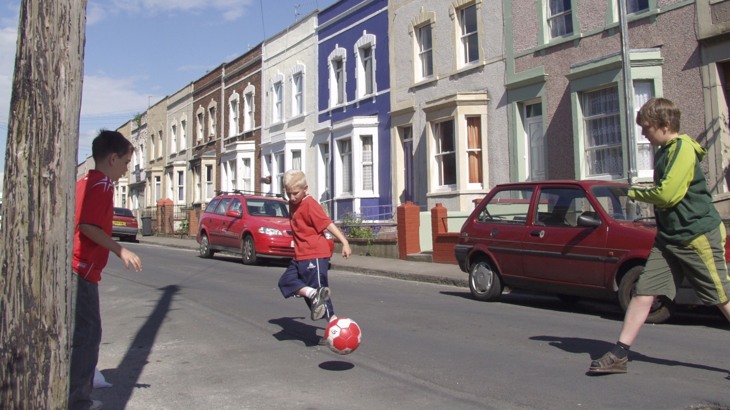 It is rare to see children playing out in the street nowadays
Your street is more than just a way of getting around, it defines and shapes your area and is an essential part of community life.
Your street has a big impact on the way you live, how active you can be, how well you know your neighbours and your overall wellbeing.
The many functions of a street
As well as being a travel corridor, your street could be a place to enjoy the outdoors, to socialise and to play.
When there were fewer cars on the road people regularly socialised and children played in their streets.
Increased traffic has changed the way streets are used, often leaving communities and neighbours disconnected from each other.
Too often our streets feel like they're designed exclusively for cars - full of traffic jams or dominated by speeding traffic with little thought for pedestrians and cyclists.
It doesn't have to be this way. We can shape and improve our streets to give everyone a lively, walkable, community-friendly environment.
An inspiring vision for your street 
Redesigning your street is about considering the needs of all users and keeping in mind the multiple roles that streets can play.
Think about these things in relation to the street you live, work and play in.
Cycling and walking
Think of the comfort, usability, and surroundings of people walking and cycling.
Is it pleasant and safe? Are the lighting, pavement and crossings meeting the different needs of all the residents?
Play
Is the street safe for kids to play outside?
Greenery 
Could the street have trees, plants and flowers to provide oxygen, colour and encourage wildlife?
Character
Is there any artwork such as sculpture or murals, architectural features or attractive street furniture?
People
Is the street dominated by cars? Is there street furniture or other places to sit, rest, relax and socialise
Transportation
Can people walking, cycling and motor vehicles all flow through the street safely and freely?
In the early 1980's American professor Donald Appleyard provided the first evidence-based research which linked high levels of traffic to lowered quality of life. This film revisits his findings.
Take a look at our street design projects