It doesn't take much preparation to take your baby or toddler out on two wheels. Apart from a child bike seat or trailer, the most important things you need are a bike, the right clothes, and a few basic tools.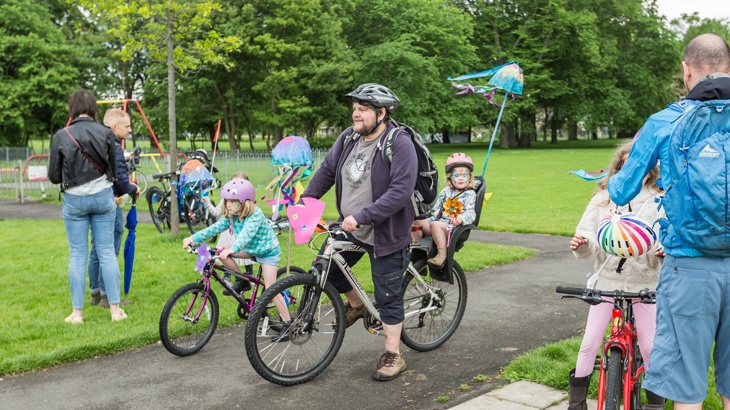 If you already own a bike, check it's roadworthy before heading out with your little one on board.
Make sure the tyres are pumped up with plenty of tread, the brake pads are in good condition and aren't rubbing against the tyres, and the chain isn't rusty or broken.
You should also have reflectors on the front and back, a bell, and a front and rear light if you intend to cycle in the dark.
If you're buying a new bike, there are a few things to consider:
Weight - remember your toddler will add an extra couple of stone to the bike so choose a light model.
Comfort - forget fashion, choose comfort. It's all about buying the right bike for your needs.
Type of bike - different types of bikes throw up different problems. A fully suspended mountain bike means you can't have a rear-mounted child seat and a road bike means you can't use a centre-mounted bicycle child carrier.
Get advice - your local specialist bike shop can give you expert advice and let you test-ride different models.
Setting up your bike - again your local bike shop can help with frame size, handlebar position, and seat adjustment to make sure you get the most from your pedal power without straining your body.
Clothing and accessories
It's also essential you wear clothes that allow you to move freely - that doesn't mean head-to-toe lycra.
If you are commuting to work then tailored trousers or a roomy knee-length skirt work just as well.
A breathable, waterproof jacket also helps - just make sure it isn't too long.
Wearing a helmet for adults is really a matter of personal choice, although they are recommended for children.
All your toddler really needs is a good-fitting cycling helmet and a lightweight, waterproof overall.
Remember to keep your toddler warm because if they're sitting still they won't be generating heat like the person doing the pedalling.
Even on a fine day, take some extra layers - just in case.
Make sure you have a sturdy backpack or pannier to carry equipment - for the bike and your baby.
It's also worth investing in a good lock, whatever the value of your bike.
Tools and extras
A pump, puncture repair kit and some bike oil for your chain (and gloves in case you have to touch it) will be very useful. 
Be prepared. When going out on your bike take sunscreen for you and baby.
Don't forget to take water for both of you and a few snacks to keep your energy levels and spirits up.