There is no legal minimum age for when children can start walking on their own to school or other destinations. When they do, it can be an exciting time as they assert their independence. But, for parents, it can also be a worrying time, particularly with regard to road safety. Get our top tips for walking safety for children.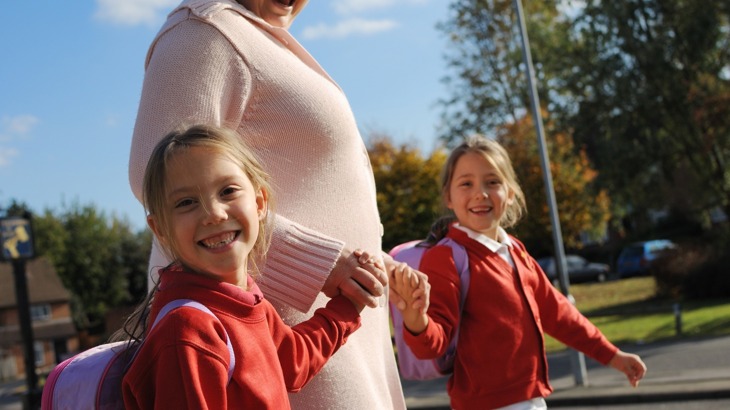 One of the most effective ways to prepare children is to start young and practise through real experience, like walking to school, the park or the playground.
Children who develop road awareness in primary school are in a much better position when they make the transition to secondary school.
There is no legal minimum age when a child is allowed to walk on their own.
It's up to you and your child and will depend on their confidence and the routes they're taking.
How to teach your child road awareness
When introducing young children to road awareness it's important to bear in mind that they perceive traffic in different ways to adults.
They can't always judge the speed or distance of vehicles or where the sound is coming from because their peripheral vision is two-thirds that of an adult.
Children can also be easily distracted.
What you can do:
set an example: stop, look and listen, don't take risks and avoid using your mobile phone when crossing the road
bend down to their eye level to get an idea of what they can and can't see
find a safe place to cross where you can see easily, ideally at a crossing or away from parked cars and when it's clear, walk straight across
talk about the traffic you see on your way and the best places to cross, and ask questions about the speed and size of different vehicles
in quiet areas, gradually allow your children to practice making decisions about where and when to cross the road.
For more information and advice about road safety, visit The Department for Transport's Think! Education site.
Encourage independence
As children reach upper primary school they will want to become more independent.
Use this time to reinforce their road awareness and gradually encourage them to make their own decisions:
practice walking to school and to other destinations together. Start to let them lead the way and make decisions about where and when to cross
once you're both confident, they could walk a little further ahead
when they are ready to go it alone, work out a route together using quieter roads and avoiding busy junctions. Walk the route with them to point out good crossing points and things to watch out for
encourage them to walk with local friends (you may want to set some ground rules with other parents first)
remind them to avoid distractions such as chatting to friends, using mobile phones or wearing earphones when crossing roads.
Would you like more information?
Learn more about the benefits of walking or wheeling the school run
Sign-up to our bi-weekly family e-news for more tips, guides and activity inspiration.