Only 66% of men and 56% of women in England claim to meet the recommended amount of physical activity per week. As these figures are self-reported, the actual figures may be even lower.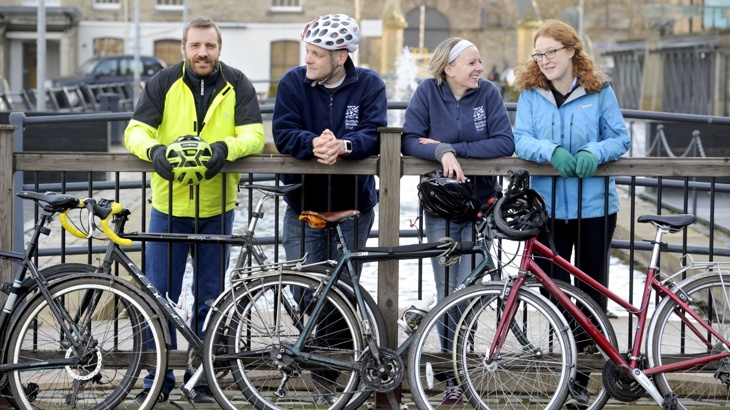 That's a lot of us who know we should be doing more to look after our health. Keeping active can set you up for good health now and later in life.
The current government recommendation is for adults to do 150 minutes of moderate activity per week.
Moderate activity can include walking fast, cycling on the flat or playing volleyball, doubles tennis or basketball.
It can be hard to find the time (or the motivation) to head to the gym after a long day at work or get up at 6am for a run.
An active commute is an easy, convenient way to fit exercise into your daily life.
By switching to walking or cycling to work you can do a little exercise every day and barely even notice it.
Cycling to work
If you cycle three miles by bike to work every weekday (for a total daily journey of six miles) you'll achieve your recommended amount of activity each week without ever having to set foot in a gym.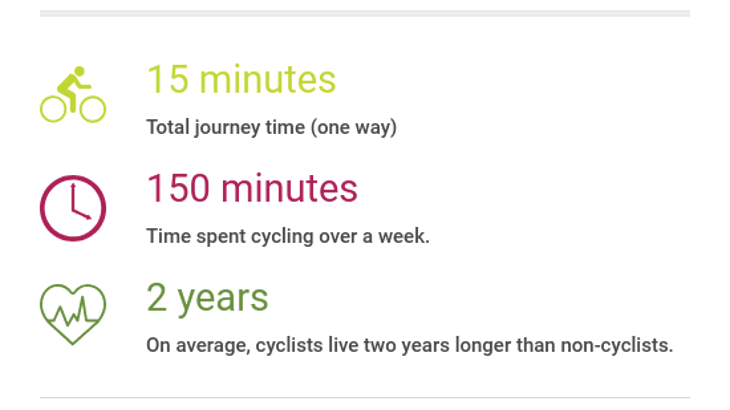 Walking to work
Walking is good for your heart and lungs, and great for strengthening your muscles, bones, and joints.
And, because of its low-impact, it won't damage your knees as much as running.
Listen while you walk
With a spare 20 minutes to yourself as you walk to work, you could listen to Radio 4's Book of the Week or enjoy serialised readings of great works of non-fiction, biography, travel, history and more.
Or why not tune into your favourite podcast and arrive at work energised, alert and entertained?
Even short walks count
Even if you only walk half a mile to get the train or bus to work it's still good for your physical and mental health.
According to the Mental Health Foundation, physical activity can be as effective as medication and counselling.
The time you spend walking half a mile to the station will add up to 100 minutes over the course of a week.
Why not take advantage of this time to practice a skill that you struggle to find time for?
You could use this time to learn a new language.
If you start listening to language tapes in January then by your holiday in July you could have listened to a good 43 hours of your chosen language.
That's plenty of time to be able to master the basics like saying hello, ordering food or drinks or asking to hire a bike.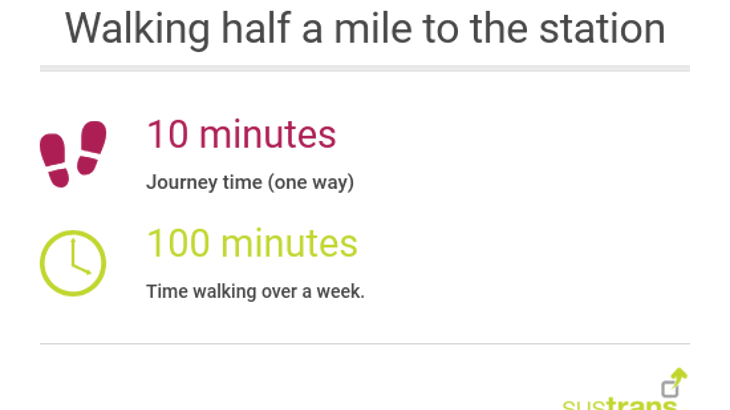 Clear your mind and de-stress
Walking or cycling to work are great ways to fit a little exercise into your daily routine.
Physical activity is also good for your mental wellbeing; evidence shows that it can help protect against anxiety.
Many people find that a brisk walk or cycle helps them clear their mind and shake off the stresses of the day.
With the days still short and dark looking after your physical and mental wellbeing is more important than ever.