The school journey can be a demanding time of the day with plenty of hurdles to overcome; there are children to organise, school bags to find, traffic jams to suffer through.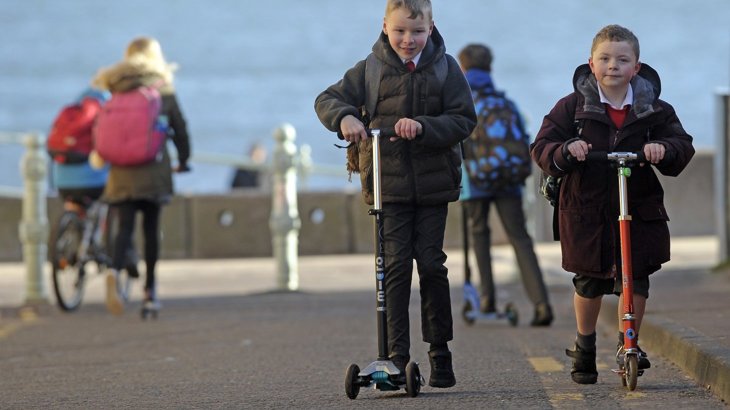 Scooting past the stationary traffic with your family in tow could be the best way to start your day
In a survey undertaken by Micro Scooters, an astonishing 77% of parents said they find the school run more stressful than work or grocery shopping.
But it doesn't need to be that way. Making a change to your daily routine could make all the difference to how you start your day.
Across the UK there are reports of increasing levels of childhood inactivity and obesity.
Meanwhile low levels of physical activity and declining levels of families cycling and walking to school are contributing to the problem.
The challenge parents face is how to include more activity in their children's daily routines.
Travelling actively to school helps to get more exercise into a child's routine and also encourages other skills that help them become more independent.
Scooting is not only active travel but also fun for the whole family.
To help get you started with scooting to school, we've teamed up with Micro Scooters to give you the best advice about scooting.
It's a fun and active way to travel to and from school, and children love it.
1. Getting active can be motivating 
Motivating your child to get to school might be difficult – that is until you tell them they will be scooting there, then miraculously it becomes a fun activity.
Suddenly school shoes are put on, school bags are found, teeth are brushed and they are raring to go.
Scooting the school run is also great for you and is a form of low impact toning – your legs will love it.
2. Plan ahead 
If you have not scooted a journey before, it is a good idea to test the route before attempting it for a school run.
This will help your child get familiar with a new way of travelling. You can also identify any problem areas like steep hills or busy roads and look for alternatives.
3. Safety checks
It is of utmost importance that your scooter is safe to ride.
Before using a scooter, make sure it's safe by using the 'L' check: start at the top of the 'L' and work your way down and then along.
An area to pay particular attention to is the handlebars, ensuring they are set at the correct height and the clamp holding them is tight.
Also, check the folding mechanism is fully locked in the riding position, the brakes are securely bolted and that the wheels spin freely and are fully attached.
Be aware of any missing parts, and make sure no obvious parts are missing or badly damaged.
4. Be prepared
As with all forms of active travel, it is best to be prepared before heading out of the door.
Remember to carry a raincoat with you and that, in wet conditions, surfaces will be more slippery and braking will take longer.
It might also be worthwhile bringing a bottle of water along for the journey, staying hydrated whilst being active is very important and can help keep fatigue at bay.
5. Be seen 
If you'll be scooting after dark, make sure you have a light so that you can find your way and other people can see you.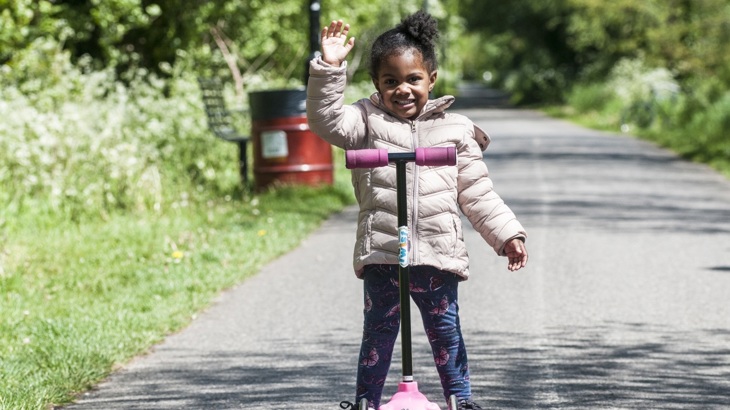 6. Go hands-free with baggage 
Always be sure to carry all baggage in a backpack while scooting – you'll need your hands free to steer and keep balance.
Having a backpack will also reduce the temptation to hook any bags onto the scooter handlebars, which is a big no-no.
Loading your handlebars will affect your steering and could unbalance your scooter.
7. Know the etiquette 
You may be concerned if you're not sure where you can and can't scoot – this is a frequently asked question when it comes to scooters.
Unfortunately, the Highways Act isn't very clear on this matter as the pavements section hasn't been updated since 1835.
Ultimately, the best way to keep safe is to make sure you're seen, heard and using common sense.
Firstly, do not scoot on the road – motorists will not be expecting you there and you will be putting yourself in harm's way.
Secondly, using the pavement is fine as long as you are considerate and scoot in a way that will not frighten or inconvenience other pavement users.
It's also advisable to make sure other path users are aware of you, having a bell and using it sporadically for example.
As the Highways Act is unclear, it is easiest to be considerate to those sharing the path with you.
8. Skills training 
It is important that children learn to handle their scooters competently so that they can ride safely.
Your local authority may offer training.
Get in touch with their road safety team to find out what's on offer or speak to your Sustrans contact if you have one.
9. Bring a lock
Do you need a lock for your scooter? It's always a good idea to keep your scooter safely locked when not in use.
10. Have fun                    
Scooting past the stationary traffic with your family in tow could be the best way to start your day, at the very least it's a great deal of fun.
Beginning the day in a more active way is great for getting your blood pumping and enjoying the outdoors.
Would you rather be sat inside a metal box every morning or out on your scooter with the wind in your hair?
Want more information?