As long as you feel safe, confident and comfortable, you can continue cycling in pregnancy - and our top tips can help you. As with any form of exercise when you're pregnant, get the advice of your GP.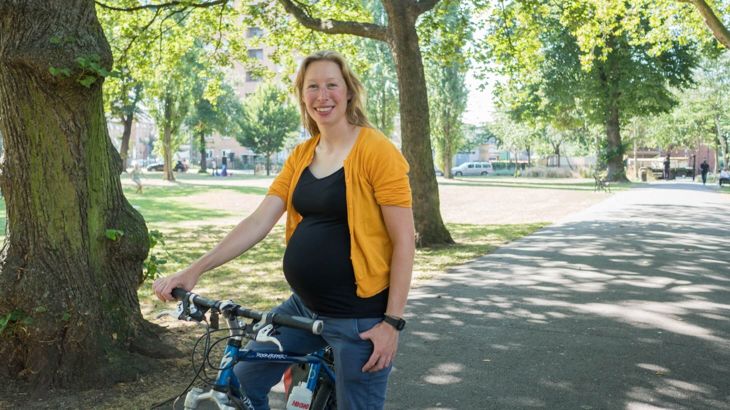 Regular physical activity during pregnancy can help improve your health, mood and self-image.
If there are no medical concerns, just do what's comfortable for you and remember that everybody and every pregnancy is different.
Some women cycle right up to their eighth month of pregnancy, others will stop sooner. There are no hard and fast rules.
Regular physical activity during pregnancy can help improve your mood and self-image.
It can also reduce stress, promote better sleep, increase your muscle tone, strength and endurance, help build stamina for labour and delivery, speed up post-natal recovery, and help increase your energy levels.
I continued to cycle during all three of my pregnancies. I've also been known to walk my bike along steep hills, particularly as my due date approaches. I love the fact that I can still exercise and get fresh air as well.
Top tips for cycling when pregnant
There are certain things to take into account when cycling during your pregnancy:
Talk to your doctor about cycling.
Take it easy and only do what feels comfortable and safe.
As you'll be carrying extra weight, be aware that your balance may be affected and it may take you longer to stop when braking.
As your pregnancy progresses and your bump gets bigger, you'll find you have to get used to the changes in the distribution of your weight - switching to an upright cycling position may be more comfortable.
Keep adjusting your saddle and handlebars regularly to make sure you are comfortable throughout your pregnancy.
Don't overheat by exercising too much and take frequent rest breaks.
Drink plenty of water to cool down and avoid dehydration.
If you feel in any way unwell, such as feeling short of breath, dizzy, experiencing pain or anything unusual, stop and seek medical advice.
Whether you want to continue cycling when you are pregnant or have decided to start when pregnant, you can enjoy the health benefits of cycling.