Cycling when you're pregnant can have lots of benefits for your body and your mental health. And as long as you feel safe and comfortable, you can continue to cycle for as long as you'd like to through your pregnancy. Here are our top tips and things to think about if you'd like to give it a go.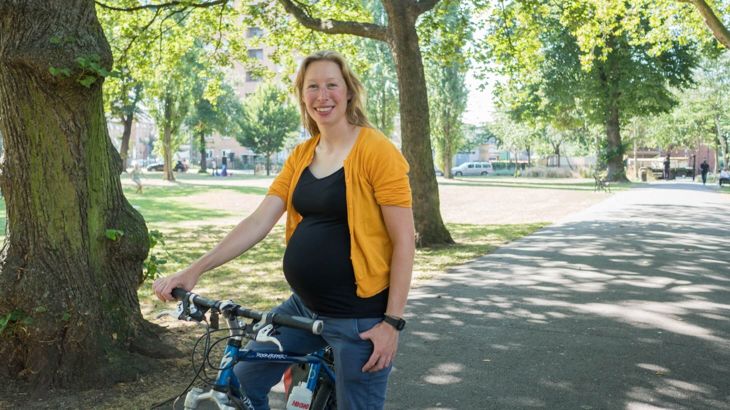 Regular physical activity during pregnancy is great for your health and your wellbeing.
The types of activities you can do and for how long will be different for every pregnant woman.
And how comfortable you feel at different stages of your pregnancy will affect how active you can be.
  
I felt confident continuing to cycle whilst I was pregnant. I lowered my seat a little so that I could put my feet down more easily and be a bit more upright. That definitely helped as my bump got bigger.
  
Is it okay to keep active when I'm pregnant?
A good guiding principle when you're expecting is to continue with a level of activity that feels normal and comfortable for you.
Throughout your pregnancy, listen to your body and adjust what activity you do to suit how you feel.
And as long as there are no medical concerns or complications, you can continue to be active for as long as you'd like to.
Talk to your midwife if you're worried. They can advise on the levels of activity that are right for you.
  
I am so grateful that I was able to cycle right up until the end of my pregnancy. It helped my physical and mental health and really improved my ability to get about.
  
Is cycling safe through my pregnancy?
Regular physical activity during pregnancy can help you keep healthy and improve how you feel.
And low impact exercise like cycling can be an easy way for you to include activity in your daily routine.
The NHS says that keeping active can make you less likely to experience problems later in your pregnancy and when you're in labour.
  
First-time mum, Becca said:
"Cycling really helped me to get around when I was pregnant.
"I suffered from quite bad pelvic pain from early on in the pregnancy, which limited my mobility.
"Cycling was much more comfortable than walking for me and so really increased the distance I could travel, and how comfortably I could get about."
The benefits of cycling through your pregnancy
As well as being a great way to stay fit and active, cycling can have huge benefits for your mental health too.
It helps reduce stress, promotes better sleep and it can increase your self-esteem.
And it can also help you to feel calm and mindful.
Cycling has also been shown to:
help build stamina for labour and delivery
speed up post-natal recovery
and help increase your energy levels.
It's also an easy and more comfortable way for you to run errands and enjoy some fresh air.
Some women experience pelvic pain when walking during pregnancy.
But cycling can help ease that pain and be a much more comfortable way for you to get around your local area.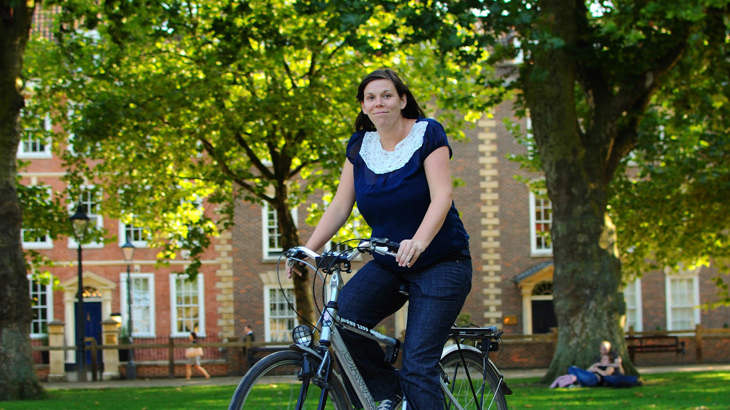 Cycling can help ease pelvic pain and be a much more comfortable way for you to get around.
Top tips for cycling when pregnant
Here are a few things you should think about when cycling during your pregnancy.
  
Talk to your midwife
Get their advice on how active you should be at different stages of your pregnancy.
  
Stay comfortable
Only do what feels comfortable and safe for you.
  
Think about your balance
Your balance might feel different as you'll be carrying some extra weight.
As your bump gets bigger, you might find switching to an upright cycling position or adjusting your saddle and handlebars make you more comfortable.
  
Take a break if you need it
Take a few minutes to catch your breath. Or you can walk and push your bike if you need a little rest.
  
Keep hydrated
As with all exercise, drink plenty of water and cool down once you're finished.


Stop if you feel unwell
If you feel in any way unwell, short of breath, dizzy, experience pain or feel anything unusual, stop and seek medical advice.
  
Give yourself extra time
You might find yourself getting a bit slower as your pregnancy goes on and you'll start noticing those hills more.
Give yourself some extra time when you plan your journey.
  
Try an e-bike for longer rides
Think about renting an e-bike if you're heading out on a longer bike ride.
They can give you an added boost for when you need a hand with hills or keeping up with friends and family.
My pregnancy was medically straightforward and I was able to stay active throughout. Continuing my 'normal for me' meant cycling about 60 miles a week, which I managed to continue through my whole pregnancy. Having time for easy outdoor activity built into my day made a huge difference to how I felt.
  
If you cycled before you got pregnant, keeping it up can be a really positive way for you to enjoy some normality and 'me time'.
The same goes if you're just starting to cycle now you're expecting a baby.
Take a look at our cycling for beginners guide for loads of helpful tips and guidance on how to get started.
Cycling has lots of physical and mental health benefits for us all.
And when you start to feel like you have less energy through your pregnancy, an easy bike ride might be just the thing you need.