The National Cycle Network is a network of safe, traffic-free paths and quiet on-road routes for walking, cycling and wheeling. The Network stretches across the length and breadth of the UK and its traffic-free spaces can be great for getting on your scooter and exploring.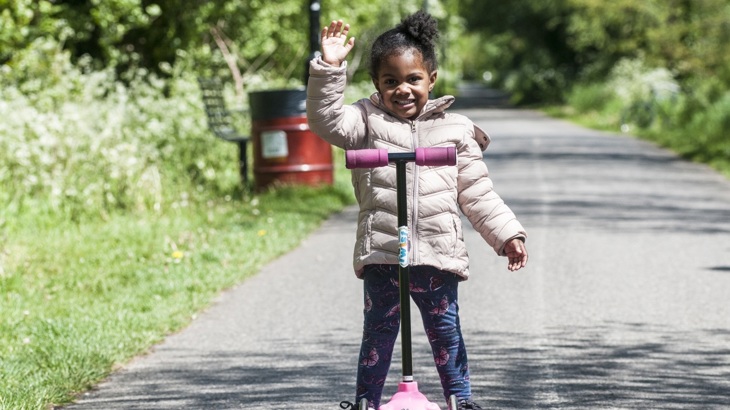 Despite the name, the National Cycle Network is for everyone and isn't just for cycling.
It's also used for walking, running and is the perfect place to take your scooter out for a spin.
Nowadays there is a wide range of scooters available for the whole family so that everyone can get involved.
Scooting for fun or leisure is a great way to spend time with friends and family and can help keep you fit and active.
To help you make the most of your days out on the Network with your scooter, we've teamed up with Micro Scooters to give you our top 10 reasons why you should go out scooting on the National Cycle Network.
1. The terrain is perfect 
If you are looking for somewhere to scoot then the National Cycle Network could be the place for you.
A third of the Network is traffic-free and provides the perfect terrain for scooting.
2. It's close to home 
Over half the UK population lives within one mile of their nearest route on the National Cycle Network. Chances are there's a route near you.
Why not search our routes to find your nearest traffic-free path?
3. You can find a green space
Many National Cycle Network routes run through green spaces such as parks and nature reserves that help support a variety of wildlife.
With help from our fantastic volunteers across the country who maintain habitats and carry out surveys, our Greenways are teeming with wildlife.
4. See some public art
Looking for interesting things to see? We have plenty of collections of public art dotted across the network making our routes special places to visit and enjoy.
Local artists have contributed hundreds of pieces of artwork displayed around the UK so there are lots to see and explore as you scoot on by. 
5. Choose a route that takes you places
Many of the routes use disused railway paths and canal towpaths and we have raised the funds needed to transform them into a Network that takes you to cities, or towns or you can escape to the countryside.
This means you can scoot safely to new far-flung places without the need to jump in the car.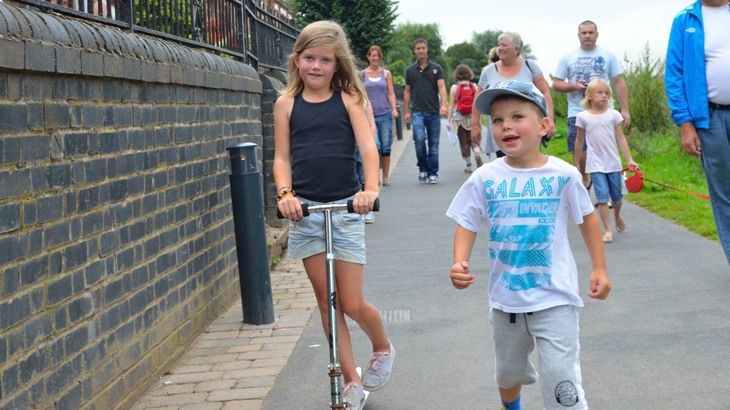 6. It's great for the school run
Over 27 million journeys on the Network are made by children travelling to and from school.
Chances are your school run could suddenly become a lot healthier and less stressful by choosing to scoot to school.
Even if scooting the whole way is not possible, why not try scooting the last part? That way you can avoid traffic and parking troubles near the school, arriving energised and refreshed, ready for the day ahead.
If you're considering scooting to school, we have tips to help get you started. 
7. Inspire the next generation
Scooting with children regularly will inspire them to consider sustainable alternatives as long-term solutions to travel.
You'll be supporting and promoting good habits that benefit their health and improve air quality, fostering healthy transport solutions that will last a lifetime.
8. There are lots of things to see and do 
There are loads of things to see and do along the Network – cafés, nature reserves, beautiful architecture, national parks and much more.
Scooting is a quick way to get between them whilst enjoying the journey along the way.
Explore the options and be inspired.
9. Finding a route is easy 
It's easy to find a local route or somewhere further from home on the National Cycle Network for a special day out.
Search our routes and get going.
10. It's great fun! 
Scooting is a lot of fun and the National Cycle Network is a safe and interesting place to practise, so get out there and enjoy it!