Street parties are a great way to get to know your neighbours, improve community spirit and have a fun day right on your doorstep – what's not to like?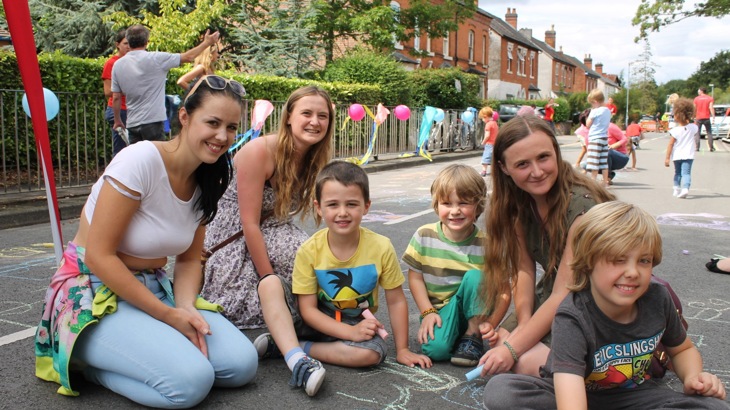 Holding a street party is easier than you might think.
You can spread the load across willing residents and arrange informal get-togethers to prepare for the party, making the planning stage enjoyable.
Start planning well in advance – this will give residents enough time to save the date, and allow you to apply for road closures and any licenses you might need.
The main aim of your street party is to have fun with your neighbours, but there may be a few official things to organise first to make sure your party is a success.
Licences
You won't need a music licence if you're having background music or live music which is 'incidental' to the day, but if you plan to publicise a programme of live bands then you'll need to apply for one. The licences are fairly cheap but you will need to apply for them well in advance.
You'll also need to apply for a licence if you want to sell food or alcohol or are selling tickets. You will need to register in advance if you are planning on having a collection on public property. It's a good idea to have competitions instead of lotteries to avoid the need for a separate license.
Contact the Licensing Department of your council for more advice.
Road closure
It is usually straightforward to organise having your street closed, but you will need to think about a few things:
Check it's OK with every household and business in the street. If someone objects or has concerns, listen to their worries and explain things to them. The council will not refuse your plans if there is only one person who disagrees, but hopefully a conversation will ensure everyone is happy for the event to go ahead.
Think of alternative traffic routes.
Apply to your council's highways/traffic team 6-12 weeks in advance.
You or the council will have to consult the emergency services (your council will advise you).
You will need a 'Road Closed' sign – your council will advise where to hire or buy one – and display it in the street before the event.
Insurance and safety
The events that you hold for residents are not usually considered to be public events and the risks will normally be very low. However, if you don't insure your activities think about any potential risks (electricity, accidents, burns etc) and agree that everyone is responsible for themselves and they should take reasonable care. If you do want insurance cover for your activities, see

 

The Street Party site's insurance guide

 

for advice.
Make sure that any suppliers of equipment, such as a bouncy castle, have their own insurance and ask to see their certificate. This will, however, normally only cover the equipment and not personal safety.
If you are serving and selling food consider

 

food safety laws.
More helpful information about the logistical planning of your street party can be found on the gov.uk website.
Being considerate on the day
In case it rains, think of places you can shelter until it dries up.
If there are older or vulnerable people make sure they have a chair and meet them at their front door to accompany them out if they feel nervous.
Make sure parents keep an eye on their children.
Remind people to take reasonable care to avoid accidents.
Finish the party at a reasonable time so people aren't disturbed at night. If some people want to carry on partying suggest they go to someone's house.
More organising and planning top tips
Ask everyone to move their cars by mid-morning so you can set up.
Leave reminder notes on car windscreens the night before.
Food is a great addition to any party.
You could ask residents on one side of the street to bring savoury things and snacks, and on the other side to bring sweet things and soft drinks, you'll have a good balance of everything.
Ask everyone to bring their own crockery and cutlery and suggest they name them.
Chairs, tables, rugs: bring them out from people's houses so your party is comfortable.
Music and entertainment
Think of lots of different types of entertainment for all ages, for example:
Live band or a DJ - maybe you have these skills on your street?
Competitions – cake bake-off, largest vegetable, the best hanging basket.
Exhibitions – old photos and maps of the area, children's drawings of the street.
Games – tug of war, egg and spoon races, swing ball, dancing, three-legged race.
Plant stall or seed swap
Clothes swap, bric-a-brac stall or bring and buy
Fancy dress box.
Art workshop or craft making stall to make masks or flags.
Decorations
Put up bunting across the street if possible to create that party feel.
Gather up any bunting that neighbours have in advance or organise a bunting-making day beforehand to get everyone involved.
There are lots of other ways to make your street come alive.
Ask for suggestions of simple, cheap things that people can make - and get the local children involved too.
Finally, don't forget to clean up after the party.
We hope you have a great day and make sure you share your photos on Facebook - we'd love to see how it goes.