Travelling in an environment with no congestion or air pollution may seem like a far-fetched desire. However, it's possible for us all to make changes to the way we travel and contribute to a cleaner, greener environment.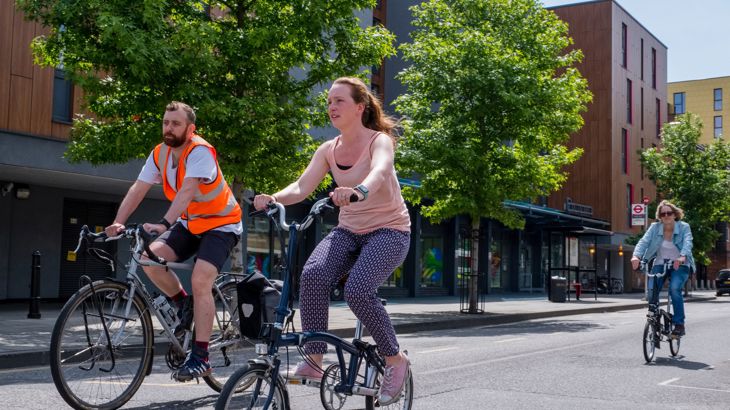 There is no longer any serious scientific doubt that global climate change is upon us.
We all contribute to this in many different ways every day – from keeping our homes warm and feeding ourselves to the things we consume, and of course, the way we travel.
Why do we need to change how we travel?
Continue as we are, and UK transport CO2 emissions are expected to rise by 35% between 1990 and 2030.
So it's critical that we transform our behaviour in order to achieve our emissions reduction targets – and one of the easiest ways we can do this is by making changes to the way we travel.
The Department for Transport says that it's possible to achieve a 60% CO2 reduction in the UK's domestic transport sector by 2030, but only with real and early change in travel behaviour.
At the moment there is one car for every two people in the UK, and CO2 emissions from cars make up 13% of the UK total.
Reducing the number of cars on the road – and parked in our streets – will mean quieter, safer and more appealing roads, encouraging more people to walk and cycle. In turn, this can result in less congestion and therefore less pollution.
Less pollution will also lead to lower rates of asthma and wheezing.
A study in Southern California found that children exposed to more polluted air were five times more likely to have reduced lung development by age 18 than children raised in cleaner areas.
Avoid long journeys
Crucial to reducing CO2 emissions from cars is the simple concept of travelling less.
We all have to travel less distance and/or make fewer trips.
Of course, with the rise of long-distance commuting, out of town shopping centres and cheap and accessible air travel, this may be quite a challenge.
Forward planning will help you to reduce the number of journeys you need to make:
If you have to drive a long way to work, try to find someone making the same journey and car-share.
Going shopping? Buy in bulk to make the most of taking the car. Then top-up in local shops to reduce your car trips to shopping centres and to support local businesses.
Talk to friends about the longer journeys they need to make and see if you can double up on any that you are both planning.
Do you really need to make the journey? Always ask yourself if there's a way you can avoid it – for example, shop online or arrange a conference call instead of driving to a meeting.
Could you work from home for some days of the week? You will save time and money by avoiding the commute and your employer can benefit from your

 

increased productivity.
Use public transport
Public transport is also key to helping tackle air pollution and congestion on the roads.
CO2 emissions per passenger for train and coach are, on average, six to eight times lower than car travel.
And, on average, trains create one-third of the CO2 emissions of a plane.
Public transport could undoubtedly provide a greater share of local and long-distance travel.
With Eurostar connecting us to Europe's high-speed rail network, this is becoming a much more realistic alternative to flying to Europe. 
Choose active travel
Active travel is focused on physical activity such as cycling and walking instead of using motorised vehicles with CO2 emissions.
Active travel is an excellent form of sustainable travel, reducing environmental, social and economic impacts.
Incorporating active travel such as walking and cycling to your daily trips is key in tackling air pollution and protecting the environment.
Being physically active has numerous health benefits and can save you money too.