If you like cycling to work and know a colleague who's thinking of getting back on their bike, why not invite them to join you on your daily cycle commute?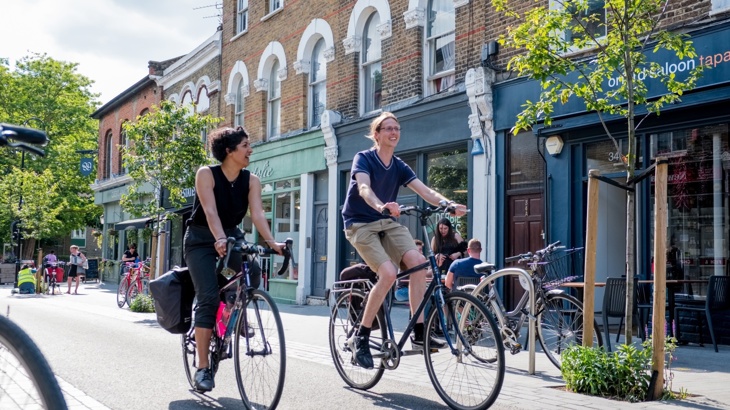 Cycling to work can be daunting for a first-timer, and having the support of an experienced bike buddy can make the first few journeys a lot easier.
Please bear in mind current restrictions due to Covid-19.
There are a few ways you can help them to enjoy their cycle commute to work. 
Get their bike checked
Encourage them to get their bike checked to make sure it is safe.
If it's been sitting unloved in a shed for a while, it's probably going to need some attention.
You only need basic kit
Cycling does not have to be expensive; you can get started cheaply with some basic kit.
A helmet, waterproofs and a rucksack are all you need to give cycling a try.
Plan the journey
You might want to plan a quieter route than the one you'd usually take. 
Consider routes that will avoid big hills or busy roads, even if it makes the journey a little longer.
Your colleague might not know there are traffic-free routes they can take. Show them the way.
On the day
Remember to cycle slower than you usually would and go at their pace.
Make sure to leave plenty of time so that neither of you feels rushed.
You may want to think about which parts of the journey they may need extra help to navigate and warn them ahead of time, such as giving some tips on road positioning before coming to a busy junction.
If they've got a long journey to work then you can always suggest they put their bike in the car for the first couple of days and build up to the full distance.
Cycle training
If your colleague is really nervous about their cycling ability you can suggest they take part in cycle training, which can improve their skills and confidence on the road.
Cycle scheme
If their bike is a hazardous heap of rusty metal, or they don't have one at all, check whether your employer has signed up to Cyclescheme.
If so, your colleague can buy a bike tax-free (saving on average 30% of the cost) and pay back the cost monthly.
If this is too big a commitment, there are plenty of other options - try a web search for local organisations offering refurbished bikes. 
A little guidance and encouragement could help nurture a love of cycling in your colleague and let them experience all the benefits of commuting by bike that you already enjoy.
Need more information?